Review: The Lenovo ThinkPad X1 Yoga Is Ready for Anything
State and local users who prefer the 2-in-1 functionality of a tablet-laptop device will find this to be a perfect fit.
Light but powerful, rugged yet flexible, the Lenovo ThinkPad X1 Yoga combines the ultralightweight features of the X1 Carbon with the flexibility of the Yoga series.
The 360-degree hinges allow for multiple modes: standard laptop mode, tent mode or a tablet display with the keyboard face down. As with Lenovo's popular Yoga line, the touchpad and keyboard are rendered inoperative at about 180 degrees, and the "Lift and Lock" keys increasingly retract as the tablet bends toward the tablet mode until flush with the bezel. The hinges are tight enough so that it doesn't bounce too much when using the touch screen in laptop mode, although it's certainly not as stiff as a traditional laptop. An active stylus tucks away near the power button and conveniently charges when stowed.
SIGN UP: Get more news from the StateTech newsletter in your inbox every two weeks
Limitations Vanish When Power Meets Processing
A dual-core Intel i7 processor seems almost overpowered for this laptop, but users who need to keep multiple applications open will love it. Boot up times with the M.2 512 gigbyte SSD hard drive and Windows 10 were incredibly quick, averaging 13.9 seconds from power on to fully logged in.
The 1080p video playback on the 14-inch IPS WQHD (2560x1440 pixel) screen feels dreamy, even with the simple built-in Intel HD Graphics 520 chip.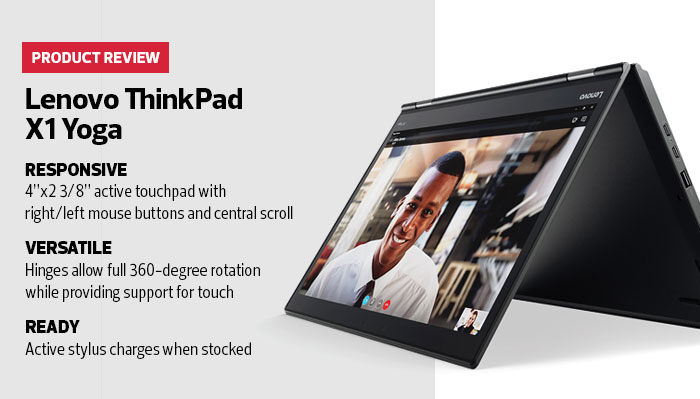 Battery longevity was tested using continuous playback of a NASA rocket launch in full 1080p, resulting in an average life of 7 hours, 47 minutes — one of the best I've ever seen. With normal use in an office environment, I was able to achieve lifetimes of more than 10 hours — and only stopped then because it was time to go home. Longer battery life could be achieved by using the i5 processor option instead. When the fan is activated, which happens rarely, it is barely audible, with no annoying whirs or whine.
The OneLink+ docking station provides a ton of extra ports and UHD video, with the ability to pump 4k2k resolution to three displays simultaneously.
Software Settings Open Up New Ways to Manage
Lenovo Settings software offers a number of hidden configuration gems users should know about. Within the Display configuration is a toggle setting called "Paper Display." When turned on, the X1 Yoga automatically dims the backlight just slightly and yellows it a bit whenever reading-type applications such as Adobe Acrobat Reader DC open.
While it doesn't rise to the level of a good electronic reader, it still cuts down on eye strain quite a bit and is definitely a welcome perk. Similarly, there's a toggle switch for Dolby Audio that automatically adjusts the X1 Yoga's audio settings between Music, Gaming, Movie, Voice or Dynamic, depending on the application.
Lenovo Companion is a handy administration console that gives you the ability to download and update Lenovo software and firmware, conduct hardware scans to check system health, explore smart tips and find out what's new in the Lenovo world. There's also a handy PC Cleanup which optimizes temporary files and the browser cache. It also identifies other software, like Google programs, and offers to run the update services automatically for that software. Lenovo Settings, which has everything from display brightness to battery display, has a handy toolbar that can be accessed simply by right-clicking on the tray icon without accessing the full application.
As with all flat-panel screens, there is always a recommended resolution in which the display is most crisp. Here, that's 2560x1440 pixels (WQHD). In many cases, using any other resolution results in a very poor display. While WQHD certainly looks best, a number of other resolution settings still look great on the X1 Yoga, including 1920x1080 and 1600x900 pixels. Even 1024x768 didn't look that bad, although due to the widescreen it cuts down significantly on the active area of the screen.
Lenovo ThinkPad X1
CPU: 3.9GHz Intel Dual-Core i7 7600U
Memory: 16GB at 1866MHz LPDDR3
Connectivity: Bluetooth 4.2, Intel Dual Band Wireless-AC 8265 (802.11 a/b/g/n/ac)
Storage: 512GB SSD PCIe TLC OPAL2 (M.2), max. 1TB SSD
Dimensions: 13.1x9.0x0.67 inches
Weight: 3.13 pounds
Ports: 2 Intel Thunderbolt 3, 3 USB 3.0 (1 always on), HDMI, Mini RJ45, MicroSD, MicroSIM
Lenovo
More On