Reduce IT Costs By Sharing Services With Local Governments
Spreading the wealth in IT makes a big difference in efficiency.
Imagine building a new mansion and outfitting each room with its own furnace and hot-water heater. That design is similar to the infrastructure model many states and localities
find themselves maintaining. But technology advancement provides the ability to create more efficient designs.
It's just not efficient or economical for every agency to operate its own data center, telecommunications network or e-mail system. A desire to make better use of resources is driving the consolidation wave that's sweeping government. Whether it's servers, entire data centers, storage or networks, consolidation initiatives serve as a stepping stone to shared services — and more efficient IT investments.
CIOs rank shared services as a top priority for 2012, according to the National Association of State CIOs. "Shared serv­ices" may mean slightly different things to different government IT leaders, but the potential benefits matter more than the semantics. By implementing shared services — whether providing data processing from a private cloud, for example, or collapsing payroll services — agencies gain simplified management and long-term savings.
NASCIO's report, A New C4 Agenda: Perspectives and Trends from State ­Government IT Leaders, notes that at least 90 percent of state CIOs are considering or plan to consolidate seven of 12 listed IT services. The services targeted most commonly include telecom, e-mail, data centers, security, backup and disaster recovery, servers and storage.
Most states have already jumped into the consolidation phase of these initiatives — only about 20 percent are still in the planning stages. Some may deem these IT initiatives to be the low-hanging fruit for shared services. It's in the second wave of consolidation where even greater opportunities for efficiencies lie — areas such as content management, desktop support, business applications, staff support and imaging.
Shared Survival
Delivering similar IT services across the enterprise brings economies of scale. Why should each agency maintain its own financial application, human resources system, procurement or desktop support team, for example? Although the benefits are clear, the path to achieving them isn't always so transparent.
Fear of change presents one of the greatest obstacles. Program managers or IT chiefs working within organizations may be reluctant to cede control. For example, 51 percent of CIOs told NASCIO they deem governance issues to be the biggest challenge to IT consolidation. IT leaders can overcome these issues by gaining strong executive sponsorship and gathering input from everyone who will play a part in a prospective shared service.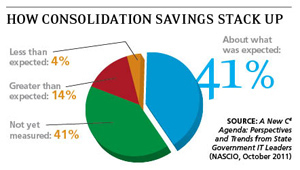 To develop a service that meets the needs of its constituents, decision rights should be shared or allocated among participants. Organizations must forge consensus on what features and functions are absolutely critical to the shared resource and which ones are negotiable.
Another stumbling block is the need to obtain upfront capital. Even if the return on investment projections indicate savings down the road, finding the funds to launch initiatives may prove difficult. IT leaders must present the strongest possible business case for folding services together and outline how they will measure results.
Shawn McCarthy, a research director for IDC ­Government Insights, recommends that state and local IT executives take their lead from the federal government when it comes to developing shared services centers: Work to identify common solutions that most agencies need, then identify which department can best deliver each service.
Despite the challenges in arriving at shared services, there's no question that it's a worthwhile endeavor.
Now the trick will be to keep these efforts moving forward, even as funding continues to tighten. Remember: Metrics are a CIO's best ally.
More On