Automatic License Plate Recognition Helps Police Nab Wanted Vehicles and Drivers
ALPR boosts ticket revenue and aids investigations.
The first day Officer John Lake of the Sarasota Police Department used a license plate reader, he barely made it two blocks before receiving an alert. The driver of a blue Ford Explorer that passed the station had been convicted of driving under the influence and had her license revoked for 10 years.
During questioning, the Florida woman said she drove past the station during her daily commute but always followed the rules of the road. "There would be no reason for an officer to be suspicious," says Lake.
Automatic license plate recognition (ALPR) systems don't need suspicious behavior to identify wanted vehicles. They can scan 240 plates a minute; check them against databases of drivers with expired registrations, revoked licenses or warrants for violent crimes; then alert officers when there's a match.
$280,000Gross revenues from citations and impound fees issued in response to alerts from the Sarasota Police Department's automated license plate recognition system
ALPR systems typically include cameras, a processing engine and a notebook that runs the software. They capture numbers against multiple lanes of traffic going 80 miles per hour, then download and archive those plates, says Laura DiDio, principal analyst at Information Technology Intelligence Consulting.
Since deploying NDI Recognition Systems' VeriPlate ALPR in October 2008, the Sarasota Police Department has collected more than a million license plate numbers and has seen a noticeable increase in tickets, arrests and revenues, according to Lake.
"I get a lot of people who ask, 'Why did you pull me over? I wasn't doing anything wrong.' You could be the best driver out there," yet still come up in the system, he says.
Crime Stoppers
Evesham Police in Marlton, N.J., also saw a quick return on the department's ALPR investment. "Within two weeks, we wound up arresting a subject who had been committing burglaries," says Sgt. Ron Ritter.
The driver was listed in the FBI's national database, and when the officer pulled him over, he noticed a gun on the passenger seat. During questioning, the suspect admitted that he contemplated getting into a shootout. "He had been on a crime spree," says Ritter.
Two major highways pass through Evesham Township on the way to the Jersey Shore, so the readers capture as many as 100,000 plates a day. Evesham Police have used data generated from the system to recover stolen vehicles and nab motorists with expired registrations.
Law enforcement can also use ALPR systems as an investigative tool. For example, police officers can type a plate number into the system and drive through crowded areas to search for it, Ritter explains. The system captures every plate at a crime scene, so if there's been a rash of burglaries, for example, police can zero in on plates that turn up at multiple crime scenes.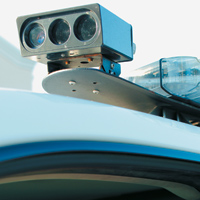 Cameras mounted atop police cruisers capture images of license plates, run them against databases and send alerts when there's a match with a wanted vehicle.
Police can even perform wildcard searches with partial plate numbers and question marks, adds Lake. The system will show color photos and tags of all the vehicles with those characters.
Since implementing the system in late 2008, Sarasota Police have recovered 120 stolen vehicles and plates, compared with three to five per year before rolling out the technology. "Every single car that passes us, it's capturing the data," Lake says.
ALPR Systems in Action
The Sarasota and Evesham police departments both have ALPR systems in vehicles. Evesham uses three cameras per car, and Sarasota uses four. The cameras capture plates from all angles, day and night, and have a setting for scanning plates in parking lots.
The technology is user-friendly but challenging to implement, Ritter says. When a hit comes up, the system takes a picture of the car, but the officer must find the car on the road. He also needs to verify the information on another screen because New Jersey's Department of Motor Vehicles only updates the database weekly.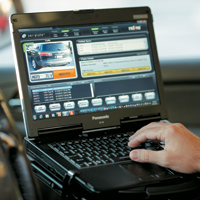 Evesham ran into problems when it first installed the system because the in-car computer didn't have enough memory to handle the software and data. "It almost felt like you were working in slow motion," says Ritter.
Another challenge can be the volume of alerts. "We've had 90 alerts in a 12-hour shift," says Lake. "You can go out in rush-hour traffic and the system will overwhelm you." However, color-coded alerts help officers to prioritize.
The Sumner County Sheriff's Office in Tennessee has had such success with the systems since installing them in vehicles about a year and a half ago that it's planning to add four fixed systems along the main corridors that enter the county. "They'll give us a lot of peace of mind," says Maj. Don Linzy. Police hope that as word of the devices spreads, criminals will avoid traveling into the county. For those who do, however, police will receive an alert.
"We have a county that's 569 square miles, and we have 10 officers patrolling that on a given shift," Linzy says. "I think it's a great tool for law enforcement and homeland security. We catch more criminals using the computer than having an physical body out there looking for them."
Private Versus Public
Automated license plate recognition (ALPR) systems have been used for everything from catching vehicles with expired registrations to solving murder investigations, but there hasn't been much regulation about how law enforcement agencies should store the data they collect.
ALPR's growing use, however, has raised questions: How secure is the data? What is it used for? What are the potentials for abuse? "Worst-case scenario, someone could use these things to profile someone," says Laura DiDio, principal analyst at Information Technology Intelligence Consulting.
Some municipalities and states limit the time data is stored to weeks or months to allay concerns about the data being misused. Others purge the system periodically because of limited storage.
The New Jersey Supreme Court in 1998 ruled that citizens don't have a right to privacy with regard to their license plates but that police can only see specific information — the vehicle identification number, when the registration expires and any warrants. For personal information, an officer would need to do a separate inquiry and document a reason for the full search.
"I don't think there's an intrusion, because there's nobody looking unless something happens," says Maj. Don Linzy of the Sumner County (Tenn.) Sheriff's Office.
Learn how wearable cameras aid law enforcement and check out on our infographic on the future of public safety.
<p>Photos by Ben Van Hook</p>