Boston Is Crowdsourcing Original Music for the Mayor's Call Center
It's "More Than a Feeling" — it's a great idea.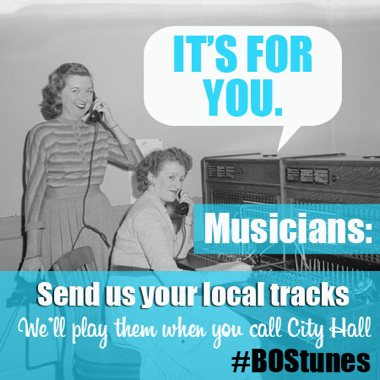 Digital services are growing in popularity, but local governments still need to be available by phone. In an effort to improve everyone's least favorite pastime — being on hold — the Boston government is crowdsourcing original music to play while residents wait.
The crowdsourcing will be a way to feature the city's artists, according to an article in Boston Magazine:
The program aims to replace the stodgy old tunes with ones recorded and submitted by bands from the area. "We think that music should be as uniquely Bostonian as you are," according to a press release from city officials.

Since the city recently updated its phone system, officials thought it would be a good time to integrate the plan. "We're turning our newly upgraded phone system into a place to showcase our talented local musicians," officials said.

Between now and December 2, bands can submit original tracks to be included in the transfer music playlist. The city will promote them via their website and social media. Of course, there are some restrictions: at least one member of each band or group must live in Boston at the time of submission. Bands also have to keep it clean. The city is banning any songs that are profane or discriminatory in nature.

Finally, bands can't cover other peoples' songs and send them in. Each song submitted has to be original.
To enter, contestants can follow the Department of IT on Twitter (@DoITBoston) and then tweet their music using the hashtag #BOStunes, or they can send a message via Facebook. The Department of IT's effort is gaining exposure for its own work as well: In the last two weeks, the department has added more than 100 Twitter followers.
Here are a few of the entries so far.
<p>Jupiterimages/Photos.com/Thinkstock</p>