Hyperconvergence Melds Compute and Storage in a Single Box
Localities gain ease of management, fault tolerance and redundancy from the technology.
The city of Brighton, Colo., aims to take advantage of as many new technologies as possible to better serve its citizens and improve the city's operations. Doing so comes with a price.
"As we utilize these technologies, the challenges for budget, storage, and computing power increases," says Jeromy King, the city's assistant director of IT.
For the past eight years, Brighton's IT department has dug into automation, document imaging, and video to streamline city operations. However, each success increased compute and storage requirements. "The demand kept growing and IT had to grow along with it," King says.
The city's latest projects include digitizing historical documents, video and evidence, and managing the explosion in digital files. "IT has to be creative to broaden the server and storage pool without enlarging the data center's physical presence and budget.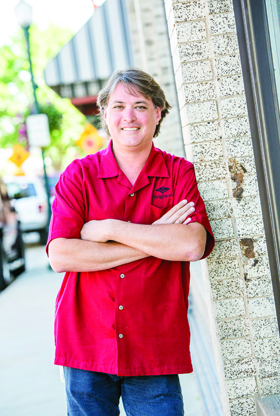 Jeromy King, assistant director of IT for Brighton, Colo.
King considered traditional options, such as adding on to the city's existing storage area network (SAN), but found the licensing and memory cost-prohibitive. A hyperconverged solution from SimpliVity blends compute and storage resources into a single box to shrink the footprint and ease the management and licensing challenges.
SimpliVity, Nimble Storage and Nutanix have entered the market to provide an alternative to the monolithic SANs that require separate servers and tiered drives that consume rack space, power and cooling. These newcomers integrate compute and storage resources with virtualization to reduce the complexity of administering storage.
"Hyperconverged solutions are equipped with unique technology and state-of-the-art engineering that promises to deliver higher performance and greater density," says Jeff Boles, a senior analyst for the Taneja Group consultancy. "They offer better control by integrating everything as a holistic, seamless and scalable set of data center infrastructure."
The Limits of Traditional SANs
King initially installed a newer, yet still traditional SAN but found it limiting. "If we added to our existing SAN, technically we would have been running two separate SANs, neither of which would truly meet our needs," he says. Another challenge was that the original SAN ran on Fiber Channel and the newer SAN used iSCSI.
Between the physical space demands and the complexity of skills required, King and his team decided to go in a different direction with SimpliVity. "We've got to be able to provide services to our residents and internal staff in a timely, adaptable and scalable manner," he says.
King migrated the city's Microsoft SQL and Exchange servers to the SimpliVity OmniCube using VMware's vMotion migration tool. In total, he has 50 virtual servers on three OmniCubes for redundancy, all managed as a single resource. "We had SimpliVity installed within six hours and servers migrated off the old SAN within seven days," he says.
The city of Brighton's users have noticed the performance difference from the legacy SANs. "Our performance greatly increased from the traditional SAN to SimpliVity," King says. "Keeping data readily available and ensuring rapid access helps improve our service to our customers."
Creating a Simplified Environment
Tyson Mock, IT director of Cochise County, Ariz., also turned to hyperconvergence to modernize its data center. "We needed to consolidate two data centers and increase overall performance and efficiency," Mock says. "I've seen an uptick in hardware failures that are directly related to our aging servers, most of which have been in service for eight or more years."
Mock selected the Nutanix Virtual Computing Platform to consolidate and virtualize the pool of roughly 50 physical servers. Nutanix ties storage and compute resources together into a single system, creating what Mock describes as "a simplified environment that doesn't require a lot of engineering."
Shortly after unboxing and racking the pre-configured Nutanix appliances, Cochise County's IT department configured Microsoft's Service Center Virtual Machine Manager to cluster four Windows Server 2012 R2 Datacenter hosts. The platform was production-ready within the same day.
Mock first migrated web services onto the Nutanix system. Like King, he received positive feedback from users about the performance gain. He then continued building services to that environment, including System Center Configuration Manager, SQL, network management, authentication and print and filing. This summer, Cochise County will also move its enterprise resource planning system onto the hyperconverged platform.
By the time the data center overhaul is complete, the county's data center footprint will shrink from six racks to one, and reduce power and cooling by roughly 80 percent. "We're assembling a cost-effective, high performing and efficient environment that is completely fault-tolerant," Mock says.
Deploying the Nimble System
The city of Hot Springs and Garland County, Ark., also were lacking redundancy in their storage infrastructure. Despite a pool of 14 physical servers, if an Exchange server died, recovery would take at least two to three days, according to Jeff Winter, information systems director for the city and county.
Winter deployed Nimble storage arrays at the city's two data centers, the county's data center and the disaster recovery site, each with 8 terabytes of data.
The Nimble system uses virtual management to create a single pool of storage resources that offer fault tolerance, redundancy and rapid recovery. The boxes are configured to replicate among each other so that if a physical server host fails, the application it runs can be back up and running elsewhere in 10 minutes.
Winter manages the storage system with a VMware plug-in for VMware vCenter. Also, he feels that Nimble deals with compression and white space management in a more sophisticated and efficient way than traditional SANs. "They've blended a few really fast flash drives with a bunch of high-capacity lower speed drives for maximum performance," he says.
To learn more about optimizing enterprise storage, find our white paper at statetechmagazine.com.
Julia Vandenoever
More On