Police Departments Embrace Gunfire Detection System to Fight Crime
The high-tech system of sensors and audio-analysis software can pinpoint gunshots in real time and help officers measure trends.
Police departments across the country are becoming less dependent on 911 calls to verify the location and magnitude of gunfire activity throughout the communities they serve. Many are investing in a gunfire detection system that offers wide area protection and can pinpoint shots in real time and create databases of incidents and trends.
Boston, Miami and Milwaukee police departments are among a growing number of law enforcement entities investing in a tool called ShotSpotter, a high-tech system of sensors and audio-analysis software "that identifies the unique signature of gunshots and other loud explosive sounds in real time," according to the California company that produces the system. Users can also request gunshot detection as a hosted, cloud-based service.
In Milwaukee, police officials are using $350,000 in grant funding to more than triple the area covered by ShotSpotter sensors, the Milwaukee Journal Sentinel reported. The state and Milwaukee County each provided $175,000 for the installation of sensors in high-crime areas. "After ShotSpotter was installed in Milwaukee, police learned they were receiving calls for only 14% of shots-fired incidents in the central city," the article noted.
Underreporting of gunfire is all too common. Fewer than 20 percent of shooting incidents are reported to 911, ShotSpotter says on its website. A 2013 Washington Post article highlighted the issue of underreporting in Washington, D.C., which uses the gunshot detection system.
The gunfire logged by ShotSpotter overshadows the number of officially reported felony gun crimes by more than 2 to 1. More than half of the incidents detected by the network have involved multiple rounds of gunfire. In 2009 alone, ShotSpotter captured more than 9,000 incidents of gunfire. That number has fallen by 40 percent in recent years, as gun homicides have declined sharply.
Here's a graphic from the Journal Sentinel that shows how the ShotSpotter system works: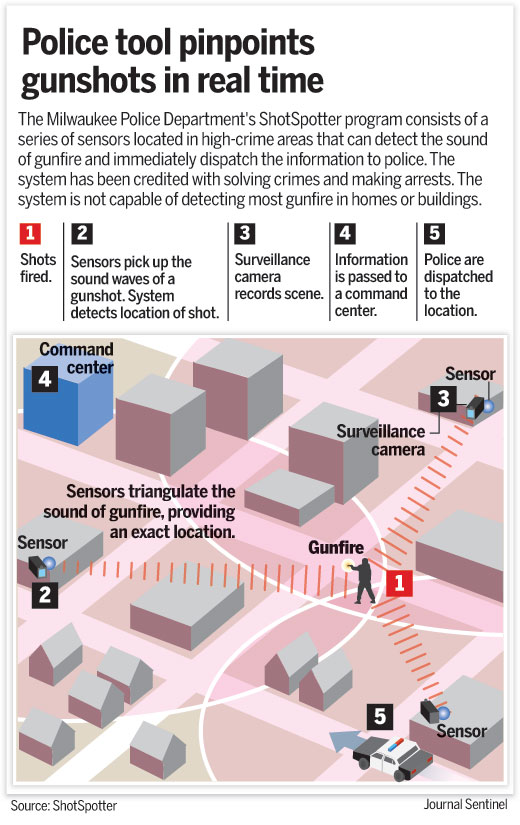 Earlier this month, ShotSpotter reported "gunfire incidents during the first half of 2014 were down by 20.6 percent, compared to [the] first half of 2013, in the 31 cities across the U.S. where ShotSpotter was deployed during both periods." ShotSpotter offers the methodology used to monitor and calculate gunfire incidents.
Many police departments that use the system have seen a decrease in the number of gunfire incidents and are experiencing tangible results, according to ShotSpotter and to the cities themselves.
"We have implemented an automated, proactive strategy for using ShotSpotter that gets us on the scene of crimes in progress fast," Springfield Police Commissioner John Barbieri told NBC affiliate WWLP-22News in Massachusetts. "In 2013, we started tracking the number of arrests and guns we've recovered due solely to ShotSpotter alerts, it's making a huge difference."
What crime-fighting technologies is your police department embracing?
Antonprado/thinkstock
More On