States and Localities Reap the Rewards of Hyperconvergence
Hyperconverged infrastructure helps state and local government eliminate integration and management complexities in the data center.
Less expensive. Easier to manage. More scalable. Those benefits are among the reasons why state and municipal governments increasingly migrate data ­centers to hyperconverged architectures.
As the name implies, hyperconvergence combines compute, storage, network and virtualization onto a single platform from a single vendor, eliminating the integration and management complexities that are inherent with a multivendor environment.
Those benefits matched precisely what the town of Westerly, R.I., sought when it deployed Scale Computing's HC3 application, a three-node cluster, in early 2016.
"I addressed several data center headaches with this solution," says Westerly IT Manager Marc Tate. "The issues I had with other vendors was complexity — with multiple vendors, things don't always integrate. The beauty of this solution is that it just works. You don't have to worry about software versioning or hardware ­integration. Everything is handled by the vendor."
Governments and enterprises that migrate to hyperconverged infrastructure (HCI) often are surprised by all of the benefits, including less hands-on management, greater uptime, and improved disaster recovery and replication capabilities.
"Generally a good hyperconverged system substantially overachieves expectations, which highlights what represents massive inefficiencies in ­systems that are built ad hoc using different vendors," says Rob Enderle, president and principal analyst with the Enderle Group.
More Uptime, Less Complexity
Tate studied hyperconverged ­infrastructure while working with a previous employer, and felt the technology would meet all of the goals his new employer sought to achieve, including ways to cut admin time and lower the total cost of ownership enterprisewide.
The data center was heavy on older platforms, including Microsoft Server 2003. Everything was replaced with Scale Computing's base-package, three-node cluster, which Tate says he can scale quickly and easily just by adding another node. "Vendor tech support takes care of 90 percent of the work," he says. "Just plug it in, give them an IP address, and they remote in to take care of everything. It's beautiful."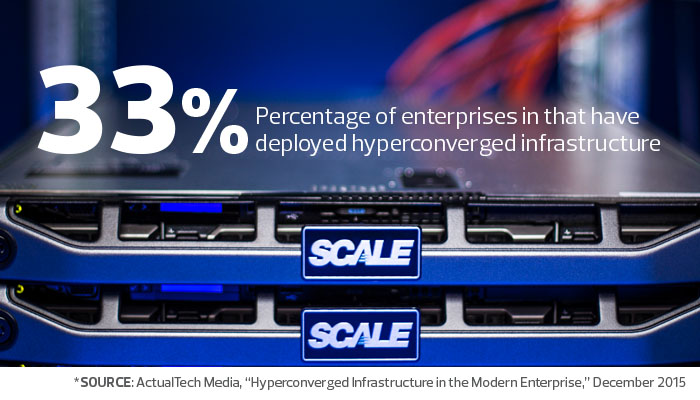 The initial installation took about two hours. "On the day that they installed it, we were spinning up virtual machines that afternoon," Tate says. Westerly's HCI launched in January 2016, and had experienced zero downtime as of November. The Oregon Department of State Lands has enjoyed similar benefits since migrating to a Nutanix solution in July 2015.
"It's much smoother to troubleshoot a server issue because one vendor supports everything except the network switch," says Clint Woodrow, the department's systems administrator and tech lead.
Woodrow also counts the technology's reliability as a top benefit.
"There are far fewer server issues because of the redundant hardware and hosts," he says. "Even when we had one node go down, none of our staff knew the difference. I was able to work through it with support, without staff hammering me with questions on when everything would be back."
Like Tate, Woodrow says he also appreciates the ease of hyperconvergence scalability.
"Upgrades to the cluster are rolling, and also transparent to our staff, so no scheduled downtime is necessary," Woodrow says. "That has greatly reduced my stress level."
Plenty of Hype
The HCI trend isn't limited to states and municipalities: Thirty-five percent of ­federal agencies surveyed reported that they also implemented HCI or plan to do so soon, according to a September 2016 study, "Hyperconverged Infrastructure: An Effective and Efficient Path to Federal IT Modernization." Word of mouth appears to be driving some of that adoption.
"That level of advocacy is highly unusual, but it showcases the advantages of building something complex to a set specification as opposed to the more typical, almost random build-outs," Enderle says.
Still, there are a few considerations that should be taken into account when deciding whether and how to implement HCI.
"Ask yourself and your organization precisely what virtualization platform you want or need to use," Woodrow recommends. "A couple of solutions support multiple platforms, but most are locked in to one, so that really narrows the choices down if you really don't have the option to switch."
Hyperconvergence means ­putting a big bet on a single vendor, so it's important to research that provider's track record for supporting products.
"Make sure the support is well rated and knowledgeable," Woodrow says. "I hate talking to a tech who just reads from a FAQ sheet. Ask around among your peers to verify. Don't just make a decision based only on the vendors' references. They're not going to refer you to an unhappy customer."
Tate also recommends scrutiny of the price tag to determine what support may be included. For example, some types of maintenance may cost extra.
"The thing I like about Scale Computing is that, if you have an issue, they're right on top of it, and most things are covered under the ­support agreement," he says.
Christopher Beauchamp/Novus Select
More On