Review: SonicWall TZ400 Provides Local Governments with Deep, Frontline Protection
SonicWall's firewall appliance is a strong choice for state and local governments watching the bottom line.
The types of cyberthreats facing state and local governments are just as perilous as those aimed at large corporations or the federal government. Government organizations overall face a growing number of ransomware attacks, second only to educational institutions, according to a 2016 report by risk management firm BitSight.
Unlike corporations or the federal government, however, most states don't have millions of dollars to spend on cybersecurity tools and manpower. For those on a tighter budget, the new TZ series of security appliances from SonicWall provides deep, frontline protection with less day-to-day management required.
SonicWall's TZ400 security appliance is a perfect example.
SIGN UP: Get more news from the StateTech newsletter in your inbox every two weeks!
Leverage Services for Better Government Security
The device acts as an advanced inspection point examining all traffic coming into a protected network. Installed at network gateways, the TZ400 would be suitable for branch offices with as many as 100 employees (larger models are also available).
The secret to the TZ400 is that it leverages hardware, software and the cloud, with some services installed directly on the box and the bulk of the threat definitions stored in the cloud. In testing, it was able to perform deep-packet inspection, including encrypted Secure Sockets Layer connections, without ­adding any network latency to a midsized testbed of users.
SonicWall's Comprehensive Gateway Security Suite enables the TZ400 to perform anti-malware, anti-spyware, intrusion prevention and content/URL filtering as a service, with the latest threat definitions delivered continuously to the box. For email ­protection, the SonicWall Comprehensive Anti-Spam Service filters out phishing attacks and mail with malicious attachments.
Take Control of Security with Professional Analysis
Most of those services are conducted automatically, although administrators remain in full control. IT security professionals can also use the SonicWall Analyzer program to examine ­traffic flow patterns for advanced cybersecurity practices, such as threat hunting.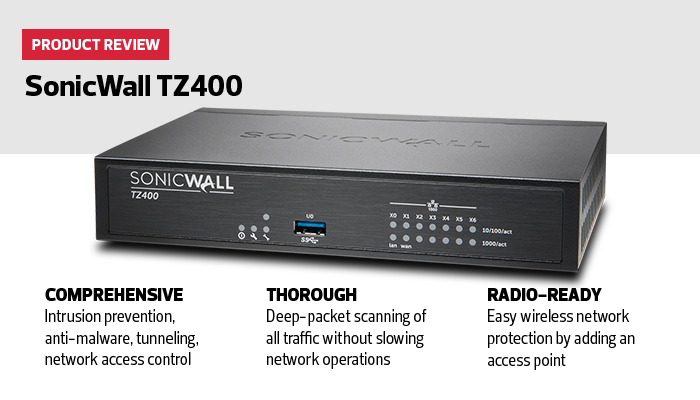 The TZ400 provides advanced security without the need for constant management. As a first line of defense, it's about as complete as it gets.
Protection That Goes Above and Beyond for States and Localities
The SonicWall TZ400 security appliance, in conjunction with the Comprehensive Gateway Security Suite bundle, can protect state and local government users sitting at their desks behind the next-generation firewall. It offers anti-malware, anti-spyware, intrusion prevention and, if configured for it, anti-spam and protection against incoming email-based threats.
But what about users who telecommute, or whose jobs require them to work in the field? Given that many workers in state government — such as inspectors, social workers or even law enforcement officers — don't spend all their time at a desk, it's an important consideration.
The TZ400 can protect them too, in three specific ways. First, the TZ400 allows remote users to set up a VPN secure tunnel back into the home network. Each TZ400 can support 20 site-to-site VPN connections simultaneously.
Remote users can also be equipped with the optional SonicWall Anti-Spam Desktop, which works with any Microsoft Windows–based client. Installed as a plug-in to Outlook, Outlook Express or Windows Mail, the Anti-Spam Desktop provides remote users with protection similar to what they'd have if working in the office behind a TZ400 firewall with the SonicWall Comprehensive Anti-Spam Service. The program detects phishing emails, spam and mail with malicious attachments, and they never make it into the client's mailbox.
Finally, the Enforced Client Anti-Virus and Anti-Spyware Software works to guard both remote users and the core network by enforcing security policies on every client that connects to a protected network. It works with any SonicWall firewall, including the TZ400, to detect whether clients are running the latest versions of anti-virus and anti-spyware. If they don't have protection — or their protection is out of date — the TZ400 will force them to install or update that protection before granting access to network resources.
Protecting those behind a firewall is critical, but SonicWall also helps those who don't always sit at an office desk, something that many state governments and their employees should appreciate.
The SonicWall TZ400
Processor: 800MHz
Firewall Data Transfer Rate: 1.3Gbps
Anti-Malware Throughput: 900Mbps
Maximum Connections: 6,000 per second
Dimensions: 5.3x7.5x1.4 inches
Weight: 1.59 pounds