Review: NETGEAR ReadyNAS 3138 Comes Prepared with Robust Storage Features
This dependable appliance, seemingly tailored for the public sector, brings together incremental backups, cloud synchronization and disaster recovery.
The NETGEAR ReadyNAS 3138 enterprise network-attached storage device works on many levels: It has more features and capabilities than almost any other NAS in its class.
Like the state and local governments it seems tailored to serve, it's well suited to master complex computing environments and protect mission-critical data, even in environments undergoing digital transformation, virtualization or migration to the cloud.
The 1U rack-mountable NAS offers four storage bays and can support up to 32 terabytes of capacity when 8TB drives are installed in each bay. 
Armed with a low-voltage, 2.4 gigahertz Intel Atom processor and 4 gigabytes of DRAM, the appliance processed read and write requests from multiple users without even a hint of slowdown during my test.
MORE FROM STATETECH: Discover the benefits of software-defined storage for your agency! 
ReadyNAS 3138 Supports Off-Site DR, Cloud Replication 
With its unique OS, the ReadyNAS 3138 enterprise NAS enables five layers of protection beyond whatever is already active within a host network. That includes native encryption and anti-virus, plus RAID configuration.
The 3138 is designed with government needs in mind, including the ability to support off-site disaster recovery. Every ReadyNAS has a cloud replication feature. Administrators flag vital data; for example, everything in a specific folder with personal or confidential information. That data then shifts automatically to the cloud as it's stored, then down to another ReadyNAS device, which could be housed at a separate physical location.
Agencies then always have the option to configure a cloud-connected storage network and easily expand capacity.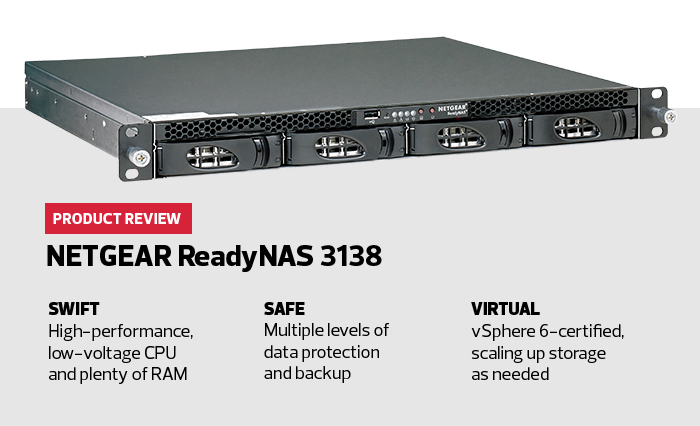 IT Pros Can Easily Store and Protect Data 
I tested data backup with a different ReadyNAS model in the lab. It worked flawlessly in both directions. Data sent to the second unit could be backed up to the 3138, and vice versa. Essentially, I created my own storage cloud, using physical devices. Agencies and departments can sync offsite data to a core.
Despite all of those advanced features, the NETGEAR ReadyNAS 3138 was extremely easy to use, and would allow local government users to configure solid protection for data — and easily expand capacity as needed — without requiring a dedicated storage administrator.
ReadyNAS 3138 
Processor: Intel Atom C2558 Quad Core 2.4GHz
RAM: 4GB ECC UDIMM
Free Drive Bays: 4
Maximum Capacity Supported: 32TB
Dimensions: 16.3x19.1x1.7 inches
Weight: 11.5 pounds
Netgear