Local Agencies Share Resources to Overcome Infrastructure Challenges
Local governments benefitted from scalable and adaptable modular data center technology when working with limited space or when planning to grow.
Call it luck, good timing or a convergence of needs, but when the local government and school systems in Henrico County, Va., decided to share a new data center, it proved to be a boon for both.
With a population of just over 300,000, Henrico County neatly surrounds the northern half of Virginia's state capital, Richmond. The county's data center was originally built in the 1970s to house mainframes. By 2015, it was desperately in need of an upgrade, says IT Director Travis Sparrow. At the same time, Henrico County Public Schools' infrastructure was nearing the end of its life, and the district had to ensure that its new data center infrastructure was flexible, scalable and resilient.
So, an idea began to germinate: Since both groups had similar data center needs, why not join forces and share the same facility? 
In seeking a solution, Henrico County discovered modular data centers, which save space but also provide an affordable solution that is rapidly scalable. Local governments have found many advantages to modular data centers, which consist of portable technology that can place data capacity anywhere. 
Modular data centers can fit in small and difficult-to-fit spaces while also supporting capabilities to grow rapidly. At the same time, modular data centers save governments money, partly through converged infrastructure that combines power, cooling, racks, security and management into a single unit. 
As Henrico County discovered, they also are easy to share with other local jurisdictions.
DOWNLOAD: Find out how your agency can modernize its data centers in the CDW Modern IT Infrastructure Insight Report! 
Modular Data Centers Help Henrico County Gain Efficiencies 
Henrico County had spent more than two years carefully plotting its data center renovation, says Brian Viscuso, the county's manager of systems engineering. Along the way, it decided to relocate the data center from the second floor of its current building to a smaller space on the top floor. That helped drive the decision to adopt Vertiv SmartAisle technology instead of a traditional computer room air conditioning unit.
"A 20- or 30-ton CRAC wouldn't fit into the elevator, and we weren't about to cut a hole in the roof to drop one in," Viscuso says. "It's funny how an elevator dictated a lot of the project, but it absolutely worked out for the best."

Vertiv's SmartAisle, a modular data center, encloses each row of server racks within a self-contained pod complete with cooling and UPS, dramatically reducing footprint and power consumption over traditional hot- and cold-aisle, raised-floor architectures. So, despite slashing its data center space by two-thirds, Henrico County still had plenty of room to fit a second SmartAisle pod for the public school system.
The timing couldn't have been more perfect, notes Henrico County Public Schools CIO Brian Maddox. To avoid interrupting educational services for its 50,000 students, Henrico's school district had to make its major infrastructure improvements over the summer. Having a shiny new data center offered immediate benefits.
"It's not every day you get to move into a brand-new data center with the latest technology on the market and start with a totally clean slate," Maddox says. "The other big benefit is the sheer wealth of experience we'll get to share between the county and school IT teams."
While the school district was just completing its data center move at press time, Viscuso says the county is talking to other local entities about using its excess capacity for disaster recovery.
MORE FROM STATETECH: Discover how hyperconverged infrastructure improves the disaster recovery process!
Cape Coral Saves Time and Money with Modular Approach 
The city of Cape Coral, Fla., has more than 50 sites connected to a primary and secondary data center. Several years ago, when the city sought a modular solution to provide power protection and flexibility to its data center operations, it decided to go with APC by Schneider Electric and its InfraStruXure solution.
APC InfraStruXure is a modular data center architecture that simplifies installation while saving time and money. The integrated data center solution consists of converged infrastructure components, including power, cooling, racks, security and management by Cisco and NetApp, in one functional package.
Today, Cape Coral's secondary data center houses part of the city's network core and its demilitarized zone; it also serves as its primary backup site, says Matt Vilord, IT and communications manager for Cape Coral. That data center is still protected 24/7 by the original APC units, plus some additional cooling solutions.
"One of the main benefits of APC for power protection was the ease of expandability and zero downtime for maintenance," says Vilord. "The ability to grow on demand by adding battery cells and add-on racks allowed us to grow our infrastructure and maintain clean, protected power with ease." 
El Paso Entities Upgrade Hardware, Gain Resilience 
The city and county of El Paso, Texas, first pooled their IT budgets to make the most of their limited funding in 2011. That's when they discovered the HPE Performance Optimized Data Center, a modular data center. Today, that modular solution is helping to keep essential public services up and running.
The city and county combined forces to support law enforcement, the judiciary and administrative offices with a 40-foot HPE POD. Back then, the jurisdictions realized an immediate savings of roughly $6 million by consolidating resources and cutting duplication.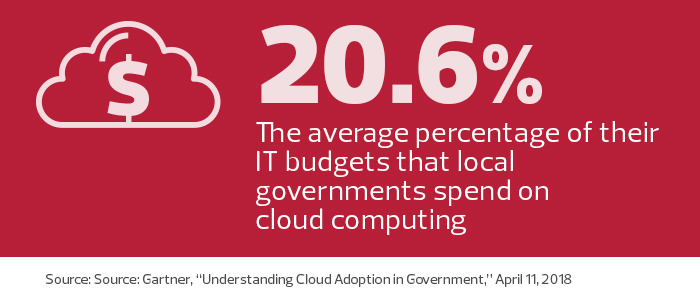 "Our primary objective was to provide a state-of-the-art data center to replace aging hardware," says David Garcia, deputy technology officer for El Paso County. "In addition, the city had lost all services during a snowstorm, and it was necessary for both city and county to upgrade their systems for fault tolerance. Over the years, components have been replaced, but the majority of the infrastructure is in place."
El Paso was able to control costs by installing only as many of the modular units as required. And modular data centers support additional cost savings with incorporated power and cooling. According to HPE, organizations can save 25 percent in total cost of ownership over a brick-and-mortar data center and an operating savings of 30 percent with modular data centers.
MORE FROM STATETECH: Why planning a data center build-out optimizes operations for agencies! 
Improve Data Center Stability While Remaining On-Premises
In addition to being scalable and easily deployed, containerized data centers are also highly efficient. Data centers also gain flexibility for expansion.
"This was the most effective way to improve stability and fault tolerance while keeping the IT solution on- premises," Garcia adds. "Everything in the POD is modular and can be replaced. That gives it a real advantage over brick-and-mortar, which is rigid and fixed."
Over time, Garcia explains, both the city and county of El Paso have developed their own strong IT departments, but still rely on each other for help when needed.
"We share where there is a mutual benefit and keep open communications on strategies," he says.
Government agencies combining resources to tackle IT challenges makes a lot of sense, particularly when a larger agency can help a smaller one, says Charles King, president and principal analyst for consulting firm Pund-IT.
"They have the technical know-how in addition to human and IT resources to do a terrific job, as well as a greater understanding of regulatory and compliance issues impacting the applications and data they support," says King. "So, it can be a win-win for everyone involved, including taxpayers."
Photography by Jonathan Timmes