How Wearable Cameras Aid Law Enforcement
Body-worn devices collect evidence and increase transparency.
In Anderson City, S.C., police officers have a new high-tech ­accessory that's helping them close cases: wearable body cameras.
After several months in use, Vievu cameras have helped Anderson City law enforcement gather evidence that led to convictions for domestic violence, driving under the influence and much more.
Jim Bolt, IT director and computer forensics investigator for the Anderson City Police Department, recounts the time an officer responded to a report of domestic violence and recorded the incident. "When the case came to court, nobody wanted to testify," he says. "But we already had everything recorded. We used the video to show that a crime had been committed."
Video footage from the 48 Vievu body cameras also aids Anderson City in prosecuting drunk driving and other traffic cases. "We get field sobriety tests on video, so we can show what the people looked like and their demeanor at the time of arrest," Bolt says. The cameras have also filmed traffic stops of drivers with suspended licenses, showing everything that took place during the stops.
Bolt tested four body camera systems, but he chose Vievu because the video it gathers can't be altered or deleted by the officers without it being logged. This makes it admissible as evidence in court cases.
"We needed to know that we can prove that there has been no access to the video and no ability to alter the video without it being noted," Bolt says. "Also, the video is high quality, to the point where we can identify the suspect, we can identify evidence and we can use it for crime scene identification."
Transparent Intentions
Anderson City isn't alone in deploying wearable body cameras. From ­Burlington, Vt., to Oakland, Calif., hundreds of U.S. cities have equipped their police officers with these pager-sized devices, which cost between $700 and $900 each.
By recording how police officers interact with citizens, body cameras not only provide transparency as police departments investigate complaints against officers, but also gather critical evidence that leads to arrests and ­convictions.
"I have no doubt that [wearable cameras] are useful for law enforcement for gathering evidence and interviewing witnesses," says Carl Howe, vice president of Yankee Group's Consumer Research Group. "I can see where having it on film would actually help you make your case."
$700 to $900Cost of wearable body cameras, compared with $3,000 to $7,000 for a dashboard video camera
Marketed to police officers since 2008, body cameras can be mounted on sunglasses, attached to radio microphones or — the most popular style — clipped to the front of the officer's shirt. These lightweight, rugged devices boast batteries that last four to five hours. New models available later this year will offer real-time video streaming, 10 hours of battery life and Wi-Fi connectivity.
Police officers "don't need highly sophisticated systems, just a video record that is highly trusted that can be submitted into evidence," Howe says. "After all, we've been relying on photographs in court cases despite the fact that they can be pretty easily Photoshopped."
Curtailing Complaints
Video from body cameras has helped police departments clear officers of complaints ranging from the use of inappropriate language to the unnecessary use of force to subdue suspects.
In June 2011, a Page, Ariz., police officer was cleared in a fatal shooting after video captured by his Vievu body camera showed that the victim had grabbed the officer's Taser and tried to injure him. And in September, an Oakland police officer's body camera captured his fatal shooting of a suspect fleeing a traffic violation with a gun and drugs. (The Oakland Police Department has the largest installation of body cameras in the U.S., having purchased 350 Vievu cameras in 2010.)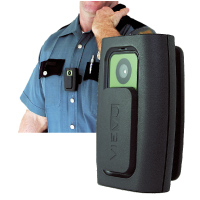 Wearable cameras from manufacturers such as Vievu allow organizations to document actions from the user's point of view, making them helpful in law enforcement.
Courtesy of Vievu
Meanwhile, the Union City, Calif., police department has seen the number of complaints filed against its officers decline dramatically since it equipped them with Vievu wearable cameras in 2009. Before the camera deployment, the department typically received 12 to 16 complaints a year that needed to be investigated. Last year, the department received none.
"People come in and talk about making a complaint, but then we show them the video and they moonwalk out the door," says Commander Kelly Musgrove. "The fact that our officers have body cameras has changed something. Maybe it's my guys being more professional. It's a win-win for everybody."
The department uses the cameras to record statements from victims and suspects, field sobriety tests, interviews and domestic violence cases. "If a picture is worth a thousand words, a video clip is worth a million," Musgrove says.
Overall, wearable cameras help his officers do a better job of policing Union City, Musgrove says. "The video will show one of our officers walking down a long alley or hallway at night. As they enter a home, it will show how long the officer waited before they kicked in the door," he says. "We're using it to get better at what we do."
Bolt concedes that some Anderson City officers were worried that superiors would use the wearable cameras to monitor their on-the-job performance. But the devices have been most successful at gathering evidence for cases.
The Vievu cameras are easy to use and rugged enough to withstand field operations. The battery lasts long enough for a shift if the officer enables the camera only when responding to a call. Officers then upload the video to the storage location from their notebooks in the squad cars and enter it into evidence.
The one challenge that Anderson City has run into is having enough dedicated storage for the video at headquarters. Bolt currently uses a terabyte of storage.
"It was important that I set up a high-performance storage system and made sure I was prepared for all of the video coming in," Bolt says.
Learn how automatic license plate recognition helps police nab wanted vehicles and drivers and check out our infographic on the future of public safety.
<p>Ian Curcio</p>
More On