IT Gold: How Technology Is Powering London's 2012 Olympics
It's not all glitz and glam for the UK's swinging city as it adapts to the technology challenges of hosting the world for two weeks.
Athletes, spectators and fans worldwide are riding an emotional roller coaster during the 2012 Summer Olympic Games. And as athletes from around the world compete in events across 26 sports, everyone involved with operating the games relies on technology to keep things running smoothly.
The man tasked with making that happen in London is Gerry Pennell, CIO of the London 2012 Olympics and Paralympics.
Pennell spoke with Computer Weekly about the massive job he had ahead of him last year, but, thankfully, he didn't have to face it alone.
Some 450 IT experts, working around the clock in shifts of up to 180 people, will be on hand throughout the Olympics and Paralympics to make sure everything works.

In total, some 5,000 IT professionals will be involved during the Games, consisting of Pennell's 300-strong in-house team, plus staff from key suppliers including Atos, BT, Cisco, Acer and Samsung, plus 2,500 volunteers. They will be supporting critical applications such as the Commentator Information System and results services, as well as monitoring 900 servers, 1,000 network and security devices and 9,500 PCs.
The biggest difference between the 2012 Olympic Games and the 2008 Olympics in Beijing is the increased focus on data. Yes, big data is playing a significant role in this year's Games as Pennell and his team capture, sort and store various kinds of data from all of the events:
Few of the Games IT systems are transactional - the main focus is on collecting and distributing data, in particular results and timings for events. In London, 30% more results data will be processed than in Beijing in 2008, and the growth of fans accessing that data via the web and mobile phones presents a particular step-up in expectation.
The pressure to have this data immediately and highly available is particularly important when considering close finishes or controversial decisions that require judges to revisit data and footage.
Can you imagine the mess Pennell would be in if the data failed to capture or was hacked in such an event?
One former UK cybersecurity boss can, as he explained the frightening scenario to Firstpost:
The digital systems recording scores and timings are susceptible to attack and will be targeted by hacktivists wanting to make a statement and by organised crime groups looking to profit from betting on events.

"Can you imagine the furore if the 100-metres final is a photo finish and they can't access the photo and no one knows when the clock stopped.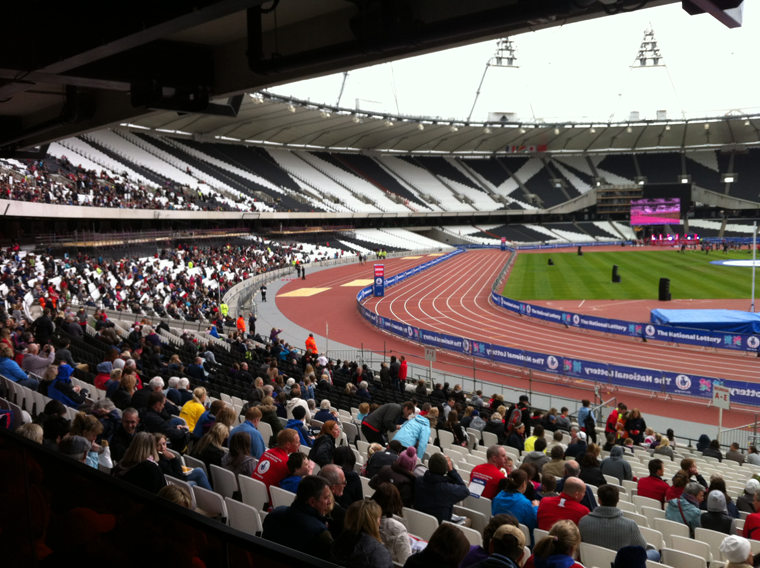 Photo courtesy of stewartcutler.
Mobile Broadband Woes in a Big City
From a city perspective, London is incorporating technology on several fronts, but the IT resource many visitors in the city will rely on most is Wi-Fi.
According to a report from ZDNet, BT, a European broadband Internet service provider, has rolled out more than 100 Wi-Fi hotspots along the Thames River, bringing the company's total to 500,000 in London.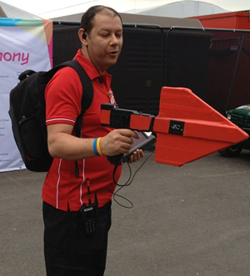 Credit: SadaoTurner
Spectators are mainly using these Wi-Fi connections to access and transmit data through various social media networks, like Twitter and Facebook.
But Olympic and city officials have been vigilant about policing abuses of the Wi-Fi networks, such as launching personal Wi-Fi hotspots, which isn't permitted.
Using portable directional antennas, officials at the Games are sniffing out Wi-Fi hogs and shutting them down, according to a report from the CBC.
The crackdown on the unauthorized use of mobile broadband has caused some people to complain, but there's a legitimate reason to reduce bandwidth hogs as the data on racers' times and positions was disrupted by an overload of social media activity, according to a report from the CBC.
This prompted the International Olympic Committee to ask fans to take it easy with social media.
"We don't want to stop people engaging in this by social media but perhaps they might consider only sending urgent updates," said IOC communications director Mark Adams in a story from the Guardian.
Sustainability Matters, But Not the Cloud
While Olympic officials have taken on big data with gusto, one technology that they haven't tapped into is the cloud.
In an interview for Techworld, Pennell explained that although the elasticity of the cloud would be useful for a city hosting the Olympics, he didn't believe it was mature enough to handle a real deployment at the Games.
Economically, and in the longer term, it would make a lot of sense for the Olympics to be done on a cloud infrastructure basis, because it's a very peaky operation, so you would be able to call off some resources and use them for a very short amount of time.

The trouble is the infrastructure in the cloud is not sufficiently mature enough to support the kind of things we're doing in the Olympics. The applications aren't there, they're not written for the cloud; quite a big migration would be required to move particularly that core infrastructure into the cloud.
But London is very much focused on using technology to assist in its goals of sustainability. The city has rolled out smart recycling bins that include digital signage and real-time information for visitors and city residents. This is a smart innovation that takes advantage of unconventional real estate that would otherwise, well, go to waste.
<p>Photo courtesy of <a href="http://www.flickr.com/photos/samsungtomorrow/7648447144/" target="_blank">SamsungTomorrow</a>.</p>