State Governments Ramp Up Cloud Spending
IT professionals in government plan to spend 27 percent of their IT budget on cloud computing in the next four years.
It's one thing for an individual user to launch headfirst into a cloud environment; it's quite another for an entire organization to make the switch.
The decision to shift to the cloud is driven by several factors, including the massive number of employees bringing their own devices to the workplace and the cost-saving benefits that cloud computing provides.
But organizations across all segments are slowly making their way to the cloud, and state and local governments are no different. Several have moved services and applications to the cloud, and more are following in their footsteps.
How the Cloud Is Changing Government
In the CDW 2013 State of the Cloud Report, state and local government IT professionals said they plan to spend 27 percent of their budget on cloud computing. In one year, they plan to spend 15 percent of their total IT budget on the cloud, which indicates that governments are anticipating that the need for cloud services will only increase over time.
This shift is happening in government in large part because of the consumerization of IT. Over half of state government IT professionals surveyed reported that their decision to recommend cloud adoption to their organizations was spurred by their own personal use of the technology.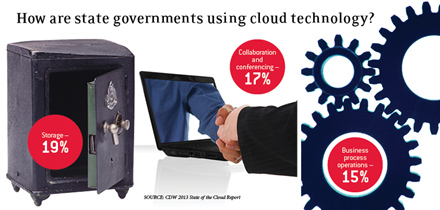 Meanwhile, another 34 percent said that their organizations are speeding up the move to the cloud because employees are using cloud and mobile devices. Not all state government IT workers are finding cloud adoption an easy sell, though.
According to the report, the biggest concern state governments have with the cloud is the security of applications and proprietary data. Because the cloud is still an emerging technology, many users feel uncertain about the ubiquitous access to such information. There also continue to be performance concerns around latency and high availability.
Of the applications and services that have moved to the cloud, which are the most popular? Storage, collaboration and business operations have been the first to move to the cloud, according to the report.
For more information on the CDW 2013 State of the Cloud report, visit the CDW Newsroom for more information.
<p>iStockphoto/Thinkstock</p>