How City–Citizen Social Media Engagement Fosters Meaningful Change
Three examples of social media's very real impact on government.
Social media is the best way to communicate with almost everyone these days. Realizing this, governments are taking myriad approaches to the social web. Many have turned to Facebook, others to Twitter, and still other to apps like Vine. Regardless of the platform, the goal is the same: Engage citizens. Whether that means crowdsourcing, spreading news or reporting issues, social media is the place to be. Here are a few governments that understand that and make it work.
Bearing Witness to the Impact of Social Media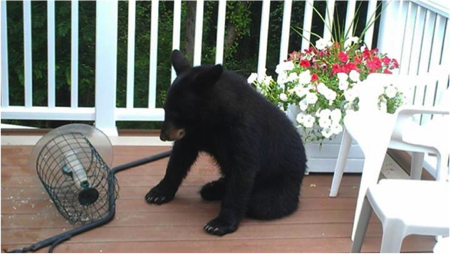 A bear was recently sighted in suburban Montgomery County, Md., posing an obvious danger to local residents. The police department posted the above image on their Facebook page, where more than 5,100 fans had immediate access. The department also provided safety information and instructions on what to do if the bear was spotted. The post was shared 114 times, spreading this important information quickly and without cost. A few days later, the bear was tranquilized in nearby Washington, D.C., and safely returned to a more rural area.
The Facebook post accomplished several goals: First, it spread awareness. Second, it leveraged the power of the community to locate the bear. And finally, it helped grow the police department's social presence.
Watering the Seeds of Engagement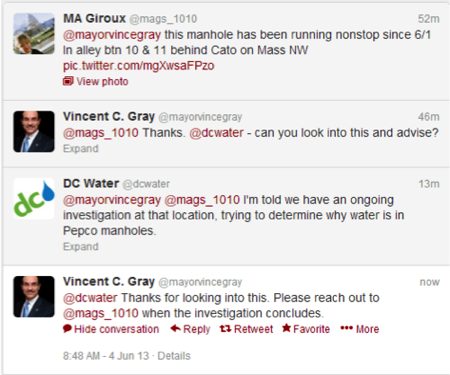 Here is a great example of customer service via social media. A Twitter user (and Washington, D.C., resident) reached out to Mayor Vincent Gray to report a manhole leak in the city. This is certainly not the standard protocol when reporting incidents, but the city recognizes that many people communicate this way. The mayor's staff quickly alerted DC Water, which was able to provide further assistance.
In 2013, governments must be nimble enough to communicate on a variety of platforms. Washington, D.C., is doing an excellent job of connecting with constituents where they want to talk.
These Citizens Heard It Through the Vine
Michigan is using Vine, a relatively new social media platform, to share short videos. The service, owned by Twitter, is the easiest way to share short video clips on the social web. While it remains to be seen whether Vine will be as important as Facebook or Twitter, it's a very cool way for governments to give citizens a behind-the-scenes look.
Do you have a story of government–citizen interaction on social media? Let us know in the Comments section.
<p>Thinkstock</p>