Happy 25th Birthday, World Wide Web
Pew Internet Project takes a look at how connectivity has affected society over the last 25 years.
The World Wide Web turns 25 on March 12, 2014, so it's time to celebrate. How, exactly? By taking a look at not only its impressive growth but also its unprecedented impact on society.
It's important to note the difference between the Internet — a network of computers — and the World Wide Web — text and pages that we synonymize with Internet access.
Pew Research Center has pulled together data from a number of its surveys to put the last 25 years into perspective. Check out the entire report The Web at 25 in the U.S. for more information.
Internet Adoption Has Reached 87 Percent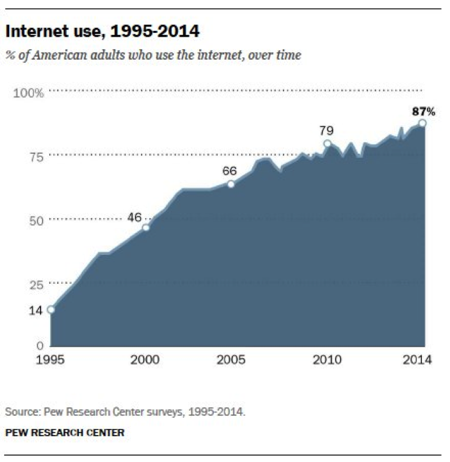 Today, nearly everyone in the United States has Internet access. In 1995, it was just 14 percent, a number that has grown exponentially over the last 24 years.
Adoption: 87% of American adults now use the internet, with near-saturation usage among those living in households earning $75,000 or more (99%), young adults ages 18-29 (97%), and those with college degrees (97%). Fully 68% of adults connect to the internet with mobile devices like smartphones or tablet computers.
The growth is simply stunning and has been driven largely by the impact connectivity has had on our lives. In fact, many consider Internet access to be a utility, like electricity and water.
Impact: Asked for their overall judgment about the impact of the internet, toting up all the pluses and minuses of connected life, the public's verdict is overwhelmingly positive:

90% of internet users say the internet has been a good thing for them personally and only 6% say it has been a bad thing, while 3% volunteer that it has been some of both.
76% of internet users say the internet has been a good thing for society, while 15% say it has been a bad thing and 8% say it has been equally good and bad.
It's hard for millennials to remember that life wasn't always this way. In the early 1980s, just 1.4 percent of adults in the United States had ever used the Internet, and just 10 percent had a home computer.
Computer use was wildly different in the days before Facebook, eBay and Amazon, but Pew's researchers had the thought to ask about e-commerce:
And 74% of computer owners agreed with the statement, "The trouble with purchasing and bill-paying by computer is that it will be too easy to buy too many things that aren't in the family budget."
By 1990, 42 percent of adults used a computer; by 1995, 14 percent had Internet access, but 42 percent had never even heard of the Internet. With Internet access now approaching complete saturation in the United States, Pew researchers decided to ask some philosophical questions about how the web, and computer use in general, affects society:
Most internet users think online communication has strengthened their relationships and the majority report the environment is kind.

There is considerable debate about whether online communication—through email, messaging, or social media—has strengthened or weakened relationships. Internet users' own verdict is overwhelmingly positive when it comes to their own ties to family and friends: 67% of internet users say their online communication with family and friends has generally strengthened those relationships, while 18% say it generally weakens those relationships.

Interestingly enough, there are no significant demographic differences tied to users' feelings about the impact of online communication on relationships. Equal proportions of online men and women, young and old, rich and poor, highly educated and less-well educated, veterans and relative newbies say by 3-to-1 or better that online communication is a relationship enhancer, rather than a relationship detractor.
Perhaps more interesting than our feelings about the Internet's impact is our near-addiction to connectivity. Take a look at the chart below.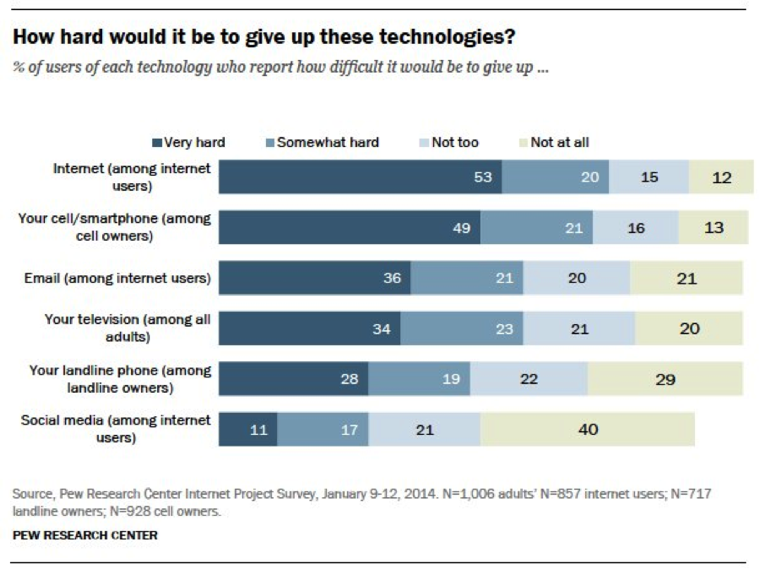 Happy birthday, World Wide Web. Here's to another exciting year!
merznatalia/Thinkstock
More On