NYC's 311 Call Center Is a Big Data Gold Mine
See how New York City is using data to be proactive when it comes to maintenance, public safety and health.
311 call centers have always helped local residents solve problems, submit complaints and obtain emergency information, but now those same centers are generating Big Data. In 2010, Wired's Steven Johnson reported on New York City's massive 311 efforts, which were (and still are) yielding major dividends for the city's residents:
Launched in March 2003, 311 now fields on average more than 50,000 calls a day, offering information about more than 3,600 topics: school closings, recycling rules, homeless shelters, park events, pothole repairs. The service has translators on call to handle some 180 different languages. City officials tout a 2008 customer satisfaction survey, conducted by an outside firm, that compared 311's popularity to other call centers in both the public and private sectors. 311 finished first, barely edging out hotel and retail performance but beating other government call centers, like the IRS's, by a mile. (At the very bottom of the list, not surprisingly: cable companies.) Executive director Joseph Morrisroe attributes 311s stellar scores to its advanced technology, relentless focus on metrics, and employee training, which ensures that "customers will speak with a polite, professional, and knowledgeable New Yorker when they need assistance."

If anyone still wondered whether the 311 concept was here to stay, New York's 100 millionth call should have dispelled all doubts.
New York City's efforts have expanded to include a mobile app and a searchable map. The more data the city can collect, the more efficient it can be when it comes time to fill potholes or dispatch officers to settle noise complaints. Johnson explains how the city is using data to be proactive:
The 311 system has proved useful not just at detecting reliable patterns but also at providing insights when the normal patterns are disrupted. Clusters of calls about food-borne illness or sanitary problems from the same restaurant now trigger a rapid response from the city's health department. And during emergencies, callers help provide real-time insight into what's really happening. "When [New York Yankees pitcher] Cory Lidle crashed his plane into a building on the Upper East Side, we had a bulletin on all of our screens in less than an hour explaining that it was not an act of terrorism," Morrisroe says. After US Airways flight 1549 crash-landed in the Hudson in 2009, a few callers dialed 311 asking what they should do with hand luggage they'd retrieved from the river. "We have lots of protocols and systems in place for emergencies like plane crashes," Morrisroe explains, "but we'd never thought about floating luggage." This is the beauty of 311. It thrives on the quotidian and predictable—the school-closing queries and pothole complaints—but it also plays well with black swans.
One of the coolest things about Big Data is what happens when it takes the form of visualizations. The graph below depicts the most common reasons for calls to 311 during a 24-hour period.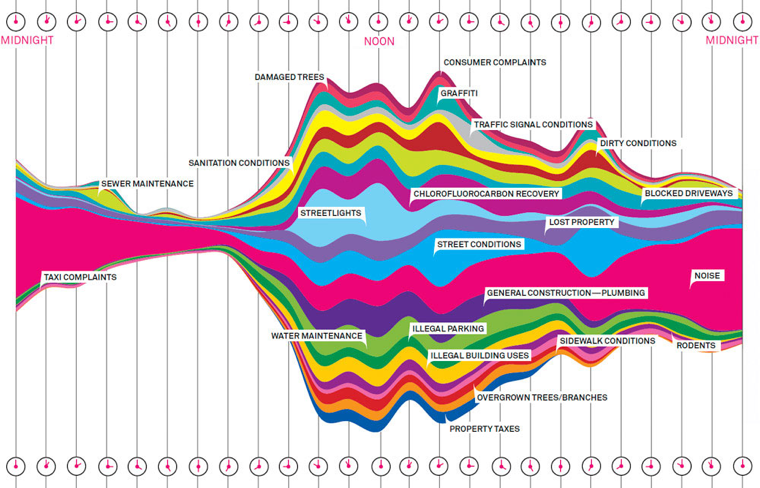 How is your city, state or county using 311 data? Let us know in the Comments.
<p>Photick/Thinkstock</p>
More On