BroadbandUSA Makes Its Debut
Learn how the federal initiative will help communities expand access to high-speed Internet service.
The nationwide broadband movement received a boost last week with the launch of BroadbandUSA, a federal initiative aimed at expanding high-speed Internet service across the country.
During a kickoff call Wednesday, BroadbandUSA representatives elaborated on the initiative's main objectives as well as the resources that will be offered to state and local governments seeking to spur economic development and empower their residents, school districts and small businesses through the adoption of broadband services.
"Broadband is no longer a want, it's a need," said Doug Kinkoph, director of broadband programs for BroadbandUSA. About 78 million Americans don't have access to broadband in their homes, Kinkoph noted.
Communities will have access to technical assistance from the Department of Commerce's National Telecommunications and Information Administration (NTIA), which spearheads BroadbandUSA, via in-person meetings, workshops, online webinars, email and phone.
NTIA is charged with advising the executive branch on telecommunications and information policy issues, and it administers programs that further the deployment and use of broadband.
On Feb. 4, the NTIA will host an interactive regional broadband workshop in Jackson, Miss., to showcase successful community broadband projects across the Gulf Coast and to discuss ways to expand local broadband adoption and capacity.
What Will BroadbandUSA Offer?
Through BroadbandUSA, NTIA will:
• Provide assistance to communities that want to improve their broadband capacity and use service more effectively.
• Provide expert and impartial advice and tools for assessing broadband adoption, planning new infrastructure and engaging a range of partners in broadband projects.
• Support regional cooperation among network operators and recipients of federal funding.
NTIA polled the 100 or so participants of its webinar this week about the biggest challenge they have encountered while trying to expand broadband access in their regions. Here's what they said: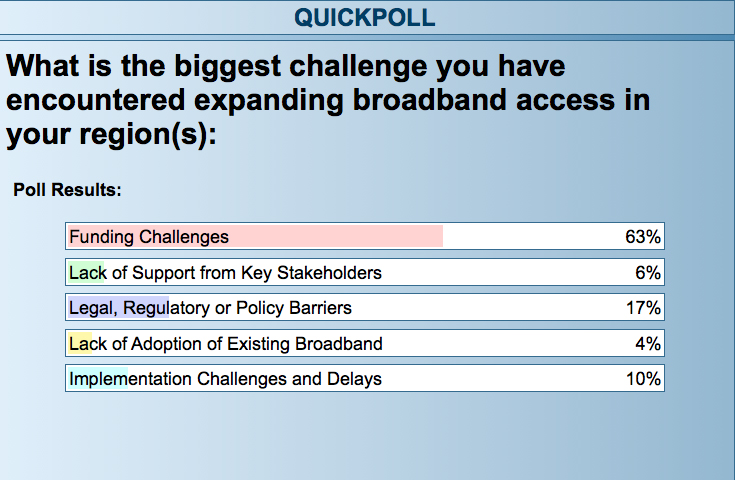 Laura Breeden, director of external affairs for BroadbandUSA, said during Wednesday's webinar that the initiative's team expects to convene an event or workshop every two to three months for the rest of 2015.
The BroadbandUSA team has already received requests from communities that want to play host to events in their area. Breeden said that when choosing event sites, NTIA will seek out places where there is a need that can be filled and locales that staff have not previously visited.
amanaimagesRF/thinkstock
More On