3 Ways Cities and Counties are Using Video Footage
Cities and counties deploy cameras for evidence, surveillance and perimeter security.
Fort Collins Police Services boasts so many video cameras that the Colorado department appears to be on an episode of COPS. But instead of appearing on TV, the city is using video from those cameras to enhance public safety, boost accountability and record important evidence.
The Fort Collins deployment includes body-worn cameras, dash-mounted and back seat cameras in patrol cars, and surveillance cameras throughout headquarters. "Nowadays, unless it's captured on video, it's become more of a he-said, she-said conversation, so video is critical," says Mary Moore, technical services manager for Fort Collins Police Services. "In the interview room, video provides key pieces of evidence. In the past, officers would have to testify from interview notes or rely on what they thought they saw."
Many local governments have deployed video cameras to improve sit­uational awareness, bolster security, solve crimes and secure convictions. There are three primary uses for video footage: as evidence, for surveillance and for perimeter security.
Wearable cameras, in-car cameras and cameras deployed in booking or evidence rooms document activities that can be used in court or for policy compliance efforts. For surveillance, cameras deployed in public spaces such as streets and parks monitor activity and deter unlawful or dangerous behavior. And video cameras placed inside and outside of government buildings and parking lots protect property and discourage unauthorized entry.
"Monitoring cameras live or being able to go back and see what happened is extremely valuable and very useful for evidence purposes," says Robert A. Gardner, a California-based independent security and crime prevention consultant. "It gives you a pair of eyes where you don't have people and can deter criminals if they know cameras are there."
5,000 to 8,000
The number of videos Fort Collins police officers record in a month using 60 body-worn cameras
Confronted with the Evidence
Fort Collins Police Services deployed Panasonic Arbitrator 360° video systems in 12 interview rooms, where detectives interview suspects, victims and witnesses. Detectives use a touch-screen control panel to start and stop recordings. In each room, a Panasonic i-PRO camera records the video. The system stores footage on a server and backs it up to a CommVault archiving system, Moore says.
At the same time, investigators in a video room can view the footage in real time from digital video recorders and flat-screen TVs. Installed about a year ago, the IP-based video system replaces older camera technology, says Deputy Chief Cory Christensen.
"We've been videotaping since the mid-1980s, so it's not a new concept for us. But we've gone from VHS tapes to DVDs and DVRs, so we wanted to create a system that had networked storage and daily backup," he says.
Fort Collins Police Services also installed Arbitrator 360° in a separate interview room for internal affairs investigations, and previously deployed the Panasonic system in eight patrol vehicles.
The department is also embracing body-worn cameras in a big way — the district purchased 60 wearable cameras and, when budget permits, hopes to equip each of the nearly 200 officers with the devices in the coming years.
A tiny point-of-view camera attaches to a headset or collar, and a small battery pack and video processing unit attach to a belt. When officers engage the public, they press a button on the battery pack to begin recording, Christensen says. The cameras work well in low light and match the amount of light the human eye can see at night. The video is saved on an SD card and officers upload the footage to cloud storage at the end of their shifts.
Christensen says the police department benefits greatly from the wearable cameras. Video evidence can bolster the ability of the district attorney's office to prosecute cases and protects officers against complaints of excessive force. "It's an uninterested third person's view of an event and provides really good evidence," he notes.
For example, intoxicated people enjoying the bustling downtown nightlife sometimes get into fights. They may want to contest tickets for small crimes such as disturbing the peace. Since purchasing the wearable cameras two years ago, Fort Collins Police Services has enjoyed a 100 percent decrease in complaints of excessive force and a 24 percent decrease in overtime costs for court trials. That's because, after viewing the footage, more citizens request plea agreements rather than pursue trials, Christensen says.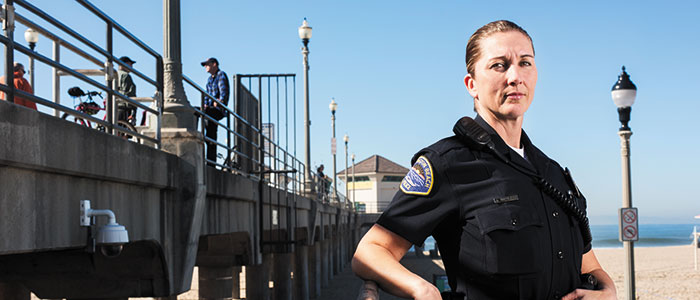 Surveillance cameras give the city of Huntington Beach, Calif., another  crime-solving tool, says Officer Jennifer Marlatt. (Photo credit: David Zentz/Novus Select)
Caught on Camera
Huntington Beach, Calif., is home to 200,000 residents, 8.5 miles of beach and a lively downtown that draws 11 million visitors annually. Two years ago, the city's police department installed 17 Axis surveillance cameras to monitor the downtown area and nearby pier.
Seven IP-based cameras cover the restaurants, bars and shops on Main Street, while another 10 watch over the pier plaza and pier, including one trained on a bike rack, says Officer Jennifer Marlatt. Dispatchers view each camera in real time on four monitors in the dispatch center. During special events on the beach, such as surfing and volleyball competitions, a police officer scans the cameras at police headquarters.
The Huntington Beach Police Department standardized on a mix of Axis fixed and pan-tilt-zoom network dome cameras. With a joystick-like controller or mouse, dispatchers can move the PTZ cameras and zoom in to get a better look at suspects. They can also retrieve recorded video and review the archives when necessary, Marlatt says.
The officer proactively looks for violations, such as fights, intoxicated or disruptive individuals, thefts and drug activity, and directs officers in the vicinity to catch the violators, Marlatt says. Prior to the rollout, fights would disperse before officers arrived on the scene. Sometimes a victim is injured and can't recall what happened.
"The cameras have been extremely helpful in solving crimes and making arrests," Marlatt says. "With the cameras, dispatch can get a suspect and clothing description and provide a direction of travel." She adds that the implementation has reduced bike thefts from an average of 14 per month to 8 per month.
The police department hired a systems integrator to install and manage the video surveillance system, including a wireless network that transmits the footage. Huntington Beach currently stores about 45 terabytes of video on an array.
Protected Perimeter
Local governments also use internal and external video cameras to protect government facilities and parking lots. In some high-risk locations, such as courthouses, security staff view the cameras in real time.
In Fort Collins, for example, 140 video cameras grace the interior and exterior of police headquarters. The department is in the process of migrating from analog cameras to IP-based Panasonic cameras.
Front-desk security guards view the cameras in real time, and dispatchers monitor the feed on a large video display wall. They can see the front entrance, hallways, the booking and processing area, the detention center and the parking lot where police vehicles and employees' cars are parked.
"If an officer has a prisoner in the detention area, the dispatchers keep an eye on that," Moore says.
Similarly, Midland County, Texas, bolstered security by installing 275 surveillance cameras in seven county buildings, including the courthouse, a state-of-the-art library and the Horseshoe Arena event facility.
"It protects our assets and helps with liability for the county," says Justin Stephenson, a network administrator for Midland County. "As people come into our buildings, the cameras are our eyes that watch what goes on, and if someone breaks in or gets hurt for any reason, we have proof of what happened."
The county standardized on Cisco and Sony IP-based cameras. The IT department centrally configures and manages the cameras using Cisco Video Surveillance Operations Manager software and stores the footage on a storage area network. The one exception is the juvenile detention center, which uses its own software and storage.
Midland County mostly uses fixed cameras, but it does install PTZ cameras where needed, such as the exterior perimeter of buildings to watch suspicious people or gather license plate numbers from the parking lot, says Stephenson.
John Trischitti III, director of Midland County Public Libraries, says 24 internal and external cameras at the Centennial Library improve security. The 2-year-old facility houses books, computer labs, touch-screen digital displays and movies.
"The cameras are to protect staff and patrons. Any time you deal with the public, there's a chance things can go wrong. You just can't control who comes through the door," Trischitti says. "If the security cameras are visible, it acts as a deterrent. People will make better decisions."
Willie Petersen