Review: Panasonic Arbitrator BWC Body Camera Helps Law Enforcement Gather Evidence
This body-worn camera's always-on charging and other design features allow first responders to get down to work.
Law enforcement agencies have never had greater ­performance expectations levied upon them than they do today. They must respond more quickly, follow ­procedures under extreme stress, use just the right amount of force, and provide indisputable video evidence of events for courts and the public to scrutinize.
Agencies increasingly turn to body cameras to solve those challenges. While the initial agency use case for body cameras is to record citizen interactions with officers, many other agencies are purchasing more advanced camera systems for officer safety and training, as a defense against frivolous lawsuits, to ensure compliance with agency policies, and to generally enhance situational awareness. The Panasonic Arbitrator BWC (body-worn camera), when paired with the Arbitrator 360° HD in-car digital video recording system and Panasonic's Unified Evidence Management System (UEMS), offers an opportunity for nearly every department to get started right away with a comprehensive video capture solution.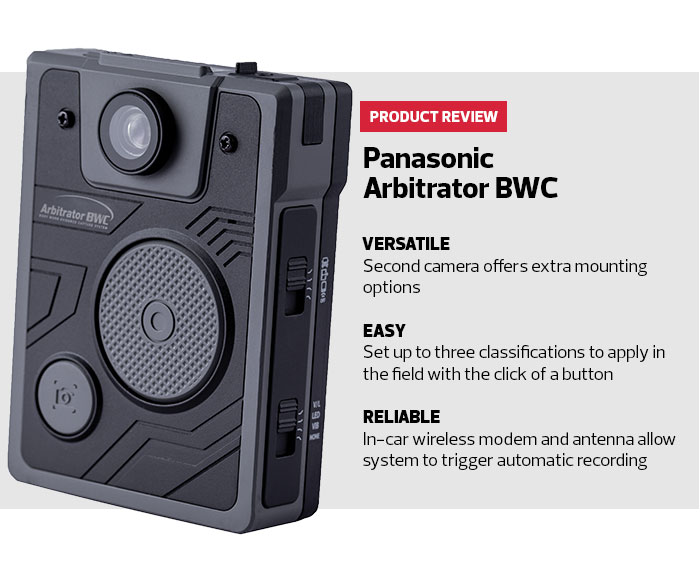 SPECIFICATIONS: Dimensions 3.3x2.5x1 inches, Weight 4.6 oz, Memory 32GB, Frame Rate 30 fps, Maximum Resolution Up to 720p HD, Ratings Rugged MIL-STD-810G and IP54
A Better Way to Charge Body Cameras
Battery run time — perhaps the most contested spec of any body-worn camera — is enhanced by the Arbitrator BWC's ingenious charging method. Vehicle-based users can utilize the supplied DC power adapter and charging cable to continuously charge the device while on patrol.
A magnetic breakaway cable is designed to fall away as an officer exits the vehicle, a design feature that successfully removes the camera from a user's consideration entirely while responding to an emergency or event, fully charged. The camera battery's quick-charging feature is always on, unlike many consumer electronics where such use would degrade battery life.
Endless Options for Video Surveillance
The Panasonic Arbitrator BWC offers a unique combination of stand-alone functionality and the ability to integrate with other digital evidence and IT systems to create new efficiencies.
The BWC offers an expansive mount collection, allowing users to choose an included metal clip or instead opt for a clever pen slot clip. A second camera offers even more mounting options, including reinforced collar and epaulet mounts. In-car camera customers can purchase a wireless modem and antenna to allow the car system to automatically trigger the BWC to start a recording.
Watching and downloading videos is easy. To view videos using the Arbitrator software, plug the device into a mobile computer via USB.
To download, use the BWC's built-in Wi-Fi, a USB cable or the optional 10-bay charging station, which ports videos directly into the UEMS. There, they can be searched, tagged, annotated with case numbers and stored along with other digital evidence, such as in-vehicle photos and private security video.
More On