State and Local Governments Find Success and Efficiency with Shared Services
Tight budgets and small size lead local governments to pool resources to improve technology programs.
In Marathon County, Wis., the motto for IT perhaps should be: "Everything old keeps everything new again." Why? Because a ­collaborative model has kept technology for 70 state and local departments on track for 40 years, says Gerard Klein.
"Each of these entities by itself would have a hard time affording specialized IT resources like a network expert or a database administrator," says Klein, director of the City-County IT Commission (CCITC) in Wausau, Wis. "They may not have a sufficient need to justify a full-time specialist, but we can bring all their needs together and serve them."
Beyond the county government, CCITC provides services and support to the City of Wausau, North Central Health Care, the Marathon County library system and 11 law enforcement agencies.
"It's relatively easy to share enterprise systems, networks and people. I'm surprised more groups haven't done it," Klein says.
Slowly Shifting Paradigm Toward Shared Services
The economic recession of 2008 sparked an increased interest in IT collaboration among local governments, but the model of shared services has not yet gained widespread traction, says Alan Shark, executive director of the Public Technology Institute.
"There's starting to be a recognition that these agencies can do more with pooled IT resources, but what we mostly see is a shared application here and there, such as a geographic ­information system, rather than ­collaboration on a major scale," Shark says.
Shark cites lack of leadership from city managers, agency heads and IT managers, as well as the difficulty of overcoming differences in cultures as factors that have limited the adoption of technology collaborations. But once government leadership recognizes the potential of pooled resources, the payoff goes beyond the budget, he says.
"The greatest benefit is in administrative capacity — giving small government entities access to the skilled people who can competently manage increasingly complex systems," Shark says. "Sometimes a small city has the money for an application or service, but doesn't have staff with the skills to run it."
There has been a "paradigm shift" in government IT that parallels business in becoming comfortable with relinquishing total control of apps and data, he says. The use of cloud services is one indicator of the trend, and IT collaboration among government agencies is another.
"There's a new, enlightened emphasis on making things work rather than tightly controlling them," Shark says. "A lot of agencies can't keep up in areas like security unless they share resources and expertise."
In this article, StateTech takes a look at three groups making a go of resource pooling and collaboration, and shares some of their lessons learned.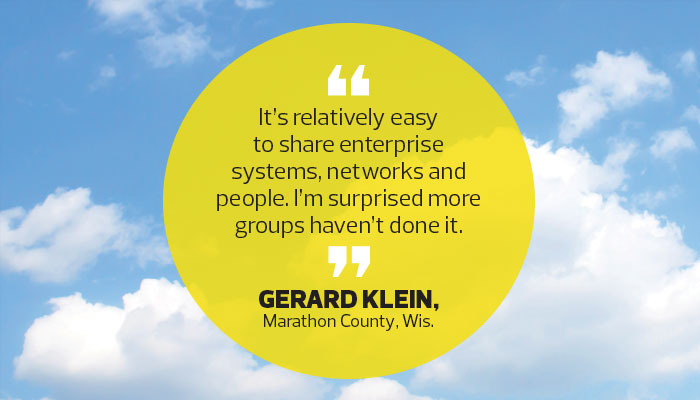 Creating Advocates in Wisconsin
CCITC gives the departments it serves access to enterprise-level systems and infrastructure, supporting hundreds of applications. The commission operates a 24-hour help desk for the most critical systems, and has a group of networking specialists that is available around the clock.
Disaster recovery also is a shared resource by virtue of the commission's IT setup, Klein says. Enterprise servers are distributed across three locations, with each ­automatically backing up to one of the others, assuring quick recovery after an outage at any site.
A significant challenge in building a cooperative model is figuring out a chargeback methodology that is defensible without being too cumbersome to manage, Klein says. For Marathon County, the continuing pressure caused by finite IT resources requires prioritizing projects in a way that is fair to all the collaborators.
"We have 45 projects in the hopper right now, and we check in every four to six weeks to make sure our priorities are still on track," he says. "That requires some give and take with our customer agencies and some patience on their part."
It also requires the commission team to plan projects over the long term, to stretch limited resources and still meet milestones. It parcels work across the team, so that participants have their own advocates within the commission and all members feel they are treated fairly, Klein says.
Reducing Risk in Minneapolis
In the 1970s, seven suburban communities near Minneapolis joined forces as Local Government Information Systems (LOGIS) to save money on technology services needed to serve their constituents. The consortium has grown to 73 members, but its reason for being — accessing high-level IT resources and expertise through cost-sharing — hasn't changed, Executive Director Mike Garris says.
"We operate almost as a private cloud for members," he says. "Most are smaller cities, and we provide large enterprise applications, along with networking and application expertise, that otherwise would be out of reach."
LOGIS also reduces IT risk, taking a substantial burden off local technology staffs, he says.
"We manage the licenses, so members don't have to worry about compliance," Garris says. "They don't have to worry about running the ­servers and the apps, backing them up, disaster recovery and, especially in these times, security and PCI compliance. LOGIS eliminates all that responsibility and risk for each member as we take all those functions on."
LOGIS manages the expectations and strives to fairly meet the varying needs of its member organizations, which range from small agencies to medium-sized cities, Garris says. Keeping pace with technology is another ongoing ­concern, one that is sometimes complicated by the enthusiasm of individual members.
"The members are all interested in technology, and they go to trade shows and conferences," Garris says. "It's up to us at LOGIS to evaluate how a new app would integrate into our infrastructure and work for all our members."
A consortium's team must remain up to date on emerging services and technologies to ensure participating organizations don't lag in services supported by the consortium's technology, Garris says.
Deliver Better Service in Chippewa Valley
Back in Wisconsin, the Chippewa Valley Internetworking Consortium (CINC) manages technology services for about 40 regional entities, facilitating innovative, competitive and sustainable networks, says CINC Vice Chairman John LeBrun, information services manager for the city of Eau Claire.
CINC coordinates regional communication infrastructure projects with city, county and state governments; educational institutions; libraries; hospitals and other healthcare organizations; nonprofits; and technology providers.
"Each member represents the interests of its organization, but we know that collectively we get a better deal and provide better services," LeBrun says. "We figure out how everybody can win, and we go with that solution."
The effort provides the city of Eau Claire alone with more than 100 fiber connections that deliver shared applications to an array of government agencies, community centers and recreational sites.
The fiber plant also provides the infrastructure for the regional collaborative multiprotocol label-switching network, which shares applications, LeBrun says.
Successful collaboration requires leadership from agency heads and IT managers, he adds. That's the only way to create a team that can recognize common problems across entities, then work together toward shared solutions. Collaboration makes sense in the public sector because, unlike business, the focus is on purpose rather than profit, LeBrun says.
"CINC gives us access to technology that has saved us money, bolstered critical services and helped us create, in this relatively small city, world-class facilities," LeBrun says. "Those results make us willing to work with anybody."
Pier/Getty Images; janniwet/Thinkstock; Shane Van Boxtel