Fleet Management Technology Aids Dispatchers and First Responders
Public safety agencies adopt new dispatch technology that leverages data to speed response times and improve situational awareness for first responders.
Washington County, N.Y., is a rural 845-square-mile community that can take more than an hour to drive from end to end.
Thanks to automated vehicle locator (AVL) technology, which uses GPS to locate and track the movements of patrol vehicles, dispatchers can view a map that shows the closest patrol car available to respond when 911 calls come in, in real time. The Washington County Sheriff's Office implemented AVL technology in 2015, speeding response time by several minutes and, in turn, helping to fight crime, improve public safety and save lives, Sheriff Jeff Murphy says.
Dispatchers no longer need to request current location from each deputy via radio. They now see each car as a green dot on a Google map, with a number identifying which deputy is driving. Once a dispatcher types in the incident address, the technology lists the estimated drive time for each vehicle, making it easy to dispatch the closest deputy.
"There are times, ­especially if it's a medical emergency, when seconds matter," Murphy says. Public safety agencies take advantage of various technology that helps to share data and information between dispatchers and first responders, resulting in better location accuracy, faster service and improved situational awareness. In addition to AVL technology, communities have adopted surveillance cameras and interactive 911 software to help improve situational awareness for first responders.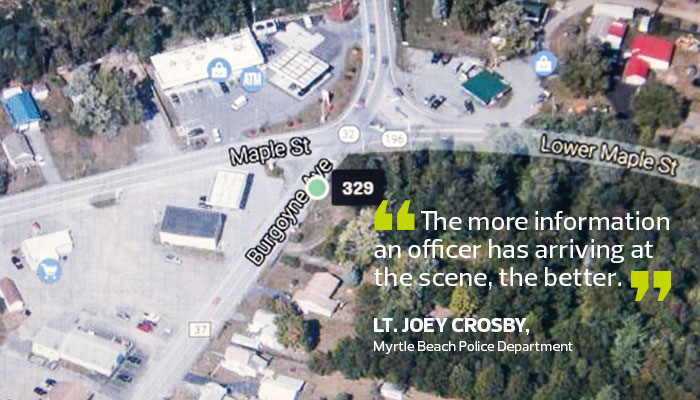 Automated Vehicle Locator Technology Keeps Officers Safe
AVL technology not only shortens response times, it also improves officer safety. When a deputy must chase a suspect on foot and isn't responding to radio traffic, the AVL technology allows dispatchers to locate the deputy's patrol car so other deputies can provide assistance, if necessary.
"If we can't get ahold of them, we can at least see where their vehicles are. That alone is a bit of a safety net," Murphy says.
Murphy deployed technology from Samsara, because its fleet management equipment is easy to use and deploy. The county equipped 35 patrol cars with the Samsara vehicle gateway, a small device with GPS and built-in cellular connectivity that connects to car sensors. It plugs into the vehicle's diagnostics port under the dashboard and provides a variety of information, including vehicle speed and fuel level. It can also send an alert when a check-engine light triggers.
To access the AVL technology, dispatchers log in to Samsara's cloud-based software. They can get a helicopter view or a closer street view. A green arrow indicates the vehicle direction, which helps the dispatcher provide instructions to the driver. Murphy hasn't yet implemented all the features. He plans to set up email or text alerts to dispatchers and administrators if patrol cars turn on their sirens or a vehicle suddenly decelerates, which could indicate an accident.
"It sends us an alert, so that we can check on the deputy's welfare," he says.
Tech Enables Faster Fire Response
The city of Fayetteville, N.C., collaborated with Cumberland County to implement AVL technology. Instead of choosing an AVL-specific vendor, the city's IT department equipped the city's firetrucks and police cars with notebook computers that have Qualcomm Gobi broadband modems with embedded GPS capability, says Fayetteville CIO Dwayne Campbell.
The city outfitted 60 firetrucks with Panasonic Toughbooks in October 2015 and 250 police cars with HP EliteBook Revolve notebooks in spring 2016.
Through a cellular connection, the modems send each vehicle's GPS coordinates to the city and county's computer-aided dispatch system. When a 911 call comes in, the CAD system instantly recommends the closest unit to dispatch. Fayetteville Fire Chief Benjamin Major says the technology has improved response times.
"Our response time starts from the time the phone rings," he says. "The time it takes for dispatch to collect information and for our firefighters to get on a truck could have some impact. The greatest opportunity to get to an emergency as quickly as possible is by dispatching the closest unit."
When dispatchers look at the CAD system, each vehicle is color-coded on the map: blue for police cars, red for firetrucks, yellow for emergency medical services and brown for off-duty vehicles, explains Melissa Coleman, the city's IT project manager. The CAD system supports AVL technology, so it was easily integrated with the Qualcomm Gobi modems on each computer, she says. Officials tweaked the system to take jurisdiction into account when dispatching the closest public safety unit. The department also configured the map so that the technology considers the actual travel time as well as distance.
"A station may be closer if it's a straight line, but that doesn't take into account a creek blocking it," Major says. "So you have to look at actual travel distance. We understood that going in and have made adjustments on the map."
Public Safety Agencies Improve Their Situational Awareness
AVL isn't the only technology that helps public safety responders. Myrtle Beach, S.C., has 60 miles of beaches and attracts more than 14 million visitors per year. Last summer, the police department finished installing 800 IP-based surveillance cameras citywide. The $2.1 million project, which began during spring 2015, includes a wireless network that transmits the footage to ­in-house servers that store the video, department spokesman Lt. Joey Crosby says. Dispatchers view the live cameras from monitors at the dispatch center and provide officers with information as they respond to calls.
"The more information an officer has arriving at the scene, the better," Crosby says. The department installed stationary license plate readers throughout the city, to capture images that are then checked against a statewide database. If a vehicle is marked as dangerous in connection to a crime, dispatchers receive an alert. "If the person in the vehicle is wanted, our officers can locate and arrest without incident," Crosby says.
Oliver Parini