Cities Reap the Rewards of Tech Enhancements That Come with Hosting Big Events
The Super Bowl will come and go, but (some) IT upgrades surrounding the game will be permanent.
When Super Bowl attendees wake up in Houston on Monday morning, their throats may be sore from cheering, their heads may hurt from partying, and their wallets may be considerably lighter than the night before.
But look on the bright side: Their phones may seem a whole lot faster.
Verizon, for one, is upping its wireless data capacity at sites around the city – including NRG stadium, hotels and transit hubs in Houston – by 450 percent. Some of that additional capacity is temporary, with the provider deploying 24 Nodes on Wheels (NOWs), which are portable. But much of the new infrastructure will stay after the Big Game leaves town.
"That's one of the benefits of a city hosting an event like this," says Verizon spokesperson Karen Schulz. "We're regularly going to go in and enhance our network to meet the anticipated needs of the crowds there, and many of the improvements are permanent."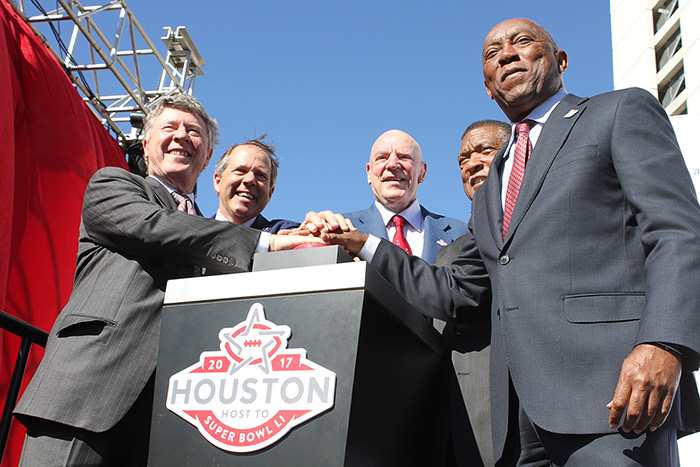 Large Crowds Have Large Tech Needs
Global data use has accelerated exponentially since the advent of smartphones about a decade ago (and the introduction of data-gobbling LTE connections several years later). Increasingly, carriers are viewing events like Super Bowls, other large sporting events and even political conventions as opportunities to beef up their networks.
While the improvements typically have long-lasting consequences for users in an event's host city, cell providers are also seeking to please their customers who are in town just for the weekend. Houston expects a total of 1 million people to attend "some component of the Super Bowl experience" over a 10-day period, meaning that any given carrier could be providing connections to several hundred thousand people in a small geographical area during that time frame. And unlike in years past, when high-speed wireless connectivity was still a novelty, most of those fans will expect a high level of performance.
"We've seen over the last three to five years that exponential increase in data usage, and that desire to share every moment of our lives," Schulz says. "I think there is definitely an expectation, and one that we seek to meet, for customers that want to be able to use their wireless technology. It's become an important part of the way we communicate."
While Verizon and other carriers are constantly working to upgrade their nationwide networks through what Schulz calls the "ongoing drumbeat of investment," she says that events like the Super Bowl are, so to speak, a whole different ball game.
"We're talking about a different kind of beast," Schulz says. "We're talking about hundreds of thousands, or even millions, of people in a very small geography, all wanting to share what they're doing."
Olympic-Sized Networking Technology
Host cities for the Olympic Games have also been the beneficiaries of large-scale IT upgrades. While debate has grown in recent years about the overall value of hosting the Olympics (with viral online slideshows depicting once-glorious venues in Beijing and Athens now sitting in ruins), a robust IT infrastructure often proves to be more useful than a beach volleyball complex after the Games have left the host city.
Before the 2012 London Games, a new high-density network was created that allowed attendees to stay connected at what was, essentially, the first Olympics of the smartphone era. The network included 1,000 wireless access points spread out across nine Olympic venues. Also before the Games, Cisco Systems pledged support for efforts to generate a long-term investment of money, technology and manpower to support the design and implementation of the British Innovation Gateway (BIG) initiative. The five-year effort ensured that the IT legacy of the games extended well past 2012, and included the expansion of collaboration technologies and business networks, annual innovation award competitions, and mentoring and training from Cisco.
In Rio de Janeiro, around one-fifth of the budget for the 2016 games went toward tech infrastructure, including a robust communications network. Cisco alone brought in 77 tons of equipment, and another provider rolled out a 370-kilometer fiber optic ring. Local mobile providers strengthened their own networks as well.
Supercharging Mobile Broadband for the Super Bowl
In Houston, Verizon has built 23 new permanent cell cites, installed more than 220 permanent small cells and deployed three-channel carrier aggregation that will lead to greater peak speeds. Among other carriers, T-Mobile says that its 4G LTE capacity is nearly 20 times greater in and around NRG Stadium, and 10 times greater at airports, hotels and other venues in the city over the last year; Sprint installed more than 100 small cell sites in and around the stadium, boosting capacity by almost 500 percent; and AT&T has upgraded or installed 549 cell sites at 13 locations.
"These improvements were designed specifically for this crowd – not just for the game, but for all of the events throughout the week," says Schulz. "It's a combination of regular enhancements, but certainly layered on top of that, the enhancements we needed to make to accommodate these events."
Houston Super Bowl Host Committee
More On