North Carolina Names Eric Boyette New CIO
The new head of the state's IT department will replace Keith Warner and inherit a legacy of IT innovation.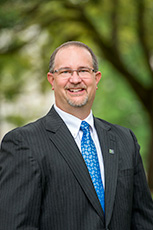 Eric Boyette. Photo courtesy of NCDOT
North Carolina's new Gov. Roy Cooper has appointed Eric Boyette as the new head of the state's IT department.
Boyette brings more than a decade of experience to the role, previously serving as CIO and acting commissioner for the state's Division of Motor Vehicles, according to a press release. In 2016, he was named Public Sector CIO of the Year by the Triangle Business Journal, the release notes.
He enters the role following the December departure of Keith Warner.
The new CIO was welcomed to the role on Twitter by several state employees, including Deante' Tyler, a director at the state's Innovation Center, according to StateScoop.
Thrilled at the announcement of @Jeric_boyette as new State CIO for the State of NC!! Great addition to the enterprise! #ncpol #TechNews

— Deante' Tyler (@IAmDeAnte) April 7, 2017
Keeping IT Innovation Moving Forward
Boyette will be tasked with taking on a legacy of technology-forward thinking in the state, including the launch of a new Innovation Center that "allows state employees to test different technologies before adopting them for wider use," StateTech reported.
North Carolina has also marked a move toward cloud computing to store large data sets, and the state is embarking on major IT consolidation after a report found that nearly three-quarters of its IT projects were being delivered late and overbudget.
"As we looked at the operating model, we wanted to make sure that we met the following goals: simple and reliable service delivery, standardization, cost efficiency, centralization of control — while retaining strategic focus," said former North Carolina CIO Keith Werner at the 2016 North Carolina Digital Summit, StateTech reported.
fotoguy22/Thinkstock