Nutanix .NEXT Conference: State and Local Governments Make Strides to Transform IT
CIOs redefine staffing roles, reduce complexity and balance security concerns.
Government CIOs and IT leaders face a daunting reality: Citizens increasingly expect Amazon-like online experiences while state and local budgets tighten and cyberthreats mount. But for those who rise to the challenge, the payoff is the chance to fundamentally change how citizens interact with government and how state and local employees engage with their work.
Yesterday at the Nutanix .NEXT conference in Washington, D.C., a panel of public-sector experts discussed their strategies for transforming IT in their agencies. "The first thing for me was changing the culture," said Lester Lewis, deputy CIO for Clark County, Nev. "What I mean is changing job titles; taking people away from individualized, siloed job titles and making them generalists." It was important to "start away from technology, because it's not really a technology challenge," Lewis added. "It's a challenge in how you do things and how you deliver."
Tony Williams, systems IT architect for the city of Austin, Texas, sounded a similar theme, saying that a key is successfully transitioning workers who have been doing the same IT job for years into new tasks. "To me, it's all about people," he said. "In government, it's transforming people."
SIGN UP: Get more news from the StateTech newsletter in your inbox every two weeks
IoT Cybersecurity Is Top of Mind
In addition to IT transformation, the panel highlighted the importance of disaster recovery (DR) and cybersecurity as top CIO priorities and discussed the difference between the concepts.
"Security, I think, is a bigger challenge," said Jon Walton, CIO for San Mateo County, Calif. "DR is more of an internal budgetary architecture problem to solve, whereas with cybersecurity, you're being affected by external forces that aren't necessarily always under your control."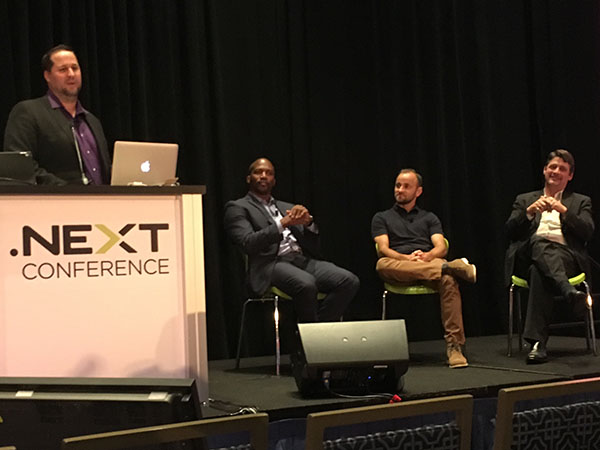 From left, moderator Dustin Haisler, chief innovation officer for E.Republic, discussed state and local IT issues with Lester Lewis, deputy CIO for Clark County, Nev.; Tony Williams, systems IT architect for the city of Austin, Texas; and Jon Walton, CIO for San Mateo County, Calif.
Edge devices and bring-your-own-device policies add to the risks. "Now you're dealing with three or four devices per person, and people are capturing crime evidence on their personal cell phone," Walton said. "When I talk about security, it's hard to bake it into the solutions I control because there is so much I don't control."
Training employees and making all staff security-aware help to counter cyberthreats. With breaches so often caused by human actions, Williams said, "The more you can teach people, the better."
The panelists noted the role Nutanix solutions have played in reducing complexity in their computing environments, which they said can help to both decrease threat risks and free staff for other tasks. "By getting rid of complexity, making it simple, you're driving operational efficiency, and what that does is give you more time to do other things," Lewis said.
Smart Cities Promise Access for All
On the subject of smart cities, Walton noted that the concept lacks a set definition, which offers opportunity. "To not put definition to something is empowering in its own way, because it inspires people," he said. "I think we need to create an environment, in partnership with public companies, with the public, of what government could be, of what society could be, and then figure out how we all contribute to that. It doesn't all have to be the same old 'define it, define the outcome, define the investment.'"
With so much focus on smart cities and meeting the rising expectations of digital-first citizens, Walton added, IT leaders need to remember those who lack access to technology. He noted that in San Francisco, where he previously served as the CIO, one in seven children do not have broadband access, according to a recent report. "You can't leave people behind," he said. "I think we do have a responsibility to the people who live in our communities to try to think about how we provide access to everyone."
chombosan/Thinkstock