Review: Tripp Lite's PDU 3-Phase ATS Shatters the 5-kW Redundant Power Barrier
The new device does more while using less rack space and reducing clutter and cables.
Anyone who has managed a power plan for the type of moderately sized data centers found in state and local government knows how complicated it can become.
The greatest challenge lies in providing redundant power supplies, in cases of emergency, to devices that lack them. That leads to an intricate process requiring at least two power distribution units (PDUs) connected to different power sources with an automatic transfer switch (ATS) to manage the rollover. Complicating matters more: all of the cables and plugs running between them.
Available solutions combine multiple power sources into a single PDU, managed by a purpose-built ATS. But for typical 208-volt server racks, those solutions are capped at 5 kilowatts, limiting their functionality and the number of network devices they can support.
The Tripp Lite PDU 3-Phase Monitored ATS breaks through that limit, allowing more servers and other network devices to attach to a single PDU, while still enjoying the significant benefits of multiple power sources and automatic rollover. The ATS I tested allowed a maximum output of 17.3kW, while other models support 12.5 and 8.6kW for smaller deployments. I connected the Tripp Lite ATS to a vertical-mounted PDU, model PDU3V20D354A, with 54 outlets.
Pushing Power to Government Data Centers with Zero Disruption
To test it out, I attached two power sources to the ATS, utility power and an enterprise uninterruptible power supply (UPS). Once the ATS was in control of both sources, I wired a power cable to the PDU. Finally, I plugged five servers into outlets on the PDU.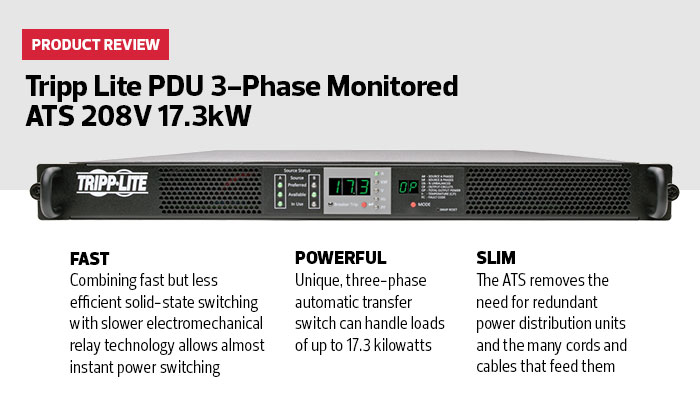 The ATS provides a great deal of information through the front panel, including power availability, line voltage, frequency, amps, kilowatts and power factor. It also registers when one of the breakers on the PDU trips, and constantly evaluates the power quality of both input sources, switching over as needed. When I disconnected the utility power, it took milliseconds to roll over to the backup UPS. The event caused no disruption on the running servers.
For devices running in government data centers, backup power is critical, and the Tripp Lite 3-Phase Monitored ATS will allow IT to provide it in a more compact, efficient manner that draws less power and generates less heat than anything else in its class.
Packing Power and Intelligence into One Model
The power distribution market will grow by 5.6 percent year over year, according to IHS Markit research. The increase reveals that decision-makers across all sectors accept the importance of a power backup plan. Another factor contributing to the growth? Devices continue to gain more intelligence, improving their usefulness beyond just keeping things running when the power goes out.
The Tripp Lite PDU360AT6G60 ATS also follows that trend. In fact, it packs about as much intelligence as users might expect to find in a desktop computer, all aimed at providing the most detailed power information possible.
Beyond the front information panel, the PDU360AT6G60 also includes a built-in Ethernet network interface that allows access to the user interface and reports screen through a web browser, secure shell, Telnet or simple network management protocol.
IT can configure a tiered system of access, allowing basic users to log in to view status updates but not change anything. Administrator-level access allows full configuration changes.
The interface also allows remote monitoring, including status updates on each of the power inputs, which comes in handy when the box sits at a remote location or branch office. The information provided about the power sources connected to the ATS is extremely accurate, down to a 1 percent variance. That makes it suitable for billing tasks, so users can see how much maintaining each power source costs an organization, and why. IT can also compare actual use to a bill to limit instances of overcharges.
Administrators can respond to system-generated alerts using the remote interface, which offers almost total control other than physically pulling out plugs on the attached power distribution unit. Although my test unit did not have one, an optional ENVIROSENSE module allows for remote temperature and humidity monitoring as well, which might prove useful for non-standard data centers or in areas where cooling or moisture could become an issue.
Tripp Lite PDU 3-Phase Monitored ATS
Nominal Operating Voltage: 208V (60Hz)
Maximum Input Currents: 48A
Maximum Output Capacity: 17.3kW
Rack Mount Size: 1U
Dimensions: 26x16.9x1.7 inches
Weight: 26.81 pounds
More On