How Planning a Data Center Build-Out Optimizes Operations
Close coordination between IT and facilities teams can help improve efficiency, performance and flexibility.
Until recently, the Will County Sheriff's Office in Illinois had its aging IT infrastructure spread out among a handful of sites, none of which operated optimally. The data closets lacked proper power and cooling, and outages were common.
"One facility was built in the 1800s. It was crumbling, it was leaky, and we had a pretty big flood one summer," recalls Jacqueline Falbo, IT director for the sheriff's office. "I was wading up to my knees in water. Most of the time, if we lost power, we would lose all connectivity and hope that when the power came back on, we wouldn't have any data loss. We're a 24/7 operation, so we didn't have any room for downtime."
When the opportunity arose to build a dedicated data center as part of a new 85,000-square-foot, $33 million public safety facility in Joliet, Falbo was determined to make the most of it. "Because we knew we were getting a building, I was able to walk in before a shovel was in the ground and ask for exactly what I wanted," Falbo says. "If you're trying to squeeze your equipment into what's already built, it's a lot more difficult."
Falbo's opportunity — to design the build-out of data center infrastructure while the physical facility was being planned — is unusual, but is becoming more common, says Bruce A. Taylor, executive vice president at DatacenterDynamics.
"IT departments were very rarely engaged in the planning of a data center 10 years ago, or certainly 15 years ago," Taylor says. "Now, IT is in many cases driving data center decisions — including design and build decisions — and the control of the data center is no longer with the real estate group. It now belongs to IT."
Officials and IT staff at several state and local government agencies are working more closely with other departments as data center facilities are planned and constructed. That ­coordination can yield greater efficiency, performance and flexibility in data ­center operations while shrinking the infrastructure footprint.
Data Center Upgrade Coordination Maximizes Space
By coordinating the data center and building designs, Falbo says, the ­sheriff's office ensured that it would have the space and physical layout to meet its IT needs. Falbo initially requested 1,300 to 1,400 square feet of space, and that number was trimmed only slightly, to 1,150 square feet.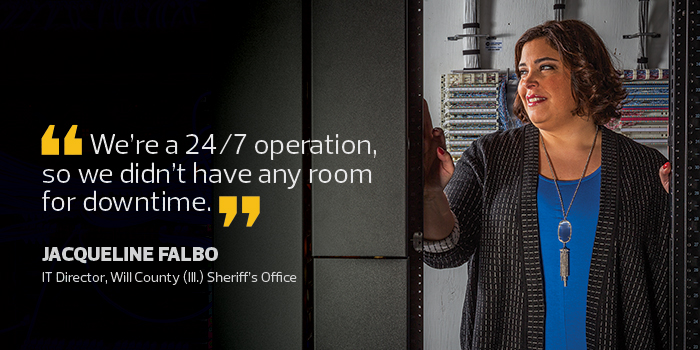 The building project also gave Falbo the budget to buy new equipment — an expense that would have been difficult to get funded on its own. The new hardware was necessary to shrink the footprint of the physical infrastructure so that it would fit into the new space. In the new data center, the sheriff's office is running a Cisco Catalyst 4510R+E switch with all Power over Ethernet ports, a Dell EMC VxRail E460 hyperconverged infrastructure appliance (connected to Dell EMC Brocade VDX 6740 switches) and an EMC Unity 300 device for additional storage.
"We're now using two to two-and-a-half racks for core equipment," Falbo says. "I probably would have been at six or seven if I'd tried to bring over the older equipment, which was already 7 to 9 years old."
A Shift to the Cloud Limits On-Prem Expansion
When the state of Arizona moved to replace its aging and outage-prone core data center, officials first explored building their own facility. However, funding approvals would likely have taken three to four years, says Suzan Tasvibi-Tanha, chief of enterprise shared services for the state. Besides, she says, her department no longer wanted the hassle of managing its own building.
"As an IT department, we don't want to be in the facilities business," Tasvibi-Tanha says. "We want to be in the data center business. I don't want to have to worry about the roof."
The state opted instead to lease space from a Tier-III colocation facility. The move eliminated the capital cost of a new building while improving reliability, but since the state would be paying for space on an ongoing basis, officials had to design the layout as efficiently as possible. "We were trying to maximize how much equipment we could put in with this smaller footprint," Tasvibi-Tanha says.
The state of Arizona has two rows dedicated to network, firewall and security equipment, as well as voice gateways — with networking equipment segregated via security walls with controls to limit access. Server rows were built for current capacity, as the state has a cloud-first strategy and does not anticipate a significant expansion of its on-premises equipment.
Future-Facing Data Centers Make Room for New IT Needs
When Pueblo, Colo., built a data center as part of a new municipal justice center construction project in 2010, officials knew that data centers were shrinking because of virtualization technology, but they had to estimate how much space they might need far into the future. "This is the only data center we're going to have for 60 years," says Lori Pinz, IT director for the city, citing the building's projected life span.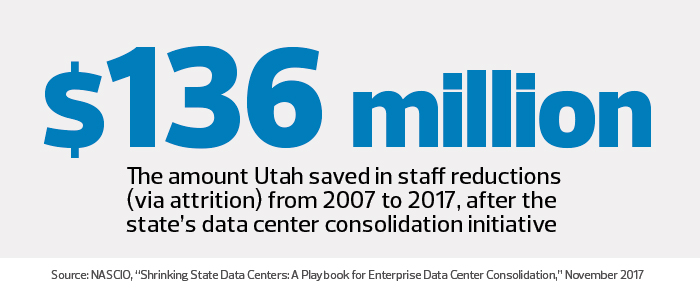 Pueblo designed and built the data center at around 800 square feet. The city utilized only about half of that space when it was built, and hasn't expanded its footprint in the years since. But Pinz says the extra space gives the city ­flexibility to adapt to changing demands, including a projected need for additional storage to accommodate video from public safety cameras. Roughly two years ago, Pueblo began experiencing slowdowns with its public safety and finance applications and replaced its aging storage equipment with an all-flash array from Nimble Storage. This purchase consolidated many pieces of equipment, freeing up space in the data center.
The city originally separated its public safety IT infrastructure from other hardware, but that became less important as Pueblo increasingly adopted virtualization, Pinz says.
In Illinois, the Will County Sheriff's Office, under Sheriff Mike Kelley, broke ground on its new public safety building and data center in 2016, and the facility opened in November. Falbo says the data center not only has enhanced performance and reliability, but also is expected to meet the county's needs for years to come.
"I was trying to build the data center out for the next generation," Falbo says. "I didn't want it to just last five to 10 years, and then we wouldn't have enough electrical capacity, or UPS backup or cooling. I want someone to step into my shoes and be appreciative that we were able to build this for the future."
Bob Stefko
More On