Portland Turns to Smart Sensors to Enhance Traffic Safety
Using Intel-based technology, the City of Roses will install 200 sensors to monitor vehicles and pedestrians as part of a smart city initiative.
Pedestrian activity is the lifeblood of any city, but crossing the street can be a deadly activity. Nearly 6,000 U.S. pedestrians were killed in 2017, about the same as in 2016, levels not seen in decades, according to a report released earlier this year.
Portland, Ore., wants to use technology to make sure its streets are safe for all its residents. Last month, the city council approved a measure to spend a little more than $1 million to install 200 smart sensors around the city's three deadliest streets to help monitor traffic.
The sensors, which use technology from Intel, are part of Portland's wide-ranging Smart City PDX initiative. Last month, Portland and its partners on the project touted the smart traffic pilot as the first major milestone of the smart city plan. The other partners include AT&T, General Electric and Portland General Electric.
Portland says the sensors, which are being installed on light poles, will provide constant counts of vehicles and pedestrians as well as data about vehicle speeds. "With this new data, city traffic engineers can improve street safety design and support Portland's Vision Zero goal of making the streets safe for all users," the city notes in a press release.
"Smart collaborations between city officials, corporations and software developers are creating infrastructures that empower citizens while making our cities more resilient and responsive. The City of Portland deployment of smart traffic sensors is a great example of this and will improve the safety and quality of life for its citizens," Jonathan Ballon, vice president of the Internet of Things Group at Intel, says in a statement.
SIGN UP: Get more news from the StateTech newsletter in your inbox every two weeks!
How Portland Plans to Make Its Streets Safer with Tech 
Part of the Smart City PDX plan is Portland's Traffic Safety Sensor Project. The city notes that to improve the safety of its streets, engineers and safety experts need accurate information on where people and vehicles are moving, how fast they are going and where pedestrians are crossing streets. In the past, collecting that information took a lot of time and effort. Sensors can gather that data automatically and continuously.
For the project, the city will deploy the sensors on three of Portland's most dangerous streets: 122nd Avenue between Burnside and Bush streets; Southeast Division Street between 11th and 122nd streets; and Hawthorne Boulevard between 11th and 46th streets. Using the data collected by the sensors, the Portland Bureau of Transportation's staff "will use the sensor information to make recommendations about future changes" to make it easier for pedestrians to walk and cars to drive on these and other city streets, the city says on the project website.
"Portland is leading the country in this important data effort," Portland Mayor Ted Wheeler says in a statement. "We are at the forefront of using advanced technology to make our cities safer for pedestrians, cyclists and drivers, helping people more easily get around, save time and reduce the possibility of crashes. This pilot is a significant step in acquiring and utilizing data to make critical decisions."
Sensors Provide Rich Data for Portland 
The sensors themselves are provided by GE and called Current City IQ. In February 2017, AT&T reached an agreement with GE to install the sensors in various U.S. cities, starting with San Diego, as ZDNet reports.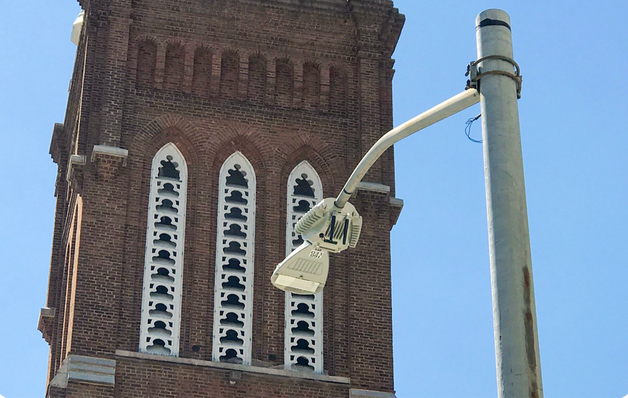 Portland plans to deploy 200 of these sensors to help it monitor traffic and improve pedestrian safety. Credit: Portland Bureau of Transportation 
According to Intel, the City IQ nodes are embedded with multiple sensors and can support analytics, provide connections to nearby devices and perform multisensor fusion over a secure cloud connection.
The project website explains that the sensors include two cameras, "an array of environmental sensors for measuring temperature, pressure and humidity, a CPU/GPU for performing real-time analytics, a solid state drive for local data storage, and cellular LTE hardware for data transmission."
The sensors take photos of the street, and then image analysis software assesses the number and speed of pedestrians, bicyclists and motor vehicles that cross each camera's field of view, according to the website. "The data extracted from these pictures is then transferred to a data repository, where city staff can access it for analysis," the city says. "The pictures taken by the cameras can't be accessed and are not stored (they are deleted after the data is extracted)."
thyegn/Getty Images