Mobility Empowers Better Government Services and Happier Users
Remove physical boundaries from government workspaces to make employees happier and services smarter.
Young workers increasingly expect public sector workplaces to resemble private sector workplaces in terms of experience, comfort and ease.
As detailed in CDW's recent guide, "The Modern Workforce Insight Report," greater productivity, better customer service and higher employee satisfaction all top the list of the benefits of greater mobility.
"If there is one common denominator that runs through the technology currently shaping the modern workforce, it's user centricity," the report states. "From collaboration and mobile devices to VDI, new technologies are giving end users the tools and information they need to be more productive both inside and outside of the office."
MORE FROM STATETECH: Find out how cities are making desk phones a thing of the past! 
State and Local Agencies Achieve Greater Efficiency with Mobile
Overall, mobile apps may increase productivity as much as 40 percent, which is equivalent to adding two workdays to the week, according to a survey by Mobile Helix. So, government offices can encourage transformation of their digital workspaces to increase productivity by supporting mobility. Workers embrace environments where they have access to what they need when they need it.
Using digital workspace solutions that provided mobile access, Mecklenburg County, N.C., supported 6,000 employees in a move to increase productivity, saving an estimated $3.2 million annually, according to "The Government Digital Workspace for Dummies (VMware Special Edition)."
"Field-based service workers are asking to transition from traditional desktop environments — which impede productivity and drain resources — to government-furnished mobile solutions ... that deliver the same consumer-grade experience they get from their personal devices," writes Samantha Reid, author of the VMware text.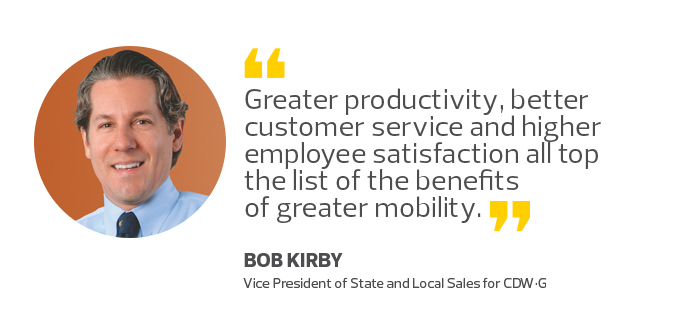 Collaboration Delivers Better Government Services 
A seamless digital environment boosts productivity and also results in better customer service. Employees with single sign-on access throughout an enterprise can skip cumbersome login processes and help citizens faster, for instance.
"Collaboration tools, such as instant messaging and social enterprise applications, can help by accelerating information sharing and providing instant access to experts anywhere in the organization, at practically any time, for speedy problem resolution," states the CDW insight report.
About 40 percent of respondents in a survey within the report measure customer satisfaction to determine the success of workplace solutions. That's not a bad idea for state and local government. 
Embrace Mobility to Improve Employee Satisfaction
Mobile work has been embraced by cutting-edge business. Supporting mobile work was a focus of Citrix Synergy 2017, the company's customer conference, according to David Smith, national director of state and local government sales for Citrix.
"Deploying an intelligent, software-defined perimeter means you can secure your organization's infrastructure, empower citizens and employees, and give IT flexible control," he blogs.
Millennials will constitute up to 75 percent of the workforce by 2025, says Smith, and they want work tools as effective as consumer tools. When young workers waste time, they feel disengaged. About 67 percent of all workers say they are "not engaged," suggesting they do not put forth their best efforts, according to a December 2017 Gallup poll, "State of the Global Workplace." 
While transforming the digital workspace will not be easy, it clearly behooves state and local government agencies to make advancements anywhere possible. The rewards far outweigh the temporary headaches.

Sitthiphong/Getty Images