Review: Dell OptiPlex 7460 Delivers Power and Simplicity for the Public Sector
A Dell government workhorse receives an all-in-one refresh, making it an even better choice for public servants.
About 20 years ago, Dell split up its product lines and designed the OptiPlex systems to be reliable government workhorses. As such, the company only occasionally updates the OptiPlex line, allowing agencies to standardize and secure reliable systems builds that can last for years without conflict.
Creating an all-in-one OptiPlex format is a big deal. The move combines the computer and all of its components with the display to create a single purchase opportunity and an economy of scale. And because this is part of the OptiPlex line, government buyers can expect each element to fit together perfectly — not just physically, but in terms of software and component integration. 
The Dell OptiPlex 7460 is a faultless example of an all-in-one done right. Setup consisted of three steps: removing the unit from the box, attaching a power cable and logging in to the Wi-Fi network. Agencies that have specific builds they want to push can use the free Dell Client Command Suite to manage entire system fleets.

OptiPlex 7460 Supports Speedy Wi-Fi 
Each OptiPlex 7460 takes advantage of high-speed wireless connectivity with 802.11ac Wave-2 technology to establish a quick connection with no Category-5 cables needed, though there is a Gigabit Ethernet port. Even the keyboard and mouse are wireless, making the 7460 easy to use on any desk or workspace.
The monitor, a full HD LED with a native resolution of 1920x1080 looks beautiful, with graphics going all the way to the edge and almost no bezel. This is coupled with high-definition audio and a stereo sound bar that runs across the bottom of the screen. It would be a fine system to use for training programs.
Agencies Get Both Performance and Durability 
Dell has done everything it can to keep the 7460 relevant for as long as possible. It has a blazing-fast Core i7 3.2GHz processor and 8GB of high-speed RAM. Even the physical casing is mil-spec tested for ruggedness, so an occasional bump or accident probably won't harm it. And it has an advanced cooling system, plus plenty of open vents at the top of the display, which keeps components cool even when pushed by an extended simulation.
Like all OptiPlex systems, the 7460 is built to last. It should serve state and local governments faithfully today and for many years to come.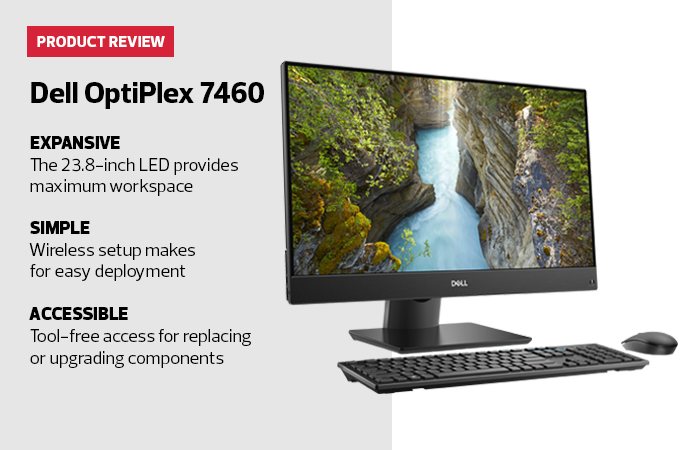 Dell Client Command Suite Puts Admins in Control 
Setting up a single Dell OptiPlex 7460 takes about five minutes, but state and local governments may need to deploy hundreds or even thousands of them at the same time, with specific programs and security levels. The new Dell Client Command Suite should help. It's a surprisingly powerful set of free tools that Dell provides with all of its commercial systems.
Once the 7460 was physically set up and logged in to the network, I could easily control all aspects of it through the Dell Command Suite. Policies that I set could be pushed out to individual systems, to specific groups or to the entire fleet of Dell systems.
That allowed me to configure important security aspects, such as the BIOS passwords for each unit as well as things like the boot order of both internal and external components. It also let me configure advanced security functions, such as how the TPM performed when encountering various alerts.
Achieve Rapid Deployment Across an Agency
Beyond just the initial setup, the Dell Client Command Suite features a dynamic PowerShell feature that lets administrators dive into any system whenever needed for later troubleshooting. And because it fully integrates with Microsoft System Center and LANDesk, I could remotely inventory every system in the network, including exactly what programs and software were running on each one and what was allowed to run on each one.
I even used the new suite to create a golden image of programs and apps that I wanted to have on every desktop in my organization, pushed them out, and made sure that they stayed in place. Patching the operating system and any other programs was likewise extremely easy.
The 7460 is easy to physically configure, and the addition of the Dell Client Command Suite makes software and security management easy, as well. It's a fine addition to an already powerful yet simple government machine.
Dell OptiPlex 7460 -Technical Details
Processor: Intel Core i7 3.2GHz
Hard Drive: 500GB SATA 7200 rpm
Graphics: Intel HD Graphics 630
Memory: 8GB DDR4 SDRAM
Dimensions: 21.3x13.5x2.5 inches
Weight: 13.32 pounds
Dell