Review: VMware Workstation 15 Pro Impresses by Running Multiple, Powerful VMs
The latest from the virtualization giant supports 16 vCPUs on high-resolution monitors across many operating systems.
For as long as I have been an IT professional, VMware Workstation has been the flagship product for testing and developing infrastructure on a local system before trying deployments in production. 
More than 10 years ago, I built my first Microsoft Windows Server 2008 cluster with SQL Server 2005, carefully documenting each step. With VMware Workstation, it is easy to create virtual networks, so I even had all the networks for the cluster heartbeat mapped out.
MORE FROM STATETECH: Discover data center consolidation best practices for your agency. 
IT Admins Can Run Massive Virtual Machines 
While much has changed over a decade later, VMware Workstation Pro is still the gold standard. VMware Workstation 15 Pro, released in September, is the latest in a series of virtualization products that allow IT professionals to run multiple, isolated operating systems on a single workstation. Users can network together sets of operating systems to complete the testing and development of code or of network or server architecture, all on a single desktop computer.
How big can these virtual machines get? Monster-sized! Massive virtual machines may span up to 16 virtual CPUs, with 64 gigabytes of RAM and 8 terabytes of virtual hard disks. Graphic-intensive applications get an additional boost through the allocation of 3GB of available host video memory directly to a virtual machine. The Workstation 15 Pro supports incredibly high 4K resolution (3840x2160 pixels) on desktops and QHD+ (3200x1800 pixels) on laptops and x86 tablets, all with DirectX 10.1 support. Virtual machines may even span multiple monitors.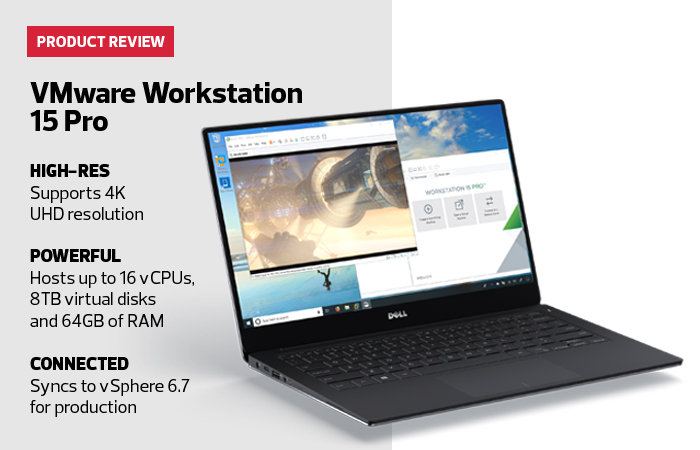 Agencies Can Support Powerful Resources with Workstation 15 Pro 
The Workstation 15 Pro also now supports a RESTful program interface for virtual machine automation using standard JavaScript Object Notation over HTTP or HTTPS. Using the same application programming interface framework introduced in the Fusion product, the API provides more than 20 controls for manipulating virtual machines. The API allows changes to host and guest virtual networking and enables users to power virtual machines on or off.
Seamless support for vSphere 6.7 is included in Workstation 15 Pro. With this feature, users can remotely connect to a vSphere 6.7 production host to manage virtual machines running on vSphere. And they can upload a virtual machine from a 15 Pro desktop to vSphere or download a virtual machine to a local desktop.
VMware Workstation 15 Pro Offers New Features on Windows
VMware Workstation 15 Pro offers several other handy new features specifically for Windows-based hosts. 
Users can automatically connect physical USB devices to a virtual machine when running. On Windows 10 version 1803 or later, users can access Linux virtual machines using secure shell (SSH) provided by the Workstation 15 Pro. When connected to a remote vSphere host, the inventory tree now shows a hierarchical arrangement in two different views: hosts/clusters and VMs, with a simple toggle between the two. 
Stretching the guest display across the host interface is also now supported in two different ways: "Keep Aspect Ratio Stretch" stretches the guest portal while maintaining the aspect ratio (say, 4:3), while "Free Stretch" stretches in any direction.
The only problem I could find with the software is the currently documented known issue involving mouse-clicking functionality when certain third-party software, such as WizMouse, is installed on the host. In this case, simply add mks.win32.processWin32MouseInput = "TRUE" to the virtual machine's .VMX configuration file, and that solves the issue.
VMware Workstation 15 Pro
Processor: Supports every processor since 2011 except some Atom processors and AMD processors based on Llano and Bobcat
Architecture: Requires 64-bit host operating system
OS Requirement: Ubuntu, CentOS, Windows, Red Hat and SUSE Linux
VMware