Review: The Canon LX-MU500 Can Do It All When It Comes to Presentations
State and local offices will enjoy the ease and versatility of using the Canon LX-MU500 for internal or external meetings.
State and local government officials hold and attend a lot of meetings at their offices and facilities, which makes sense given that they are charged with serving their local communities. Because of this, most projectors in those environments receive a lot of use, sometimes in less-than-ideal presentation environments. Projectors must be versatile, able to handle any lighting condition, accept a variety of inputs and offer plug-and-play capabilities.
The Canon LX-MU500 DLP projector was created to check all the boxes required by state and local governments, without overly taxing their limited budgets. The LX-MU500 is a solid workhorse, offering a maximum brightness of 5000 lumens and the ability to project clear images up to 18 feet away.
A Projector That Holds Steady in a Variety of Environments
The Canon LX-MU500 is designed with a 2500:1 contrast ratio, a 1920x1200 native widescreen resolution and a 2,000-hour battery life, enabling the DLP to bring features found in projectors normally mounted inside dedicated, high-end conference rooms to the potentially smaller facilities of state and local governments.
The LX-MU500 had no trouble passing the PassMark Performance Video Benchmark tests. Images projected 10 feet away were nearly homogeneous, with only a 6 percent difference between light levels from the center of the screen to the corners. Colors were displayed within 2 percent of their true values, and the LX-MU500 didn't experience any grayscale weaknesses or phantom artifacts during a series of very complex tests with still images and video.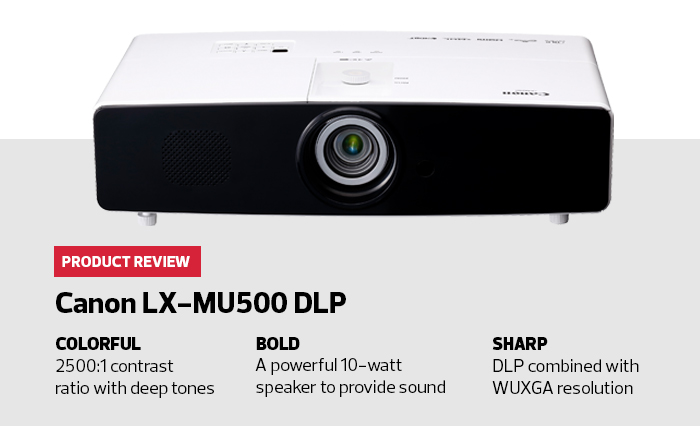 Plug and Play Easily with Other Devices
There are plenty of inputs available for state offices that own a mix of old and new technology that all needs to connect to the projector. The LX-MU500 has two HDMI ports — one for HDBaseT and one for S-Video — and two ports set aside for VGA connections. It also has an audio output port for attaching external speakers, although every LX-MU500 also has a 10-watt internal speaker for the ultimate in sound simplicity.
Either shared as a presentation device or mounted to a conference room wall or ceiling, the LX-MU500 is a powerful presentation tool. It can improve those many meetings taking place in state and local governments without requiring anyone to break limited budgets.

Canon Offers a High-Quality Projector Bulb
Straight out of the box, the Canon LX-MU500 DLP projector offers fine image quality, easy setup and high illumination levels. But does that value hold up over time?
Every LX-MU500 DLP can be run in either standard or eco mode. Standard mode is the default setting, and it uses the full light power of the projector when displaying images. For most environments outside of a dedicated theater, a room with blackout curtains, or perhaps when showing something at night, the standard setting is going to be the way to go. However, if the unit is within one of those perfect presentation spaces, then the eco mode saves bulb life by dimming it down a bit.
Used in standard mode, the bulb is rated for 2,000 hours, which would be 83 days of constant usage. Eco mode kicks that up to 2,500 hours, which would be 104 days of always-on presentations. Really, the payout for those extra hours probably isn't worth the decrease in image brightness outside of a dedicated theater setting, but it provides one more way to stretch the purchase price a bit.
Projector bulbs are fairly expensive, and also vary in quality. In general, a bulb loses a large part of its brightness (about 20 percent on average) after about 100 hours of use. Then the brightness will fall off again by another 20 percent when the bulb hits half its rated lifespan. It will then maintain that level of brightness until it dies. 
The Canon bulb was better than the average when testing in standard mode. It held on to its full brightness for 140 hours of constant use, and then had only lost 10 percent of its full potential. We didn't have the review unit in the lab long enough to do a full longevity test, but it maintained the same brightness level after the initial 140 hour test for 30 more. 
When the bulb finally does need to be replaced, Canon makes it extremely easy. In fact, it's even possible to access and replace both the projection lamp and all of the air filters without unmounting a unit that has been attached to the ceiling. And no special training is required. So long as someone uses gloves so as not to contaminate the new bulb with fingerprint oil, which would shorten its lifespan, almost anyone can successfully service the LX-MU500.
With a high-quality bulb and easy maintenance, the Canon LX-MU500 DLP projector keeps pushing its value, even long after the initial purchase has been completed.
Canon LX-MU500 DLP Projector 
Projector Type: DLP
Maximum Lumens: 5000
Native Resolution: 1920x1200
Aspect Ratio: 16:10 widescreen
Contrast Ratio: 2500:1
Dimensions: 10.3x18.3x4.8 inches
Weight: 11.9 pounds
Canon
More On