NYC Subway System Launches a Digital, Interactive Experience
The city's Metropolitan Transit Authority modernizes its stations with new touch-screen kiosks.
Anyone who has been a tourist in New York City knows how daunting the city's subway system can be. Trying to read those maps for the first time can feel like deciphering hieroglyphics from ancient Egypt.
But with the help of consulting firm Control Group, New York's Metropolitan Transportation Authority (MTA) has vowed to offer a more digital, intuitive and interactive experience, according to a report from Fast Company. Later this year, 90 touch-screen kiosks will be deployed in New York's most heavily trafficked subway hubs.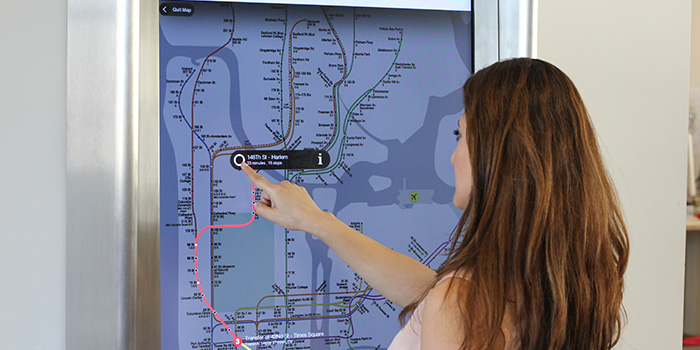 Credit: ControlGroup.com
The waterproof, heat-resistant, stainless-steel kiosks house 47-inch touch screens and will be placed individually or in pairs throughout the stations, including on the train platforms. The screens' main feature will be a one-touch map of the subway system. The screens are so simple to use that a rider will need only tap an intended destination on the map and then watch as the map displays the easiest route.
In addition to the interactive map, the screens will display pertinent train information, such as stoppages, delays and outages.
In addition to the gorgeous displays, the Control Group and the MTA have baked in some impressively adaptive and flexible software features. The new digital platform will support third-party apps, which the MTA will approve, and a constant flow of analytics will allow the MTA to determine which city locations and attractions riders are tapping the most and therefore need to be featured more prominently on the map.
Advertising, obviously an enormous part of the funding for this project, will benefit from the same agility that the travel information does. Ads can be updated for the season or for evolving circumstances, much like a company would alter its website to highlight items on sale during the holiday season.
Moreover, the kiosks will be equipped with Wi-Fi, video cameras and microphones for even more data collection and networking. The two-way cameras and microphones will enable MTA officials to keep an eye on station traffic and, in emergencies, communicate with passengers on the platforms. Additionally, the Wi-Fi will let riders pass the wait time by watching streaming video, downloading maps and travel information or shopping online.
The initial rollout is expected to be 90 kiosks, but despite the small start, the digital signage fleet represents an important case study for modern cities.
<p>Flickr/<a href="http://www.flickr.com/photos/dilworthdesigns/317378106/" target="_blank">Dan Dilworth</a></p>
More On