How Providence Helps Kids Speak and Learn
The Providence Talks program uses digital recorders to count the number of words children are exposed to at home.
Providence, R.I., Mayor Angel Taveras has turned to mobile technology to get young children ready for school. Instead of tablets, however, his program is using word pedometers. Because research shows a strong correlation between the number of words kids are exposed to in the home and their academic success, Taveras' office in February launched the Providence Talks program, which records families for a day at a time, then shows them how many words each person in the home speaks.
The program, which won the $5 million grand prize from the 2012 Bloomberg Philanthropies Mayors Challenge, also gives participants ideas and resources for increasing conversation in the home.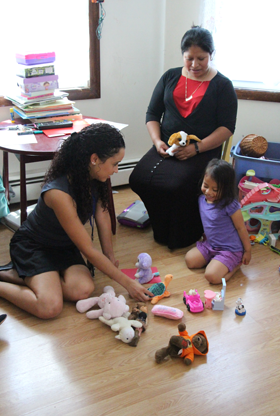 Providence Talks participants take part in a home visit.
"Vocabulary is so important, especially at those early ages," says Andrea Riquetti, director of the program from the mayor's office. "We know that 80 percent of the brain develops by age 3, and language is like the vitamins the brain needs to grow."
Providence Talks works with families enrolled in Early Head Start, Early Intervention or Healthy Families America, and it released a request for proposals in May to get more service providers. There were 53 families enrolled by May, and the plan is to eventually serve 2,500 families individually and in groups, according to Riquetti.
Home visitors from the programs give participants vests with pockets that hold the digital recorders. The target child wears the vest one day every other week for four months, then once a month for eight months. The recordings are then uploaded to hub computers at the agencies, which analyze the metadata and produce reports with graphs showing how many words were spoken hourly by each adult and child in the home. They also show how many conversational turns were taken, and they measure overlaps in conversation, TV and electronics sounds, other noises and silence.
Once the reports are ready, the home visitors bring them back to the families to discuss the findings. "Every week we deliver curriculum, ideas and resources on how to improve vocabulary in the home," says Riquetti. "What we're really trying to do is empower parents and let them know that they are their kids' first teachers and that everything they do every day makes a difference."
Program participants have found the data enlightening, she says. "One mother said, 'I was talking at her, not with her,' " says Riquetti. "There was no turn-taking. I was talking, talking, talking, and I wasn't giving her the opportunity to talk back." When she started asking her daughter more questions and giving her an opportunity to respond, she saw a marked improvement in her daughter's mood and their relationship.
"There have been gains that we weren't even expecting to see," says Riquetti. "And the families are really happy, because they know that they can make a difference with something so simple as talking to your children."
Learn how other government and nonprofit agencies are using mobility to further their missions at statetechmagazine.com.
PaulGrecaud/thinkstock