Public Safety Goes Hyperlocal with Social Media Site Nextdoor
Some 350 agencies are using the social network to communicate with constituents about crime and safety issues in a targeted way.
Social media has become a powerful tool for public safety agencies to spread the word about emergency response efforts and criminal activity.
Much of that dialogue is happening on sites such as Twitter and Facebook, but a growing number of government agencies are testing a relatively new private social media network, called Nextdoor, that allows them to connect with constituents in a targeted way.
More than 43,000 residential neighborhoods across the country are using Nextdoor to share advice on restaurants and reputable baby sitters, to organize neighborhood events and to inform residents about suspicious activity.
Last month, the San Francisco-based company launched Nextdoor for Public Agencies, which allows police departments, emergency management and other agencies to "send periodic and targeted information to specific neighborhoods, groups of neighborhoods or the entire city," according to Nextdoor.
A total of 350 agencies in 250 cities are using the new feature, says Jeremie Beebe, Nextdoor's director of partnerships. Beebe's team is focused on supporting the needs of agency partners, including training agencies on how to use the site. Nextdoor now has an automated registration process for agencies, and it takes about two days for new user accounts to be verified and approved.
Beebe notes that Nextdoor is not a replacement for 911 services or phone-based notifications such as Amber Alerts. Agencies can use Nextdoor as another outlet for sharing that information.
How Law Enforcement Uses Nextdoor
In California the Mountain View Police Department uses Nextdoor to keep the public informed. After a series of burglaries last summer, the department used Nextdoor and other social media platforms to spread the word that burglars were posing as solicitors and to encourage residents to report any suspicious activity, says Capt. Chris Hsiung. "They called us, and we caught the bad guys."
"In the digital age, more and more, it's less like a Mayberry feel," Hsiung explains. "People don't know their neighbors. Nextdoor … gets neighbors to talk."
The police department has been using Nextdoor for more than a year and a half as an extension of current social media outreach. Information posted on the social network provides a summary of news alerts that may have been shared earlier via Twitter, Hsiung says. For example, Nextdoor posts are shared in the hours or days after a big incident as a means of uniting the community and informing residents about resources.
The site has the look and feel of Facebook but requires that users verify where they live, and information is shared only among users of a geographically defined community. A minimum of 10 people are required to launch a Nextdoor site. About 65 new ones are launched every day, says Kelsey Grady, Nextdoor's head of communications.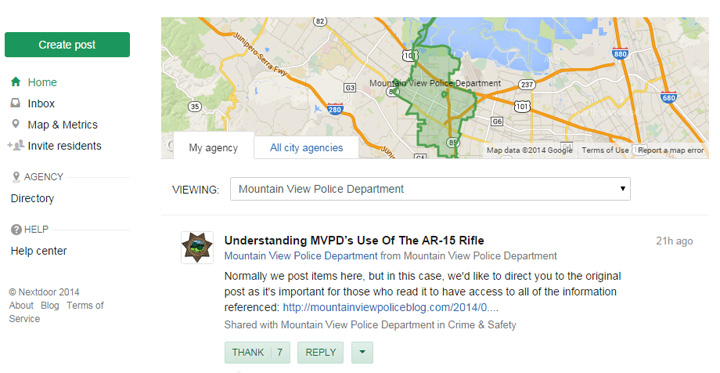 Grady says 20 percent of user comments concern crime and safety, and, in many ways, the website has become a virtual neighborhood watch.
"Nextdoor was originally focused on helping neighbors connect and communicate about local issues," Sarah Leary, co-founder of Nextdoor, said in a news release. "Soon after we launched, we saw that neighbors were naturally turning to Nextdoor to discuss crime and safety concerns. It quickly became clear that residents also wanted local agencies to join the conversation and help make their neighborhoods safer. Providing agencies with a two-way line of communication with verified residents has been transformational for our members and agencies."
Public agencies do not have access to all information posted on Nextdoor. They can view only responses to comments they post on the website.
"This is not giving agencies the ability to spy on these neighborhood conversations," Grady explains. Users are notified when agencies are introduced to their community sites.
All password information and communication between users' computers and Nextdoor servers are encrypted, according to the company. Nextdoor also uses secured servers to host its applications and databases to ensure that data are safeguarded.
flammulated/thinkstock
More On