Top Tech-Friendly Cities for Professionals
Tech workers in these cities enjoy a low cost of living and higher wages than the average worker in their areas.
Cities across the country are clamoring to attract skilled tech workers.
Tech professionals looking to move to a new city or for a place to start a budding career should check out SmartAsset Blog. It has compiled a list of the best and worst cities for tech workers.
The list selections are based on data from the federal Bureau of Labor Statistics and the Census Bureau, including factors such as the average wage all workers in the area earn, the average wage for tech workers, the percentage of all workers employed in tech and the cost of living index for 200 cities.
Check out these lists of the 10 best and worst cities for technology professionals.
Best Cities for Tech Workers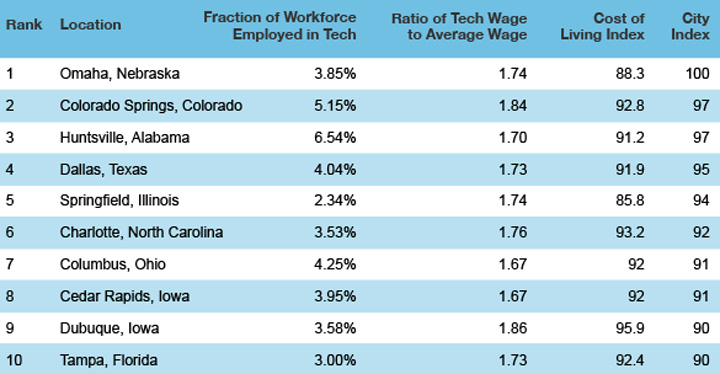 Worst Cities for Tech Workers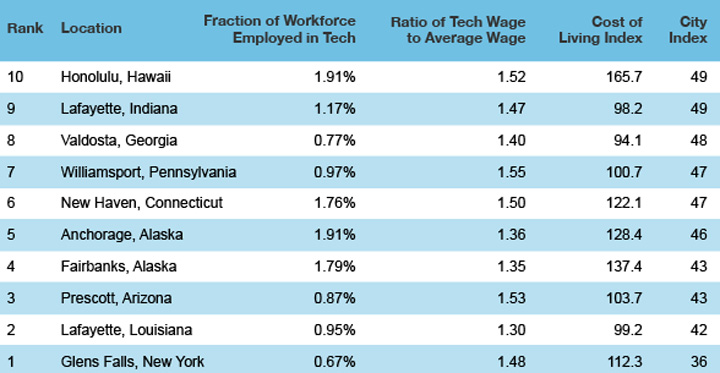 Omaha, Neb., took top honors as the best city for tech workers for several reasons. "The costs of living there are a mere 88.3 percent of the national average, 3.8 percent of all Omaha workers are tech employees, and those tech workers make 74 percent more than the city average," the article notes. The city is also home to five Fortune 500 companies: Berkshire Hathaway, food manufacturer ConAgra, train operator Union Pacific, construction company Kiewit, and insurance firm Mutual of Omaha.
Honolulu was ranked the worst city for tech workers. Not quite 2 percent of its workforce holds tech jobs.The Hawaii capital's unemployment rate is less than 5 percent, but the cost of living is extremely high.
Some cities are more attractive than others thanks to big-name companies looking to hire talented professionals. In those cities, job candidates have access to well-paying military and defense contractor jobs and a commitment from those cities to invest in technology. Chicago, for example, wants to bring 80,000 tech jobs to the city over the next few years.
Data show that most federal government applicants for science, technology engineering and math jobs are from Maryland, Virginia, California and Texas, according to Office of Personnel Management Director Katherine Archuleta.
Those states were not well represented on the top 10 list of cities, with Dallas being the exception. Tech workers there make "73 percent higher wages than the city average," and about 4 percent of the city's workforce is in the tech industry, according to SmartAsset. Dallas is also home to electronics manufacturer Texas Instruments and to major offices for AT&T and ExxonMobil.
Kamila AA!rskA!/thinkstock
More On