Q&A: Indiana CIO Uses Data to Solve Big Problems
The Hoosier state's IT department, led by Dewand Neely, is pioneering data analytics applications and streamlining IT operations.
Dewand Neely spent more than a decade working in Indiana's information technology department before becoming CIO in October 2015. He continues the state's long tradition of hiring IT leaders from within, creating an organization built on stability.
Now as CIO, Neely plans to advance the state's groundbreaking Big Data project — an initiative that aims to lower Indiana's infant mortality rate — to other areas. With its IT house mostly in order, the Indiana state government has shown the power IT has to improve citizen life.
Neely recently talked with StateTech magazine about his top IT priorities, the future of data analytics and the importance of relationships.
STATETECH: How does Indiana currently utilize the cloud?
NEELY: We're just starting with our email system with a project to migrate to Exchange Online. That will allow us to eliminate a large amount of storage in our data center, but also save money on an archiving solution.
We recently started a benchmarking exercise that will help us determine what applications we use. This will help determine what makes the most sense to go to the cloud. That seems to be the next evolution of cost-effective solutions.
STATETECH: What else will the benchmarking exercise look at?
NEELY: We want to look at all the service offerings we provide to our state agencies. That includes everything from hosting, to support, to project management, and then compare them to our peers in state government and the private sector.
This will ensure we are still in alignment and operate as efficiently as we should. We will also look at our costs to see what we spent to provide those services. Once complete, we will own a roadmap to improve what services need to go in a different direction.
STATETECH: Indiana made headlines over the last few years for its Big Data project centered on helping reduce the state's infant mortality rate. Where does that program stand today?
NEELY: It's been big. We did blaze the trail to arrive where we are today that now helps us in all our data projects. We can now go back and solidify some processes and procedures, along with broadening our data sharing agreements to do more data work in the future.
Most of the data engagements were on a case-by-base basis where we sat down with each partner and laid out our guidelines. It took longer to set up the project than to actually do it. Going forward, we want more global agreements in place so the lead time needed for each project will dramatically shorten.
With the administrative issues better organized, we can now look at other problems in the state and see how we can use Bidatato solve them.
STATETECH: Any thoughts on what some of these projects will focus on?
NEELY: The governor made it a key priority to reduce drug abuse in the state. One of the key elements of that is we want to track the flow of prescription drugs to make sure they do not get into the hands of abusers. Using data, we can coordinate and share information with the proper facilities and law enforcement to help combat that problem.
By creating broader agreements, our agencies can think outside the box to tackle problems. The state will already have the infrastructure in place to get them started.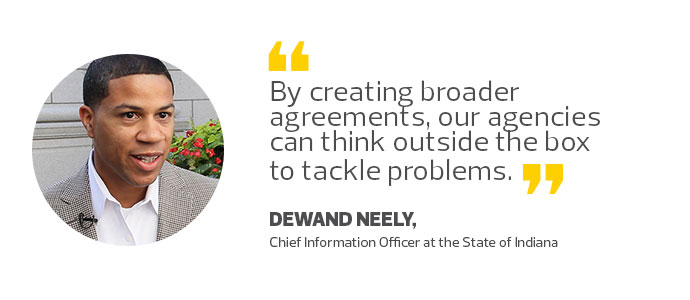 STATETECH: What major challenges does Indiana face from an IT perspective?
NEELY: Perhaps the top one centers on getting the state's residents on board with open data transparency.
We've done a fairly good job at the state level of being transparent, providing citizens the information they need to see how we operate. There is a bigger picture here, though. The counties and cities collect a lot of data that, if organized better, can paint a clear picture for citizens. At the state level, we need to provide some guidance for how to get to that point.
STATETECH: You worked in the state's information technology department for 11 years before being named CIO last year. Is there anything you've learned about the job that you didn't know before?
NEELY: I observed good interactions from our previous CIOs, both internally to the state and externally. So much of a CIO's time is interacting with state agency leaders or key individuals outside of government. From an outsider looking in, one could wonder what value does this have, especially for a state CIO.
I learned that it takes that engagement and those relationships to keep the state locked in from an IT standpoint. Getting input from stakeholders can keep the state moving forward. You also benefit from getting people interested in the state's technology progress.
It's the same with leaders outside the state. They bring different standpoints that a CIO can incorporate into transitions and new programs. So much value comes from those relationships and I found they are necessary to accomplish bigger goals here in the state.
Indiana/fotoguy22/Thinkstock