DRaaS Provides Williamsburg, Va. and Other Localities Peace of Mind
When the going gets tough, state and local governments find an ally in cloud-based mission-critical solutions.
The best way to recover from a disaster is to prepare for it. For many state and local ­governments, that preparation includes signing up for a Disaster Recovery as a Service (DRaaS) solution.
Like other types of hosted IT and telecom solutions, DRaaS provides features and benefits that often would be cost-prohibitive with an on-premises platform. Just as important, putting backups and other key resources in data centers hundreds of miles away also means they won't be wiped out by local disasters such as floods and hurricanes.
Those were among the benefits that convinced the city of Williamsburg, Va., to retire its Symantec Backup Exec 2012 system, which sent data to a storage area network a few miles away. IT Director Mark Barham sought to avoid complex integration headaches and ultimately went with a cloud-backed DRaaS for peace of mind, but other benefits soon appeared.
"We initially looked to replace our outdated backup technology that required a fair amount of hand-holding," Barham says. "We can run our server infrastructure in the cloud, and that's a game changer. As new servers come online, we add them to our service."
While public-sector organizations recognize the critical nature of disaster recovery, not all have the budget or expertise to develop an extensive continuity of operations plan. DRaaS presents an alternative that provides flexibility in terms of commitment, capacity and cost.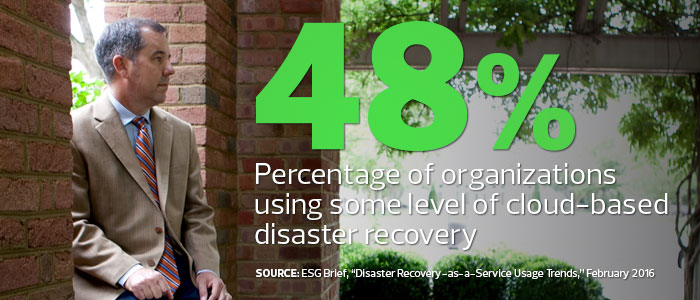 "Cloud-based disaster recovery is top of mind for virtually every IT department, regardless of the size of the business," says Paul Hughes, program director for IDC's Storage and Data Management Services.
Avondale, Ariz., relies on VMware NSX for a hybrid cloud along with VMware vCloud Air Disaster Recovery for cloud-based failover of 15 critical business applications. Kent County, Md., deployed Seagate's EVault cloud technology (now part of Carbonite after an acquisition last December) for data replication and restoration capabilities.
The Benefits of Moving to Disaster Recovery as a Service
The growing popularity of DRaaS among governments and enterprises alike is reflected in the field of providers. Besides VMware, Seagate and Carbonite, there's also Acronis, Druva and Barracuda Networks, among others.
Kent County migrated to EVault after a data loss that took four days of migration resulted in an incomplete recovery. Like many of its peers, the county also used the migration as a clean-slate opportunity to implement new policies, including those spelling out security and retention rules.
Still, one upgrade wouldn't be possible right away: the move away from a poky LAN to fiber. To make do with low bandwidth in Kent County, EVault leveraged its DeltaPro deduplication feature with compression and bandwidth throttling.
IT officials there cite more efficient and automated daily backups as other key benefits to the new solution. DeltaPro needs to back up only changes to the data, saving time and bandwidth. Even following a network upgrade, those capabilities will prove equally valuable — because bandwidth is never free.
Test DRaaS Solutions to Ensure a Smooth Cutover
Proper planning and the right tools are key to a successful migration from an on-premises platform to DRaaS. Williamsburg's cutover involved 19 servers, and it started with copying roughly 10 terabytes of local data to an onsite storage device. The city then overnighted that device to its cloud provider for uploading.
"That made the initial offsite backup go much smoother," Barham says.
Williamsburg's migration coincided with an email system upgrade, which the city tested with its cloud provider several times before rolling out, avoiding another type of disaster.
"When we actually did the upgrade live, we were not surprised by anything, and it went off without a hitch," Barham says. "The ability to run my entire environment internally or externally, and in either a test or live mode, has proved to be huge for us."
Khue Bui