Review: Samsung Notebook 7 Spin Packs a Punch
Powerful processing and rich display capabilities make this lightweight device a good fit for government workers.
State and local governments ­are under constant pressure to make every IT dollar count, despite the pace of technology turnover. While no IT investment is entirely future-proof, the Samsung Notebook 7 Spin is so far ahead of the curve that its usefulness will ­outlive most of the devices it can replace.
The Spin displays presentation graphics, CAD programs and even augmented-reality visuals with remarkable detail, thanks to its massive 15.6-inch LED touch screen, configured into a 16:9 widescreen ratio with a 1920x1080 native resolution.
Instead of integrated graphics we ­normally find in notebooks, the Spin uses an NVIDIA GeForce 940MX graphical processor with 2 gigabytes of dedicated video memory. Not even the most demanding business-type programs caused it to ­hiccup, and it scored ­perfectly on the DisplayMate visual benchmarks.
The touch screen is highly responsive and complements the Windows 10 Pro operating system. And, as suggested by its name, the Spin features a 360-degree hinge that can display the screen from any angle or rotate back to create a slate-type tablet.
Even the Spin's storage capacity is impressive. Standard configurations include a 128GB solid-state drive (SSD) designed for performance and a standard Serial ATA-300 that adds an entire terabyte of storage capacity. Spinning at 5400 rpm, the storage drive is no ­slowpoke, but using the SSD to run ­programs and the ATA for storage ekes out even more performance.
For the price, the Samsung Notebook 7 Spin may be on the high end for ­individual technology investments, but the fact that it can outperform many dedicated notebooks, workstations and tablets makes the Spin a great value for many years to come.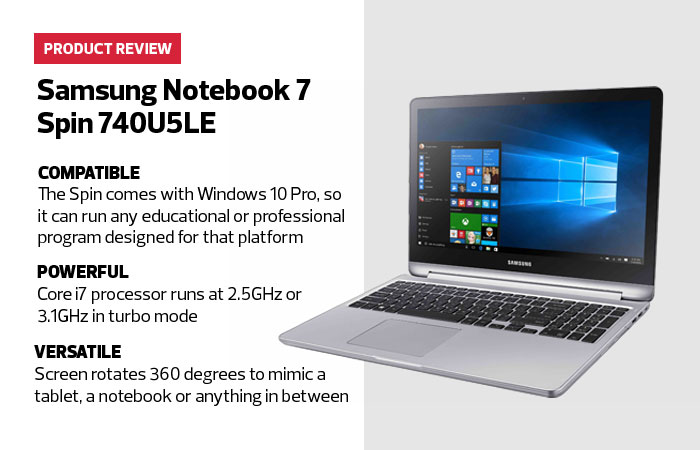 Samsung Notebook 7 Spin, Unplugged
I was highly impressed with the overall performance of the Samsung Notebook 7 Spin, but all of the performance testing was done with the unit plugged in. Often, the Achilles' heel of notebooks in the "desktop replacement" category is pitiful battery life. All of those high-end components tend to drain the battery, so even getting through a day without a charge is impossible.
Thankfully, this was not the case with the Spin. I made sure the battery charged to 100 percent and then pulled the plug. At the time, I was playing a movie from the hard drive with the screen brightness and sound set to 80 percent. I had also disabled all power-saving features to get a worst-case scenario test result.
I was pleasantly surprised to find that the Spin ran for 6 hours and 28 minutes under these demanding conditions before the power alarms started sounding. That means that with more normal usage, the runtime could probably extend to eight hours or more. In fact, the MobileMark 14 benchmark estimated nine hours of runtime with normal usage.
Additionally, the Spin boasts a fast-charging feature that lets you add emergency power to the device in a short amount of time. I squeezed up to two more hours of usage from the Spin after just 20 minutes of charging. It took another 68 minutes to reach a 100 percent charge, but that initial cushion means that even a brief airport stopover can provide more than enough time to get the Spin up and running again.
The fast-charging feature, combined with long battery life, is just one more impressive aspect of the Samsung Notebook 7 Spin, a device that seems capable of performing almost any personal computing role, from tablet to notebook to workstation.
Samsung