Chicago Targets Tech, Training to Bridge the Digital Divide
The Windy City has been rolling out programs and partnerships aimed at pushing the city into the digital age.
Chicago is rolling out major programs aimed at expanding access to technology and helping residents bridge the digital divide.
The city has already emerged as a leader in implementing smart city projects, but in an effort to foster economic gains, the Windy City has been aggressively rolling out a citywide broadband network and training its residents in digital skills.
Rolling Out Smarter Digital Communities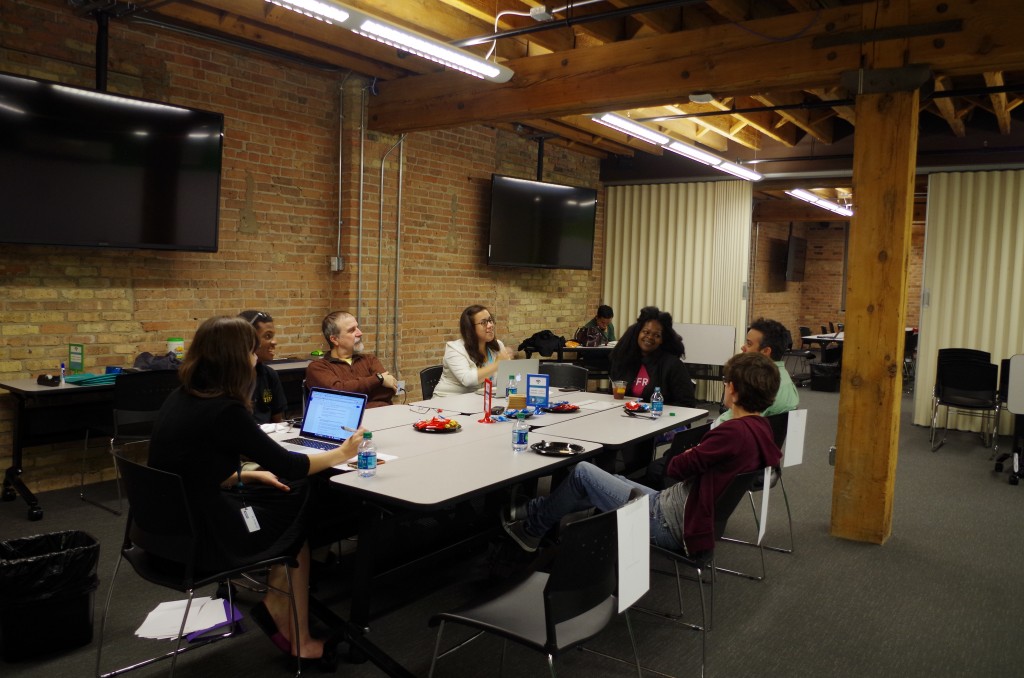 Smart Chicago's Civic User Testing Group conducting a focus group on digital skills and resources in the city. Photo: Smart Chicago.
In 2013, broadband usage for residents in Chicago varied wildly, from 36 percent to 94 percent depending on the neighborhood, leaning unfavorably toward lower income neighborhoods, according to Crain's Chicago Business.
As a way to improve these numbers, Chicago Chief Technology Officer Danielle DuMerer says that the city has been working to improve digital access at community institutions across the city through its Connect Chicago program, managed by the Smart Chicago Collaborative, often partnering with private organizations to address digital equity, including Microsoft, Cisco, Sprint, the Motorola Mobility Foundation and several others.
Moreover, companies like Google, Cisco and Everywhere Wireless have provided free wireless internet to Chicago parks and beaches.  
"The city works within its existing support and hardware/software contracts to modernize its infrastructure to better support public access in city facilities, including libraries, senior and community service centers," says DuMerer.
Chicago has been able to successfully bring internet to families across the city. At the time of the last American Community Survey, roughly 20 percent of Chicagoans lacked an at-home internet connection, a number that has fallen by 10 percent over the last decade partially as a result of the citywide networks.
Planning for Technology Development
But DuMerer notes that an internet connection alone isn't enough to close the technology skills divide, even as growing smartphone use makes it easier for residents to hop online.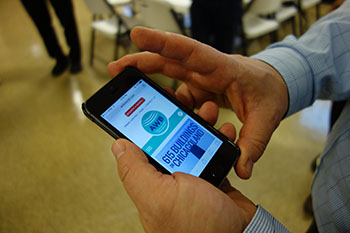 An initiative in partnership with several companies has made internet available in public places. Photo: Smart Chicago
"We know that many individuals have mobile access, but often data plans do not meet the end users' needs. We see a lot of usage of Wi-Fi at public buildings as a means to offset this constraint," says DuMerer, pointing to a Pew Research report that lays out how mobile and smartphone access to the internet often does not address access and skills divides.
To complement greater internet access, the city launched its Smart Communities program in 2009 as a way to create opportunities for low- to mid-income families. But instead of using a top-down approach throughout the entire city, each neighborhood built its own plan "with the lens of leveraging technology to help achieve each community's goals around education, economic or workforce development," said DuMerer.
Some common ideas and goals cut across all communities. Those ideas were lifted up and added to a master plan.
"For example, all communities wanted to create new or better employment opportunities [for] their residents and focused on rolling out programs to support this. Other goals varied. For example, in Pilsen, there was a strong emphasis on leveraging technology to communicate with others both on an individual basis — connecting families via tools like Skype — and on a community basis, for example, by creating a web portal that helped promote the community as a center for art and commerce," she says.
This community approach helped each neighborhood to address its specific needs while also addressing multiple barriers to technology access and use, including cost, skills and relevance. 
"Technology empowered the community to take control of their own narrative," said DuMerer.
Chicago also launched a tech plan in the fall of 2013 that is aimed at bolstering technical skills among residents, businesses and nonprofits. And in 2016, Mayor Rahm Emanuel launched the Connect Chicago initiative that looked to expand skills training to residents in public libraries across the city.
"We are putting more emphasis and effort around tracking outcomes associated with digital skills training," said DuMerer.
Addressing Evolving Digital Needs
The cost of broadband services still poses a barrier to rolling out programs, according to DuMerer. But as the cost of solutions decreases, the city has begun implementing new programs that pair access and skills training.
"At the Chicago Public Library, the Internet to Go program allows residents to check out laptops and hotspots and take them home. Paired with one-on-one CyberNavigator digital skills training, this approach provides the resident with more flexibility and allows them to keep practicing their skills outside of the library's walls and hours," the CTO says.
The programs are still very much in the works for Chicago. Going forward, DuMerer says the city is very much interested in fostering innovative ideas that better address digital skills and access gaps to improve quality of life for low- to mid-income families. Nevertheless, as the cost of broadband services still poses a barrier to larger service rollouts, public-private partnerships will prove essential over the next few years to expanding broadband networks.
"All levels of government and sectors will need to continue to address issues related to digital equity — as technology access and skills change over time — to ensure no communities are left behind," she said.
marchello74/iStock/Thinkstock