How Governments Can Plan for IT Jobs that Don't Yet Exist
State and local government leaders must consider today how they will fill the technology jobs of tomorrow.
It's been said that more than half of today's elementary school children will end up with new job types that have yet to be created. State and local governments can prepare by pondering the future of work and anticipating what IT skills they will require.
As part of the ongoing discussion of how to recruit and retain talented leaders to take on state and local government IT challenges comes another intriguing point: What about the IT jobs that we haven't even started to think about? While many public-sector agencies struggle with recruitment and retention, that challenge may only worsen unless we remain open to the unlimited opportunities created in the coming decades.
Prepare for a More Fluid Work Landscape
The World Economic Forum estimates that 5 million jobs will be lost to automation by 2020. But let's be clear: technology isn't going to take away our jobs; it's just going to change them.
As the organization notes in "The Future of Jobs" report, "the current technological revolution need not become a race between humans and machines but rather an opportunity for work to truly become a channel through which people recognize their full potential."
The idea of holding down a job with its title, level and hierarchy is starting to go away, says Josh Bersin, a human capital expert and principal of Bersin by Deloitte. In its place, the idea of hiring people to do work, complete a project, or lead a team and move on as business needs evolve is catching on. Leaders can also anticipate a flattening of organizational structures, which decreases the need for middle managers.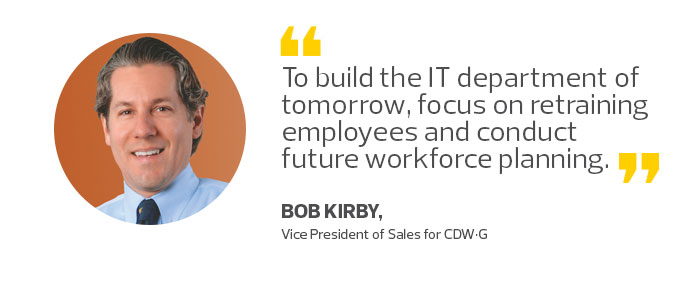 Crowdsourcing and tapping so-called talent clouds can help government IT shops expand and contract to handle short-term projects and development sprints. As people work from anywhere, there's no question we'll need experts adept in deploying and managing collaboration technology that connects far-flung workgroups.
While the tools of today include video conferencing and instant messaging, tomorrow's teams may turn to virtual and augmented reality, and even holograms, according to a report from Constellation Research.
As natural language processing improves, perhaps we'll call on IT to apply the next generation of cognitive digital assistants that will replace the likes of Apple's Siri or Microsoft's Cortana.
Expect rapid urbanization ­worldwide to drive demand for smart cities to better ­manage transportation, energy and water supply, waste management, public safety and other community services. County and municipal leaders should look for professionals who possess all of the skills required to string together sensors into Internet of Things (IoT) networks and manage an ever-growing array of mobile devices.
Workforce Automation Is on the Horizon
We'll also need big-picture thinkers who can analyze the onslaught of data and envision ways to use IoT to solve problems and better serve citizens.
As artificial intelligence and automation take hold, people will work side by side with machines to fine-tune operations and spot errors. And there's always going to be a need for critical thinking to see the big picture and identify patterns, not to mention human skills such as empathy, communication and prioritization that robots don't possess.
To build the IT department of tomorrow, focus on retraining employees and conduct future workforce planning. Recruit staff who embrace personal reinvention and a desire to adapt to changing needs.
By rising to the challenge of understanding the changes under way, government IT leaders can be better prepared to lead agencies through these transitions while improving services to citizens.
Henvry/Thinkstock
More On