State CIOs Lead Innovative Tech Initiatives
NASCIO's Emily Lane details the association's campaign to highlight successes and the larger role of IT in transforming and modernizing state government.
Information technology is no longer the foundation on which government sits, but an integral part of government. The field empowers agencies to deploy solutions, gives citizens tools to interact with government and access services, and protects data and systems.
In the coming years, IT will enhance the public sector in ways not yet thought possible.
State CIOs lead this all-important work, functioning not solely as technologists but rather as policy leaders and strategists. They are in a unique position to transform the public sector — working with agencies, the legislature and businesses to solve problems, create new opportunities and make a difference in the lives of citizens.
Through the "State CIOs Make a Difference" campaign, the National Association of State Chief Information Officers (NASCIO) hopes to expand understanding of the CIO role and the integral part IT plays in state government.
This effort aligns with one of NASCIO's strategic goals of advancing state CIOs as essential leaders in developing public policy. Framed with the hashtag #StateCIOsRock, the campaign tells the stories of CIOs and their states in their own voices. Participating states (six each year) produce a video and short narrative for a NASCIO microsite, shared through social media.
Each story highlights how CIOs protect and engage citizens, increase efficiencies and help agencies jointly solve critical problems, proving that CIOs can make a difference.
A CIO's Analytics Initiative Saves Lives in Indiana
Indiana focused on a data analytics ­project aimed at saving the lives of newborns, an initiative started by former state CIO Paul Baltzell.
By examining 17 integrated databases from five agencies and four public sources, the state identified a high-risk population that accounted for only 1.6 percent of all births, but nearly 50 percent of infant deaths. Three factors in particular ­correlated to the likelihood of mortality: inadequate prenatal care, Medicaid enrollment and young maternal age.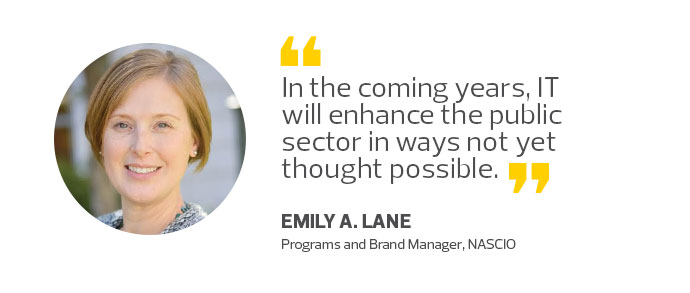 Health officials plan to use the new data to create strategies that save lives. Without leadership and the ability to share information cross-agency, this breakthrough and subsequent targeted outreach may not have been possible. Current CIO Dewand Neely continues sharing data to tackle issues such as reducing criminal recidivism and combating the opioid crisis.
Washington's CIO Grows the State's Technology Talent Hub
Nationwide, states struggle to find and retain top IT talent. The presence of leading technology companies in the state of Washington compounds that challenge. What's more, almost half of the state's government employees could retire within the next five years.
With the goal of turning state government IT into an employer of choice, CIO Michael Cockrill made workforce strategies more competitive through efforts such as reclassifying state technology jobs to better reflect the market, hiring for value alignment, experimenting with self-management and piloting physical workspace changes.
Cybersecurity Efforts Protect Millions in Minnesota
Cybersecurity is consistently ranked as the top priority and area of focus for state CIOs. Minnesota CIO Tom Baden launched a five-year cybersecurity plan for the management, control and protection of state data and assets, which includes working with business partners and implementing cybersecurity policies and standards across the state to safeguard the private data of 5.5 million Minnesotans.
It's a big undertaking — Minnesota IT Services provides both enterprise and local IT ­services to 87 counties, 300 cities and 200 public higher education campuses on one network. These cybersecurity efforts produce results: Minnesota IT Services protects against 3 million attacks each day.
NASCIO award programs, publications and other resources will feature CIO leadership and allow the state IT community to share leading practices and expertise.
Visit the CIO microsite to read more profiles and examples worth following, and follow @NASCIO on Twitter. Show support at #StateCIOsRock by sharing NASCIO posts and adding to the conversation.
RoboLab/Thinkstock