Public Sector IT Teams Shore Up Wired Networks to Boost Wireless
For state and local Wi-Fi deployment, a robust cabling structure and core network architecture is critical.
In 2014, the Pennsylvania Convention Center Authority in Philadelphia realized its wireless network needed a boost to meet customer demands. Users had two priorities: faster service and greater bandwidth.
With a commitment of $1 million, the organization took the first step to ensuring a better Wi-Fi experience in the venue's 2.2 million square feet and adjacent Reading Terminal Market. The center envisioned the kind of ubiquitous wireless coverage and high performance needed to effectively compete in today's conference and events market.
The initial work improved functionality, but wireless users still experienced dropped sessions and slow speeds. "On a scale of 1 to 10, it was running at only about a 7.5," says Director of IT IJ Rosenblum.
Why? Because, Rosenblum explains, a wireless network isn't truly wireless. It runs through a wired infrastructure, which, in this case, was a combination of mismatched switches, cabling and firewalls.
"Almost all of the problems we experienced with the new wireless network could be traced back to the outdated wired network," Rosenblum says, noting that more than 50 percent of the switches needed to be replaced. "When you have 1,000 people connecting to a ­single access point and all trying to get out to the internet at the same time, that cabling structure and the core network architecture had better be designed and robust enough to handle it."
The center's challenges in deploying its wireless system underscore just how important a solid wired infrastructure is to an effective wireless network. That reality is why some state and local agencies are turning to upgraded switches, routers, firewalls and more to support the best wireless experience.
Recognizing the Reality of Large-Scale Wi-Fi
The Convention Center's staff is not the only IT team to get tripped up by the complexity and sometimes hidden challenges inherent in building and managing a wireless network. Hurdles can result from a lack of experience with wireless components, as well as the logistics of consolidating outdated and disparate components into a single wireless solution that connects dozens of indoor and outdoor locations.
"A wireless network definitely takes a different set of skills and planning considerations than a wired network," says Bill Menezes, principal research analyst for Gartner. "It's essentially because you are dealing with radio waves that are subject to interference, you have users who are mobile and need to stay connected on the move, and you can have an unknown number of users connecting at any time using all types of devices."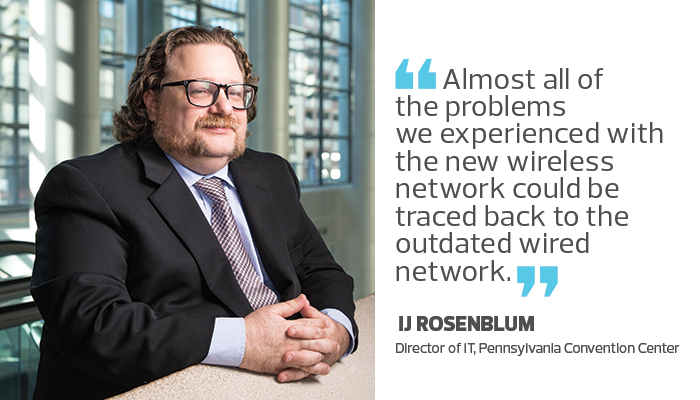 For Rosenblum and his team at the Pennsylvania Convention Center, the solution was to bring the wired network up to speed as soon as the budget allowed. Working with CDW, they implemented a state-of-the-art Cisco Systems network and brought it fully online in January 2017.
The new system features two Cisco Nexus 7700 core switches that are geographically separated to provide redundant services to the 160 Cisco 2960-XR edge switches that run throughout the facility. Two Cisco 4120 Firepower firewalls and Cisco ASR 1001-X routers also connect to the core switches. The IT team manages the network using a SolarWinds network monitoring solution and Cisco Prime Infrastructure.
The Phenomenal Impact of County-Wide Wi-Fi
As a result, both the wired and wireless networks now perform optimally, enabling the convention center to better compete for even more prestigious and high-tech events, such as the Design-Build Institute of America's 2017 annual conference.
"The impact has been phenomenal, especially for the IT team," Rosenblum says. "We feel much more relaxed, focused and confident because we know what this gear is capable of, we know that our redundancy is working and we know that any networking needs our clients have are available to them whenever they need it."
For Juan Saldana, CTO of Cameron County, Texas, the top priority in choosing and implementing a countywide wireless network was its ease of use and manageability. That's because, while Saldana himself had experience with indoor and outdoor wireless networks, the rest of his 12-person IT team did not.
"Experience was limited across the county, and no one was managing a departmentwide wireless network, much less a countywide one," Saldana says.
He chose an easy-to-use solution from Cisco Meraki, which features a cloud-based dashboard and the ability to manage multiple sites via a comprehensive dashboard. "With the Meraki interface, it's a couple of clicks and you're done," Saldana says.
Cisco Meraki also offered the entire team free in-depth training on how to operate its wireless network. "Being able to get that knowledge transfer was so beneficial," Saldana says.
Troy, Ala., Opts for a Simple, Seamless Wired Network
In Troy, Ala., Utilities Project Manager Jason Bell faced the challenge of consolidating disparate and outdated wireless components into a single wireless network that would be simple to manage, secure, reliable and redundant. The city also expected the network to meet current and future performance needs.
The first step was to standardize the wired network, which featured switches ­from a half-dozen vendors. After conducting research and due diligence, Bell and his team chose a solution from Extreme Networks, including Extreme switches and Extreme Management Center.
During that transition, Bell started looking at the wireless network to find the best way to consolidate. But the city's first decision turned out to be a mistake.

"One vendor offered us a free virtual controller and access point and told us to try it out," Bell says. "We got kind of caught up in that pony show of ­getting something for free, but it didn't take us long to realize that this was not the solution for us, that it didn't offer the support, the speed, the density that we needed."
Bell and the team ultimately decided that Extreme Networks also offered the best wireless solution for their needs. Having one vendor supporting the entire network infrastructure makes the IT team's job much easier, Bell says.
For example, the team can virtually manage everything from the same console, including switches, access points and security cameras.
"This has provided us with a ­one-stop shop for everything we need as it relates to both the wired and wireless networks," Bell says. "Time is money, and now we don't have to do all this back and forth, dealing with different vendor support staff and different systems. Everything we do is seamless now."
Colin M. Lenton
More On