Is Your Agency Going Mobile? A Smart Buyer's Guide to Tablets
Which are affordable? Which are efficient? And which one is best for your agency?
Did you know that the first patent for a stylus was filed in 1888? That's right, the evolution of the tablet as we know it today dates back well over 100 years. 
It took until March 2010 and the release of the iPad, however, for the consumer market to explode. Since then, Apple's competitors have been creating faster, smaller and uniquely exciting tablets. For local governments that are looking to streamline their workflow, the options may seem overwhelming.
But before you throw your hands up in despair, take a look at the resources that StateTech has put together to help tablet shoppers pick and choose among the market's many offerings — devices created for every user, from average e-book readers to hardcore IT professionals. 
How Can Tablets Help You?
Before checking out which tablets you might be interested, you have to decide if there is value in deploying them. Take Lacey Fire District 3 in Washington: With a tight budget but critical need for powerful mobile computers, they deployed 10 ASUS tablets to their emergency responders to provide directions and keep the team informed of any updates en route.
What about deployment? Is it cost-effective? Hear what government officials in Wellington, Fla., have to say.
Which Tablet Is Right for You?
Tablets are more than just devices for consuming news and media. In fact, the category includes power horses like Toughbooks and other fully powered computers that happen to be more mobile and durable than your average desktop. Some of these devices are versatile enough to run applications for healthcare, inspections and even public transportation.
Before you decide which tablet is right for you, get to know each tablet's features. Some are better for reading the news, while others are robust enough for enterprise computing.
The EVO View is a perfect example of a tablet that is equipped for enterprise use. Yes, it can stream movies and download e-books, but it also comes loaded with Microsoft Exchange ActiveSync so IT admins can manage the devices remotely. For agencies that use Google Apps, the EVO View's Android operating system integrates seamlessly with e-mail, documents and a web-based calendar. For more, read StateTech's review of the HTC EVO View 4G.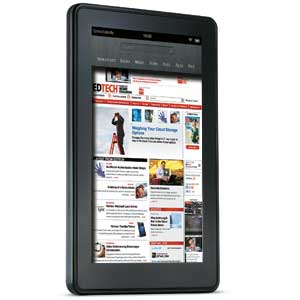 On the other end of the spectrum is the Amazon Kindle Fire. This device was created solely for consuming content. It offers no enterprise control, but at half the cost of most tablets out there, it is an attractive device. It, too, runs on the Android OS, but has been completely customized. One huge drawback? The Fire can't access the web via 3G or 4G. Read more about the Kindle Fire and watch our video review.
For any organization using RIM's BlackBerry smartphones, the PlayBook is a natural fit. RIM has always been dedicated to creating enterprise-level solutions. For more, read the full review.

No tablet survey would be complete without a mention of the iPad. As everyone knows, it got the tablet movement rolling, and it continues to be the market leader. Apple has its own way of doing things but does offer some enterprise resources on its website. Want to know more? Read how iPads are being put to work in local governments coast to coast.
Where There's a Task, There's a Tablet
There is no doubt that tablets are exciting tools in and out of the office. As the post-PC era evolves, they will become even more useful and less expensive to implement. 
Follow StateTech on Twitter for the latest news on tablets and other tech news.