Seattle Goes Rogue in Search for Faster Internet
Bypassing local Internet service providers is the quickest route to faster connections.
Seattle is bypassing local Internet service providers (ISP) in a search for something faster, and they aren't alone.
A faster Internet connection is proved to boost business, as we wrote last week. A study by Ericsson indicated that the gross domestic product (GDP) increased by 0.3 percent when broadband speed doubled. So what happens when Internet speed is up to 1,000 times faster?
Kansas City, Mo., and Kansas City, Kan., are the first cities in the nation to gain access to Google Fiber, the superfast Internet connection delivered by Google. Seattle, along with a handful of other cities isn't willing to wait for their ISPs or for Google to get a faster connection, so the city is joining with startup Gigabit Squared "to make Seattle the most wired and connected city in the nation."
Gigabit Squared plans to lease existing fiber networks in Seattle and will raise funds to build additional lines. The initial coverage will extend to 12 neighborhoods made up of "dedicated gigabit broadband wireless connections to multifamily housing and offices across Seattle, and next generation mobile wireless internet."
Gigabit Seattle outlines the plan for the project:
GB2 Seattle will develop, build, and operate an ultra high-speed fiber-to-the-home/fiber-to-the-business (FTTH/B) network in Seattle to stimulate business and enhance quality of life. The Gigabit Seattle demonstration project is intended to spur advancements in health care, education, and public safety, as well as drive business growth.

GB2 Seattle will make FTTH/B services available to more than 100,000 City residents in select neighborhoods and provide next generation high-speed wireless neighborhood cloud as a complement to FTTH/B services to support user mobility. In other words, provide the network's users with service throughout the City. See GB2 Seattle Proposed System Description.

A key objective of the project is to provide a platform for innovation that will drive the development of applications to address critical needs. In the same way that smartphones and tablets stimulate development of "apps," this demonstration project will drive development of health care and educational applications that leverage the capabilities of ultra-high-speed fiber networks. Additionally, we are creating a test-bed for creating services, products, and applications. Businesses looking to compete in today's digital economy will be attracted to the region because of its network while businesses that reside in the City today will find their opportunities multiply.
Read other technical FAQs on Gigabit Seattle.
Kansas City, Mo., and Kansas City, Kan., have already found that a fast Internet connection is good for their local economy, and as many as 10 startups have located their offices in the first neighborhood to get Google Fiber (Mashable). Seattle is hoping Gigabit Squared's new network will have a similar impact on their city, which is already a leader in the technology industry and home to influential tech companies like Microsoft.
Here is a look at the new network. How would a superfast Internet connection affect your city? Let us know your thoughts in the Comments section.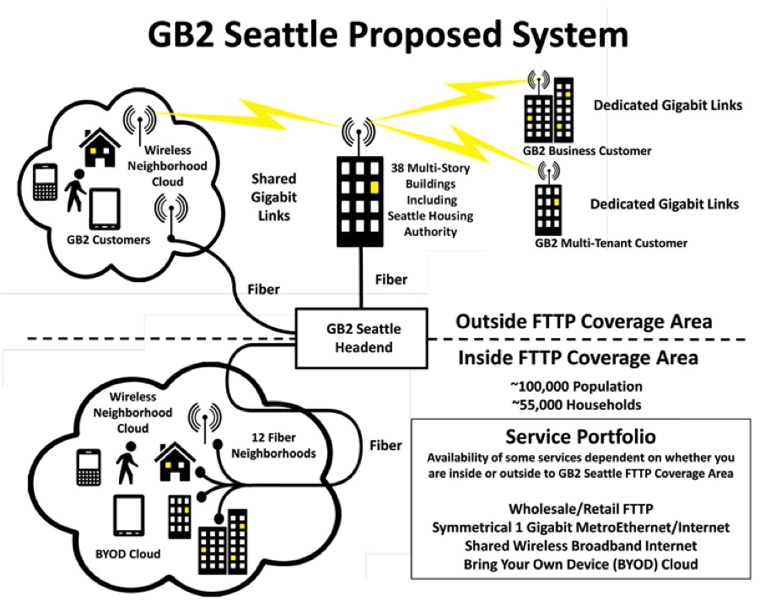 <p>Image courtesy of MR LIGHTMAN / <a href="http://www.freedigitalphotos.net" target="_blank">FreeDigitalPhotos.net</a></p>
More On