Beyond Budget: Top Networking Hurdles in 2014
Networks are more complicated — and more important — than ever before. Here is a look at the challenges facing network managers this year.
Network complexities can make infrastructure upgrades difficult, even for IT organizations with dedicated network specialists. Indeed, such upgrades can be beyond the scope of many small IT teams. Though organizations continuously strive to optimize the network environment, IT departments face numerous obstacles on this front. Budget is a perennial issue for many, but what other obstacles stand in the way?
Many hurdles, according to the CDW Advisory Board (CAB) membership, are related to lack of specific network know-how. Scarcity of specialized skills, insufficient manpower to add network projects to the departmental workload and senior managers who don't see the advantages of upgrades — all are factors in stalled initiatives.
Small IT departments usually don't have staff dedicated to network administration, much less the specialized skill sets needed to design and implement an optimized network infrastructure. Said one Surveying Your Network respondent (an IT manager for a transportation firm): "Without a network engineer on staff, I'm responsible for the entire IT environment, from network to server administration."
Even larger organizations that employ dedicated network administrators may find they don't have the planning, design and configuration skills needed to overhaul their network or re-engineer segments to improve performance, application availability and security.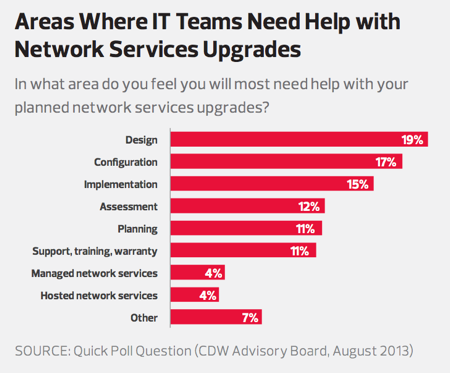 Out of Touch at the Top?
Another barrier stems from a different personnel segment — senior business executives. Many executives don't understand the business drivers for network optimization projects. Convincing senior managers that network upgrades are critical to operations requires IT leaders to tie investments to tangible business value — never a simple proposition in projects that involve IT infrastructure. Survey respondents also noted that they needed help to build the business case for upgrades.
Once they have the go-ahead, IT departments face challenges finding the right time to perform upgrades. They have a very small window — a matter of hours, in some cases — when the network can be brought down without disrupting operations. Even if they have the skills in-house, that's often not enough time to perform necessary upgrades.
Everybody Wins with WAN and Other Upgrades
Nonetheless, nearly half of respondents said their entire organization would benefit from network optimization. As for lines of business that would profit most from network improvements, 35 percent said the IT department, 15 percent named sales and marketing, and 5 percent cited finance and accounting.
"Better, more reliable equipment and alignment with our current standards will make it easier for us to manage our network and improve uptime," said an IT staff member at a large manufacturer. Other CAB members said network upgrades yield significant cost savings due to better use of IT resources, with one stating that the organization would "save more than 30 percent annually in WAN costs."
Download our free Top Network Optimization Projects for 2014 white paper here.
Wavebreak Media/Thinkstock
More On