Connecting the Nation's Justice Systems
Collaboration and data sharing enable justice agencies to reduce costs and improve their workflow.
The nation's courts, law enforcement and corrections agencies have placed justice technology systems near the top of the docket.
Justice IT solutions have multiple layers, including deployments that provide officers with anytime, anywhere access to critical information; data and process integration to improve workflows; and video conferencing to reduce staff and prisoner travel costs. These efforts are underway to ensure regulatory compliance, reduce costs and put agencies in a better position to receive federal grants, among other goals.
The California Department of Justice (DOJ) already is reaping the benefits of its JusticeMobile project. The deployment, which uses Citrix XenMobile technology, was launched last year to give undercover officers and others not working from traditional police vehicles fast, secure access to highly regulated criminal justice data from tablets and smartphones. Prior to the deployment, these officers would have to call dispatch and wait for an operator to gain such information, and hope to avoid any communication or clarity issues during the call that could lead to problems.
"The ROI has been tremendous because we can comply with FBI and state policies to share the information in a secure way, and because we can provide officers access in a cost-effective way," says Adrian Farley, CIO for the California DOJ.
Why Mobile Matters
Responsible for statewide criminal justice information sharing, the California DOJ runs JusticeMobile from its private cloud to law enforcement agencies throughout the state, including its own special agents.
The agency has documented that officers are three times more productive when they run their own searches for offender information and criminal identification using its integrated data repository on more than 8 million criminals, versus relying on dispatch.
What's more, it costs five to six times less to purchase tablets and provide connectivity than to bolt specially equipped notebooks into vehicles, Farley says. Officers also improve their productivity by using the tablets to file case management reports from the field rather than having to return to their desks.
But these advantages all would be left on the table without a mobility management solution that ensures that information can be shared securely, and in compliance with specific agency or government regulations. "XenMobile gives us the greatest degree of granularity regarding device management, so we could provide templates to deal with specific policy requirements at the federal and state level," Farley says. "It works with all the devices we need to manage, and it allowed us to offer our mobile device management service in a multitenant environment."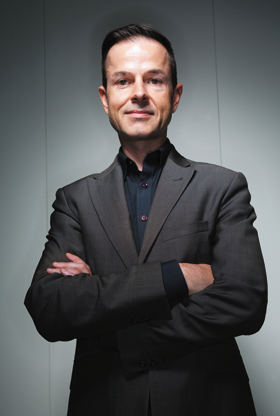 Photo: John Lee
"The ROI has been tremendous because we can comply with FBI and state policies to share the information in a secure way," Adrian Farley, CIO, California DOJ says.
For example, the San Francisco Police Department could build upon the base level of security instituted by the DOJ with additional policies, applications and content specific to its own requirements, Farley says.
Delivering Data
Data remains the lifeblood of justice IT solutions. When it can be shared safely, it can circulate effectively through the justice system, supplying participants with the knowledge they need.
Dallas County, Texas, is integrating a justice architecture to better share information from the moment it's digitally generated to the point where it reaches the courts for trial or other disposition.
The county uses a service-oriented architecture (SOA) to publish data generated by local law enforcement agencies in a secure and near real-time manner, says Craig Morrissey, IT justice systems architect for Dallas County. The goal: "Publish mission-critical data messages at key points in the business process to create workflow efficiencies around county prisoner transfers and criminal case filings, eliminate data entry errors and provide a local crime analytics platform to assist in solving unsolved crimes," he says.
For example, municipal police departments will electronically book prisoners being transported to the county jail. As part of the TechShare. Prosecutor system, the data from those bookings will be collected and integrated with the district attorney's office records system to facilitate filing those cases with the criminal courts.
"This will eliminate a lot of data entry errors that occur when you are translating from paper documents to online systems, and it will let us manage workflows in an online fashion where information is readily available [and can be] consumed by downstream business processes that require them," Morrissey says.
Based on the National Information Exchange Model XML standard, the Dallas County SOA sends standardized data packets from system to system. Dallas County CIO Stanley Victrum says, "In the future, unless you have these types of standards in place, you may not receive favorable consideration for related federal grants."
Video Conferencing's Role
Much work also goes into other forms of collaboration technology, such as video conferencing. Video magistration, for example, stands as one piece of Dallas County's overall integrated justice architecture. The county works with six agencies that use Cisco Telepresence equipment to remotely arraign prisoners before the county magistrate.
Ohio's Portage County has long relied on Polycom video conferencing in its courtrooms and jail to conduct video arraignments. But in the past year, the county expanded the initiative to interface with other local courts and probation offices outside of the county and even with the state prison.
"That way, probation offices and other courts and prisons will be able to video conference to our prisoners in our facility, so we don't have to transport them for a court hearing or meeting," says CIO Brian Kelley. High-definition video conferencing also helps the Alabama Department of Forensic Sciences with critical tasks such as training staff. As the state crime lab, it must conduct training every year in many areas — toxicology, firearms analysis and forensic biology/DNA, to name a few.
With some labs as much as four hours away from headquarters, the department installed high-definition Polycom video conferencing systems at each of those sites. In 2009, the first year of deployment, the department reduced travel costs by roughly $90,000, says Deputy Director Rod Kennette. Since then, savings have averaged about $30,000 to $50,000 per year.
Video conferencing now serves as the Alabama Department of Forensic Services' go-to solution for primary training, says James Foster, senior IT specialist. Training sessions are recorded and stored so that people can view them online, on demand.
The agency also uses the video conferencing system to show state district attorneys details related to cases, such as comparing two bullets under its firearms comparison microscope. "High-def video is a must-have in the forensics world," says Foster. The department's pathologists may soon be able to testify via video rather than travel across Alabama.
John Lee
More On