Q&A: Nebraska CIO Credits Project Success to Collaboration
Brenda Decker discusses the statewide network and enterprise content management rollouts.
At a time when the average CIO tenure is just over two years, Nebraska CIO Brenda Decker bucks the trend as she approaches a decade in that post. With more than 30 years of experience in state government, Decker has instituted shared services and launched Network Nebraska, a statewide infrastructure that has reduced costs and improved education.
She spoke with StateTech Managing Editor Amy Schurr about the changes she's seen in IT during her decade of leadership and how collaboration drives results in Nebraska.
STATETECH: How has the role of CIO changed during your tenure?
DECKER: In Nebraska, it has gone from night to day. Prior to my taking this role, the CIO was responsible for setting policy only. Since I took this job, I've seen this role evolve into more than just setting policies and running operations. The CIO has become a critical part of the organization and a trusted partner in a lot of business discussions.
STATETECH: What do you believe has contributed to your longevity?
DECKER: We have really tried to take IT out of the role of being the enforcer and more into the role of being a collaborator, someone who people can come to and get ideas about how to accomplish their goals. We've become partners with our agencies and other entities in the state.
STATETECH: Can you describe some of those partnerships?
DECKER: Nebraska is too small for state government to try to accomplish its goals alone, so if we partner with other agencies and other entities across the state and aggregate those demands, we can drive down costs and deploy best practices instead of trying to reinvent the wheel. We're moving local government mainframe operations into our offices, and our ECM [enterprise content management] system is used by the city of Lincoln and Lancaster County.
We also partner with Douglas County and the city of Omaha, which is 50 miles away. We back up each other's systems and provide some disaster recovery and high-availability services. There's a unique trust between the state government and the local government that doesn't exist when you go into the cloud environment with a private provider.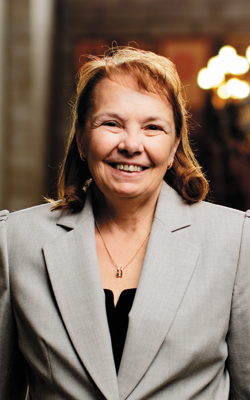 The Office of the CIO does not need an XYZ system; you do. Make sure you're the one driving those requirements."
—
Brenda Decker
, Nebraska CIO
CREDIT: Geoff Johnson
STATETECH: How did your ECM system come about?
DECKER: We had about seven agencies that needed to replace aging systems or were trying to find more efficient ways to manage electronic documents. Together, we deployed a true enterprise ECM. We've done some interesting things with it.
For example, visitors to our contract transparency site can search state contracts by agency, by dollar amount or by vendor, and it's all built on the content management site. The Department of Environ­mental Quality's Keystone Pipeline documentation, emails and correspondence have been publicly posted using ECM. The project is such a success that we don't even have to go out and look for customers and agencies anymore; they are coming to us and asking for help solving problems.
STATETECH: What efficiencies has the state realized from ECM?
DECKER: There's absolutely cost savings in the fact that we didn't buy 20, 30, 40 or however many ECM systems and the infrastructure that goes with it. But we've also taken some processes that used to be very labor intensive and put them out there so the person making an inquiry can do it via self-service. The efficiencies have been absolutely invaluable.
STATETECH: How did Network Nebraska come together?
DECKER: It started out as a cost-savings measure. We looked at aggregating state government and the university networks. We found it was a no-brainer, and that was the birth of Network Nebraska. Our next logical step was to wonder what would happen if we started bringing on other partners.
Slowly, we started talking to schools and educational service units in the state. We had to make it affordable and attractive for schools to join. We continued to aggregate and collaborate, and as of today we have connected 98 percent of all schools. By next summer, we believe we will have 100 percent.
STATETECH: Of the state IT projects you've overseen, what was the most challenging?
DECKER: The ones we've struggled with are the ones where the agency has decided it's an IT project and turned everything over to IT. If you can't get buy-in from agency business partners, it's not going to fly because technology cannot drive the project.
I'm comfortable going into an agency's head office and saying, "The Office of the CIO does not need an XYZ system; you do. Make sure you're the one driving those requirements, and if you ever feel like IT is taking over that project, we all need to raise the red flag."
STATETECH: What do you see as your agency's greatest accomplishment?
DECKER: Collaboration. As long as I can remember, we've never had a collaborative environment like we do today. Even if agencies aren't necessarily talking to me, they're talking to each other. If somebody has the right idea, we ask to partner, and that's a fabulous way for us to move this state forward.
Watch Brenda Decker describe Nebraska's high-speed IP network in this video at statetechmag.com/Decker.
Geoff Johnson
More On