How Technology Is Shaping Voter Registration and the Election Process
Innovations make elections more efficient, accurate and convenient in states and localities.
As Hennepin County, Minn., prepares to implement its new electronic poll book system in August, one of election officials' main concerns has been how to train poll workers. The workers are wonderful, says Hennepin County Elections Manager Ginny Gelms, but many are older and not very comfortable using technology.
Those worries proved unfounded when the poll workers in a neighboring county's pilot project said they would return only if they could use the electronic poll books again.
"That was a real eye-opener for me," Gelms says. "It just makes their jobs so much easier that they love it."
This year's presidential race has been unprecedented in many regards, but it's not just the candidates who are making history. From registering voters online and nominating candidates during the conventions to casting ballots at the polls, new advances in technology continue to transform the election process.
Jurisdictions throughout the country are hard at work modernizing outdated election systems, with new technologies that cut the time and cost of inputting registration data, reduce data entry errors, ensure citizens can't vote more than once and make voting faster, easier and more convenient.
"It's about the voter," says Laura Sanchez, the county recorder in Navajo County, Ariz. "We're all doing what we need to be doing to make sure their voices are heard."
"There's been a huge upswing in online voter registration and in the use of electronic poll books," says Wendy Underhill, program director at the National Conference of State Legislatures. "They're becoming part of the landscape of elections."
A few jurisdictions are using new, wow-factor technology for the actual casting of the ballot, Underhill says. In jurisdictions such as Denver and Navajo County, voters can prepare their ballots electronically, then print them out for counting by scanning equipment.
She advises jurisdictions looking into new technologies to plan well in advance, as it typically takes at least two years to get a new system designed and in place. "There's always a next 2.0, 2.1, 2.2."
Technology Takes Center Stage
Arguably, the biggest events this year, aside from Election Day itself, were July's Republican and Democratic national conventions, held in Cleveland and Philadelphia, respectively. Much like the rest of the voting process, the Republican National Convention has evolved along with the technology that will play a pivotal role there.
In 2012, the Republican National Convention used 10 times more ­bandwidth than the Super Bowl. Four years later, convention planners estimate bandwidth needs will be many times greater, according to Alee Lockman, the convention's director of regional media. At the July event, more delegates and guests posted photos and videos online, and the work of the news media was far more digital, with frequent reporting in real time through the use of live-streamed interviews.
To meet the demand, the Republican National Committee partnered with AT&T to expand coverage. They tripled 4G capacity in downtown Cleveland, laid 50,000 feet of new fiber, made 165 LTE upgrades to cellular sites and installed eight outdoor distributed antenna systems.
The RNC also developed an app to provide live traffic information, maps of Cleveland, an interactive map of the arena, live streaming and more.
"We are very excited about the new technology that we're going to be using this year," Lockman says.
Google was also involved in the preparations, helping small businesses get online and sharing best practices to increase business during the convention. The company provided live-streaming technology utilizing 360-degree and 4K cameras.
Innovation In Election Technology Is Here
The "radio row" provided at past years' conventions was expanded to "media row," offering additional space, bandwidth and equipment to allow for a wider variety of channels to cover the convention. That's in addition to the TV screens placed throughout the arena to broadcast news and share schedule updates, alerts and other information.
"There were a lot of moving pieces," Lockman says. "Given the sheer size and scope of an event like this, there's a lot of groundwork to be laid. We had people working on it for quite a while."
It was all worth the investment, she adds. The upgrades help not only during the summer's convention, but also are "lasting investments in Cleveland that will be used for years to come."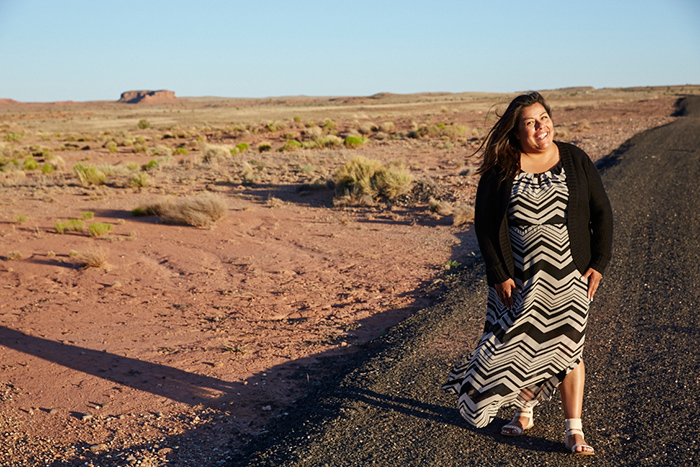 Navajo County (Ariz.) Recorder Laura Sanchez says new technology allows voters to cast ballots anywhere in the county, not just at their home polling place.
Using technology in elections is not new. Optical scan and direct-recording electronic voting machines have been around for decades. Across the nation, many jurisdictions purchased their current election equipment in the mid-2000s, and these are almost due for upgrades, Underhill says.
That was the case in Navajo County, Ariz. Its election equipment was 10 years old, and the main server, which isn't supported by the vendor anymore, crashed.
"It was essentially obsolete," says Sanchez. The timing was right to replace it, because the technology has come so far in recent years.
In the past, each polling place would tabulate its votes, and the Election Services office would upload those totals and combine them. The new system has a central tabulator in Election Services that automatically tallies all the votes. Voters prepare their ballots on terminals, print them and put them in ballot boxes. Sheriff's deputies bring the boxes from the polls to Election Services, where the votes are counted.
"It tabulates 300 double-sided ballots in a minute," says Sanchez. "It's a pretty quick machine." Citizens can view in real time the tabulation being processed and can see results as they are uploaded on the county website.
A New Way to Count the Vote
The second component of the new system is the ExpressVote terminal to mark the ballots. Each voter receives a sheet of paper to insert into the terminal. Voters make their selections electronically and print the ballots from the machine. If there's an error, voters can get up to two more sheets of paper to correct them. Once accurate, they go into a ballot box.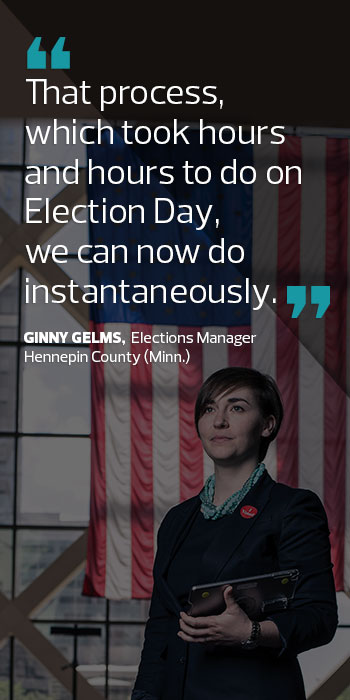 With the old machines, ballots were tabulated instantly, so there was no way to correct mistakes. The ExpressVote terminals meet all of the Americans with Disabilities Act requirements. They include earphones for the visually impaired and allow voters to enlarge the ballots, change the contrast and make other adjustments. Ballots are available in English, Spanish and Navajo.
Hennepin County, home to Minneapolis and more than 700,000 registered voters, is doing a phased rollout of its e-poll books, which consist of secure iPad Air devices managed by cloud-based software, along with Star Micronics Bluetooth printers.
Officials plan to use the new system in 286 precincts during the August state primary and the November general election, with the remaining 132 precincts adopting the e-poll books some time next year.
Electronic poll books, however, aren't new in Hennepin County. It tested several systems in the 2013, 2014 and 2015 live elections and one mock election, and while the pilots were successful, early versions of the systems were limited. "Every year, we got closer and closer to seeing products that met all our needs," Gelms says.
A Vote of Confidence in Election Technology
The biggest challenge has been Election Day registration. When done manually, it's an error-prone, time-consuming process: Voters fill out registration forms, which must be read and keyed in accurately by poll workers. Only recently was the county able to find technology that could handle it. Another challenge: verifying voter IDs. Voters who are already registered don't need to show identification, but those who register on Election Day do. They can use an expired ID but only if accompanied by an approved proof of residence, such as a current utility bill. Such rules are difficult to keep straight, and election judges have sometimes failed to check or record the proper ID.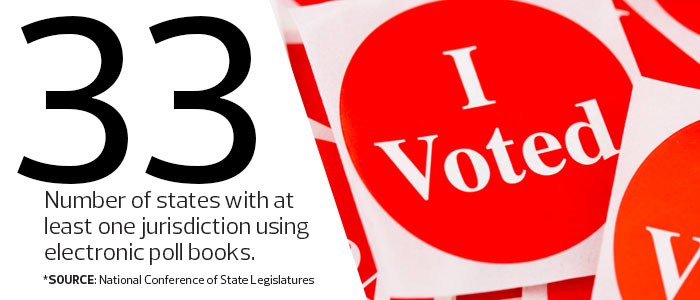 "It's definitely more time consuming to do Election Day registration," says Gelms. "It contributes to the length of the line at the polls."
Electronic poll books streamline that process. The county worked closely with election software manufacturer KNOWiNK to create an Election Day registration workflow that walks election judges through the process step by step, including checking for and recording the proper identification. Voters key in their information instead of writing it by hand, which eliminates errors from transcribing handwritten forms.
The system is also more efficient at checking in regular voters.
"There are always lines at the polling place, but we hope that this will help mitigate that," Gelms says.
She and and her staff have been busy testing the equipment, training workers and getting word out to voters. They've also been preparing for issues that could arise. Each polling place will have a Verizon Jetpack Wi-Fi hotspot, but the electronic poll books can work offline to check in voters if need be.
The system helps on the back end as well. It wasn't long ago when the Election Office received paper rosters and Election Day registration forms, and staffers had to key in all of the data manually.
"It would take us months to ­complete," Gelms says, adding that the county would hire temporary workers well into January to perform the work. "Now we just have two files to download."
Read more about the ways in which technology is removing barriers to voting. 
Photos: Chris Bohnhoff/Steve Craft