Technology Gives Police and Public Safety Agencies the Upper Hand
Cities put common IT infrastructure to work in the ongoing effort to prevent and reduce criminal activity.
When a suspicious person or activity happens at Newburgh, N.Y.'s City Hall, police are notified directly. City employees can push a button to silently page the nearby police department in an emergency, one of many new features available since the city ­upgraded its communications infrastructure, adding new IP phones, paging and emergency notification software on top of a new Cisco Systems phone system.
The new technology will speed response time by eliminating an existing silent paging system that relies on a third-party intermediary. Currently, when a city employee presses a panic button, it calls an alarm company, whose dispatch center then calls the police.
The city parlayed a network upgrade and a new Voice over IP system into improved public safety for both residents and city employees. The new phone system also allows police detectives to forward their office calls and voicemails to their mobile phones. That way, they won't miss important calls that could prove key to their investigations while out in the field, says Glenn Kurcon, the city's IS manager.
Police and sheriff's offices nationwide have deployed many public safety–specific technologies, such as body cameras and computer-aided dispatch systems, but local governments also are tapping traditional IT in increasingly creative ways to help their law enforcement agencies prevent and reduce crime. While cities and counties leverage their networks and IP phone systems to improve police services and bolster communication, they have also installed IP video cameras throughout their communities, which may deter citizens from unlawful behavior and allow police to gather important evidence and improve situational awareness.
A growing number of cities, such as Louisville, Ky., use computers and video display technology to build real-time operations centers, where officers or trained civilian analysts can view camera footage and quickly scour internal, national and public databases to enhance information and help officers responding to crime scenes.
City IT Invesments Should Include Police Departments
In Newburgh, it made perfect sense that the city's investments in IT infrastructure should also give law enforcement a boost. "The biggest department in the city is the police department," Kurcon says. "Anything we do to improve the city's tech infrastructure, in turn, improves the police department's day-to-day operations."
In December, Newburgh's IT team ­upgraded the city government's net­work core with two Cisco Nexus 9372PX switches to provide the bandwidth required to virtualize servers and storage and create a more efficient data center.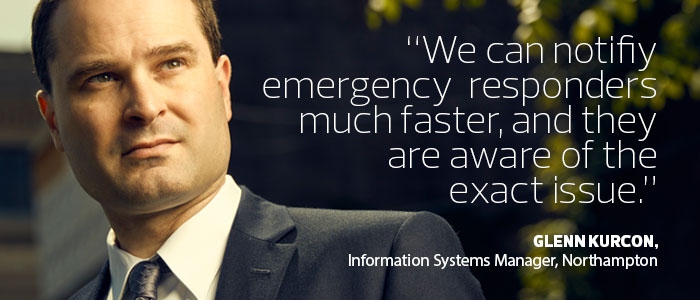 The new network, which increases bandwidth from 1 gigabit per second to 10Gbps, also provides the capacity essential for upgrading the police department's analog street cameras to high-definition IP, Kurcon says.
The faster network allowed the city to replace an outdated digital phone system with a new Cisco Unified Communications (UC) system in February. City employees in every department, including police, benefitted from new mobility and collaboration features, Kurcon says.
Unified messaging, for example, allows employees to check their work voicemails on their smartphones' email client, while Cisco Jabber software allows users on their desktops or smartphones to check the presence status of their colleagues and IM, call or video chat with them.
"The key is mobility," Kurcon says. "It gives employees — and police officers, in particular — a lot more flexibility to stay in touch instead of chained to their desks."
With the Cisco UC system deployed, Newburgh's IT team will now add Singlewire Software's Informacast IP paging and emergency notification features. The fire, public works and water departments are already using it; the police department and the city's other first responders are next.
The software allows city officials to preprogram specific alerts — or send new messages on the fly — through their IP phones or computers. For example, the fire department has deployed an overhead paging system that enables fire officials to pick up a phone and broadcast announcements to every phone at headquarters, Kurcon says.
By the end of the summer, the IT department plans to preprogram specific alerts on speed dial. With the city's previous system, the alarm company provided no details to police other than the fact that an employee pressed the silent alarm. The new system can provide greater event details, including the specifics of what's happening as well as location information.
"We can notify emergency responders much faster, and they are aware of the exact issue, as opposed to a general button that could mean anything," Kurcon says.
Later this year, the IT staff plans to expand the use of the system to send emergency notifications to first responders and key city officials on their mobile phones whenever a major emergency occurs.
"It's a quick and easy way to send mass notifications to the staff and get responses back if they can come in to deal with the emergency," he says.
Launching a Real-Time Crime Prevention Model
Two years ago, a large group of disorderly teenagers gathered in downtown Louisville and nearby Waterfront Park, where at least 17 assaults and robberies took place through the course of a Saturday night.
In response, the city and police department rolled out Axis IP-based security cameras citywide, and built Louisville's Real Time Crime Center, a 24/7 command hub, where civilian analysts monitor the cameras and provide analytical support and assistance to dispatchers and officers on the street, says Jennifer Corum, director of the RTCC at the Louisville Metro Police Department.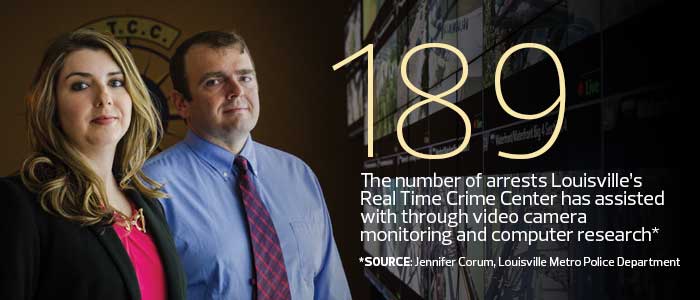 Jennifer Corum and Chris Seidt enlisted networking tools, IP hardware and analytics software in Louisville's efforts to investigate and prevent crime.
A citizen recently called 911 to report a home invasion robbery. After officers obtained a detailed suspect description, RTCC analysts quickly
reviewed footage from the cameras closest to the incident and found a person who matched the suspect's description several blocks away from the home
. "Our analysts contacted dispatch, and 15 to 25 minutes after the home invasion, officers took the suspect into custody," Corum says.
The center, which opened in November 2014, features a wall of video monitors — 15 large-screen 55-inch Samsung LED TVs rated for 24/7 reliability — which allow analysts to project footage from any of the city's 140 video cameras. IT mounted two additional 65-inch screens next to the larger video wall, allowing staff to monitor local news or the security cameras at police headquarters.
Chris Seidt, the city's IT infrastructure and operations manager, says his team saved the city money on expensive media switchers and custom audio-visual equipment by building the operations center using more general technology equipment. The team ran CAT 6a wiring throughout, installed Cisco Catalyst 2960-XR switches to connect the TVs to the network and included a firewall for security. An IP video distribution system allows police to broadcast the video across multiple displays.
RTCC analysts conduct research from 15 desks, each equipped with a desktop PC and three 22-inch ViewSonic monitors. Each unit has a dedicated video card so that they're capable of handling each analyst's playback needs.
When the existing storage area network ran out of space and could not be expanded earlier this year, IT upgraded to a new 790-terabyte HP 3PAR StoreServ SAN that is scalable to 2.5 petabytes.
"We are increasing the number of video cameras by 15 to 20 percent a year, so we needed a new SAN to keep up with the growing demand for video," Seidt says.
The city standardized on Axis HD pan-tilt-zoom cameras with optical-zoom autofocus lenses that allow police to see and track objects from a mile away and read license plates from roughly two to three blocks away, Seidt says.
Overall, the RTCC has had a great impact in the city's fight against crime, Corum says. "We monitor the cameras and provide our officers with more information and tactical intelligence while they're on scene."
Leveraging Unique Wi-Fi Solutions to Enhance City Services
When Eau Claire, Wis., ran fiber to every stoplight, the city's IT department also took the opportunity to install IP-based video cameras and Wi-Fi hotspots at major intersections, allowing improvements to public safety and city services in more ways than one, IS Manager John LeBrun says.
The transportation department uses real-time video taken from the intersections to monitor traffic patterns and adjust signal timing to improve flows. Public works uses the cameras to monitor ice and snow accumulation on the roads or keep an eye on river levels to ensure there's no risk of flooding. And when city employees make traffic light repairs, the Wi-Fi allows them to troubleshoot by using their notebook computers to connect to the software that runs the stoplights, LeBrun says.
The police department has access to a regional Wi-Max network, which allows officers in their patrol cars to use their notebook computers to connect to law enforcement databases and file reports. The city's Wi-Fi hotspots, however, are much faster and allow officers to access cameras and upload large reports, he says.
Overall, the city has deployed about 100 Wi-Fi access points citywide and installed about 100 IP-based video cameras at intersections, in parks and atop communication towers. Such everyday equipment is proving essential to successful crime prevention and investigation. As Louisville's Corum says, "We supplement what the dispatchers and officers are doing. It's like a triangle, and we provide tactical intelligence."
Matthew Furman/Johnathan Robert Willis