Network Upgrades Offer Opportunities for IoT Innovation
States and cities looking to implement Internet of Things applications must ensure that their infrastructure can support them.
Imagine an airport that uses smart data applications to keep track of baggage and other assets.
When Jim Lizotte became director of technology services for the Columbus (Ohio) Regional Airport Authority (CRAA) in 2011, he was intrigued by the possibility of Internet of Things use cases, but he also knew that the airport's existing IT infrastructure wouldn't allow it.
Luckily for Lizotte, the agency that oversees three airports in the Columbus region was already in the midst of a $10 million multiyear overhaul of its wired infrastructure, including installation of redundant fiber throughout the John Glenn Columbus International Airport.
Lizotte seized the opportunity by then spearheading a $1.5 million Wi-Fi upgrade, increasing the number of wireless access points (APs) at the airport from 40 to about 350.
Those upgrades make it possible for the authority to now accommodate present-day use cases such as passenger Wi-Fi access, along with all of the potential of IoT technologies, which they are currently piloting today.
"First, you have to make the investment. Then, you can innovate," he says. "We needed both the wired and wireless infrastructure in place to do that."
It's easy for tech managers to get lost in daydreams about all of the new ways that IoT devices and data could improve operations or increase revenue. Lizotte is exploring solutions to track security line wait times and send information to passengers via mobile apps or email alerts, in addition to tracking and managing assets like scissor lifts and floor cleaners.
His team is also researching how to make use of foot traffic data to optimize ­custodial routines and improve concession sales.
Many state and local government organizations have outlined their own pet use cases for IoT, even if they have yet to implement them. But the airport authority's example provides a useful lesson: In order to bring those ideas to life, most organizations must first undertake the difficult work of improving their backbone infrastructure.
What's Possible with IoT Now?
"The problem is not our ability to sort through the data," says Jeanne Holm, senior technology adviser to the mayor in Los Angeles. "It's getting that data off, and over very low bandwidth, from the point of origin to the point of analysis."
"I love the problem of too much data," she adds.
Los Angeles has 215,000 network-connected streetlights, 45,000 connected traffic lights, and more than 50,000 smart utility meters. The city leverages both Bluetooth and Wi-Fi to transmit data stemming from those devices, Holm says.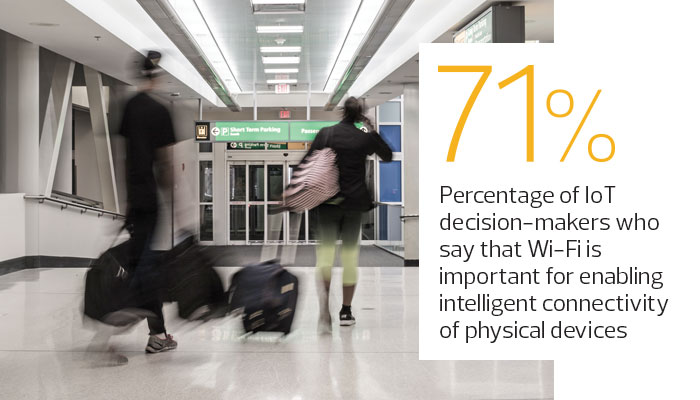 SOURCE: Forrester Consulting, "Security: The Vital Element of the Internet of Things," March 2015
Those use cases and some others — such as the potential tracking of street sweepers, which will allow the city to inform residents when they need to move their cars — don't create a huge strain on existing infrastructure. Other, more data-intensive IoT use cases pose more of a challenge.
"When we're looking at things like ­cameras around public buildings, we want to make sure those are connected to broadband," Holm says. "That can be more problematic. There are a lot of areas of Los Angeles that just aren't well ­connected yet. Right now, in areas where we don't have as much connectivity, we can only get marginal data like GPS and alerts."
"The issue is the bottleneck within the backhaul," says Sathya Atreyam, research manager for worldwide wireless network infrastructure at IDC. "It's not so much on the radio access side of things, but rather on the back end — how big of a backhaul pipe is there available to route continuous high-definition camera feeds across long distances into the central servers in the most economical and cost-efficient manner?"
CRAA standardized on Cisco Systems networking infrastructure, deploying Nexus 7000s at the core and leveraging Nexus 5000s for data center distribution, Lizotte says.
"We used Catalyst 6509Es as campus distribution for access layer connectivity, with 3850 and 3750x switches," he says. And server infrastructure is about 90 percent virtualized using a VMware hypervisor.
"We are starting to evaluate flash storage to increase efficiencies with business applications," he adds. Daniel Hoffman, chief innovation officer for Montgomery County, Md., stresses the importance of tailoring connectivity to the needs of the specific use cases over reliance on a one-size-fits-all solution.
"In my mind, it's about creating a menu of different options that suit different use cases. A lot of bridges, roads, fire hydrants and bus stops have no wired power to them, so ­trying to create an environment where you can connect low-power, low-­bandwidth devices is important," he says.
What's Next for State and Local IoT?
Due to the potentially ubiquitous nature of IoT, successful deployments may require cities, states and other government organizations to change their thinking about what assets constitute their IT infrastructure.
If a municipality collects data from fire hydrants or some other assets that lack power and ­produce scant data, Hoffman explains, it's unlikely that the organization will be able to justify installing new fiber simply to bring that data to the point of analysis. Instead, data may need to be picked up by mobile assets before it's transmitted to an analysis layer through a series of steps.
"You're not going to be able to send data all the way to a tower. You could use buses. They pick up the data, then use cellular as a backhaul, which gets you to wired, and then gets you to gigabit."
To fully leverage the IoT's potential, Hoffman says, government must break down silos and find ways to collect and share data across departments. "That's a shift that we're beginning to see."
Jonathan Robert Willis